11 inspiring getaway ideas for spring break and beyond
Let's face it: many British Columbians are eager to travel again, but with the added uncertainty and heightened risks of today's travel landscape, comfort and timing will look different for everyone.
Depending on where you're at, whether it's planning a future trip for this spring or one for a year from now, we can help you dream big. Here are some inspiring ideas for getaways to some of your favourite destinations, plus some helpful tips about your insurance coverage. Remember, planning ahead is key to setting your trip up to go as smoothly as possible. Before you book anything, it's always a good idea to check the travel and health advisories for any destinations you'll be visiting. If you're travelling outside of Canada, here's helpful advice on what you need to know to plan before you go.
Now, here comes the fun. Whether you're seeking adventure or relaxation, we've got ideas for everyone:
Adventure travel
1. Chasing the Northern Lights in the Yukon
Want to get away from your remote work desk/kitchen table? Pack your bags, dress warm, and go ice fishing, snowmobiling and cross-country skiing in the Yukon. You'll also want to rent a car (or book a tour) to see the incredible Northern Lights. When the weather warms up, paddle the mighty Yukon River and follow in the footsteps (and paddle splashes) of the Klondike gold hunters.
Distance from YVR: 2,381 km to Whitehorse
Warmest month: July
Coldest month: January
Fun fact: The world's smallest desert is in the Yukon. The Carcross Desert measures just 2.6 square kilometres (259 hectares) and features sand dunes, dart moths, dune tachinidae and rare plants like the Yukon lupine and the Baikal sedge flower. Fun tiny-desert activities include hiking and sandboarding, plus winter snowboarding and cross-country skiing.
Get inspired on Instagram
Athletes and adventurers will love to kitesurf or kiteboard in Salinas Bay off Costa Rica's Pacific shores. Boasting the best kitesurfing and kiteboarding in Central America, Salinas Bay offers you steady winds, white sand, clear turquoise water, lovely sunshine, tasty waves and friendly locals.
Distance from YVR: 7,277.8 km to San Jose
Warmest months: March and April
Coldest month: September
Fun fact: Costa Rica is the happiest country in the world. The Happy Planet Index is a measure of sustainable wellbeing, and it ranks countries by "how efficiently they deliver long, happy lives using our limited environmental resources." Out of hundreds of countries, Costa Rica (thanks to its high life expectancy of 80.3 years and abundance of nature) has been ranked the #1 happiest country on Earth three times.
Get inspired on Instagram
3. Island hopping in Greece
For a truly magical getaway, go island hopping in Greece—you'll have tons of options as there are 6,000 Greek islands, of which only 200 are inhabited. Start in Athens, then fly a domestic carrier like Aegean Airlines, book an island-hopping boat tour or rent your own sailboat to drift onto gorgeous islands like Corfu, Crete, Hydra, Santorini and the castle-lined Dodecanese Islands.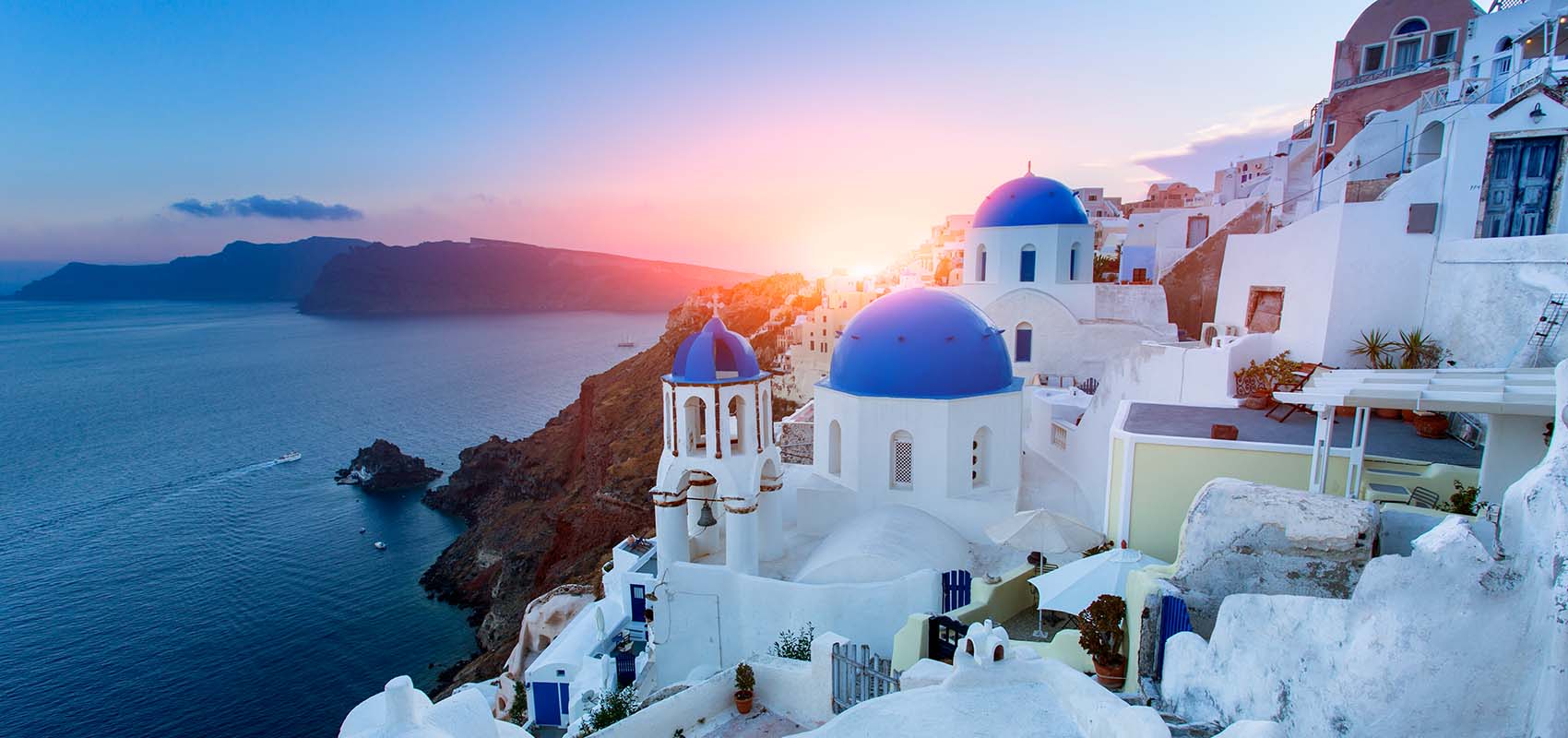 Distance from YVR: 9,783 km to Athens
Warmest month: August
Coldest month: January
Fun fact: The sun shines in the Greek islands 85% of the year—that's nearly 300 days of sunshine every year. That's no doubt why Leonard Cohen lived on Hydra from 1960-1967 and conceived his first two albums there.
Get inspired on Instagram
Family-friendly beach fun
Without a doubt, Cozumel is Mexico's finest Caribbean island. On this beautiful family-friendly island, you'll enjoy fine white sand, turquoise blue water and swaying palm trees. There are a lot of activities for your family to do without the noise you'd get in party destinations like Puerto Vallarta, Cancun or Cabo San Lucas. You'll enjoy Cozumel swimming, snorkelling, kayaking, sailing, submarine tours, kayaking, paddle boarding and sunset watching.
Distance from YVR: 6,328.8 km
Warmest month: August
Coldest month: January
Fun fact: The name Cozumel came from the Mayan word for the island, 'Ah Cuzamil Peten,' which means 'island of the swallows.' Inspired by the large swallow population here, you'll see swallow motifs in many island signs, artwork, and sidewalks. Also: Cozumel is home to the world's second-largest barrier reef system, the Mesoamerican Reef. Stretching almost 1,126 kilometres, this reef system reaches from Honduran Bay Islands to Mexico's Yucatan Peninsula and is Cozumel's main scuba diving attraction.
Get inspired on Instagram
Surrounded by lush, majestic mountains, this beautiful, calm, shallow bay is a great family beach. It has nice waves for beginner surfers, and you'll enjoy paddle boarding, snorkelling, kayaking and strolling along the historic Hanalei Pier. Movie lovers will recognize Hanalei Bay from The Descendants starring George Clooney, and Kauai from the 1958 musical South Pacific. Treat yourself to stay at the Westin Princeville Ocean Resort Villas where BCAA Members save 5%.
Distance from YVR: 4,390 km
Warmest month: August
Coldest month: January
Fun fact: Kauai is six million years old and the oldest of the main Hawaiian Islands. Drawn to the island's sunny lushness, Hollywood has shot dozens of films on Kauai, including Raiders of the Lost Ark, Jurassic Park, Avatar and Pirates of the Caribbean: On Stranger Tides, and TV shows like Baywatch, Fantasy Island, and Gilligan's Island.
Get inspired on Instagram
Relaxation, ahhh
With its rolling desert hills, mid-century architecture, and so many film and TV expats who've fled Los Angeles, Palm Springs is like a mashup of Hollywood and Kamloops—so we like to call it 'Glamloops.' Float in your pool (pro tip: BCAA Members save up to 15% at these Palm Springs resorts), ride the aerial tram, take a Jeep tour over the San Andreas Fault, bike and hike in Indian Canyons, try to escape from the Titanic Escape Room, shop for arts and crafts at the Thursday-night Village Fest and check out the Palm Springs Chalk Art Festival (March 19-20th).
Distance from YVR: 2,226 km
Warmest month: July
Coldest month: December
Fun fact: Palm Springs has over 50,000 swimming pools, which is more pools per capita than anywhere else in the US. Greater Palm Springs also hosts a Golf Cart Parade most Octobers when up to 30,000 spectators watch the wild golf carts roll on by.
Get inspired on Instagram
In the Columbia Valley, 90 minutes west of Banff National Park and 15 minutes north of Invermere, you'll find one of the most relaxing (and thrilling) destinations on the planet. There are three world-class ski resorts within 35 minutes of Radium. So, come for ski and snowboarding adventures, hot tub in a mountain cabin and then relax and rejuvenate at the spa. You'll definitely want to wade into the naturally-heated hot springs (open year-round). BCAA Members can save up to 15% on room rates at the Best Western.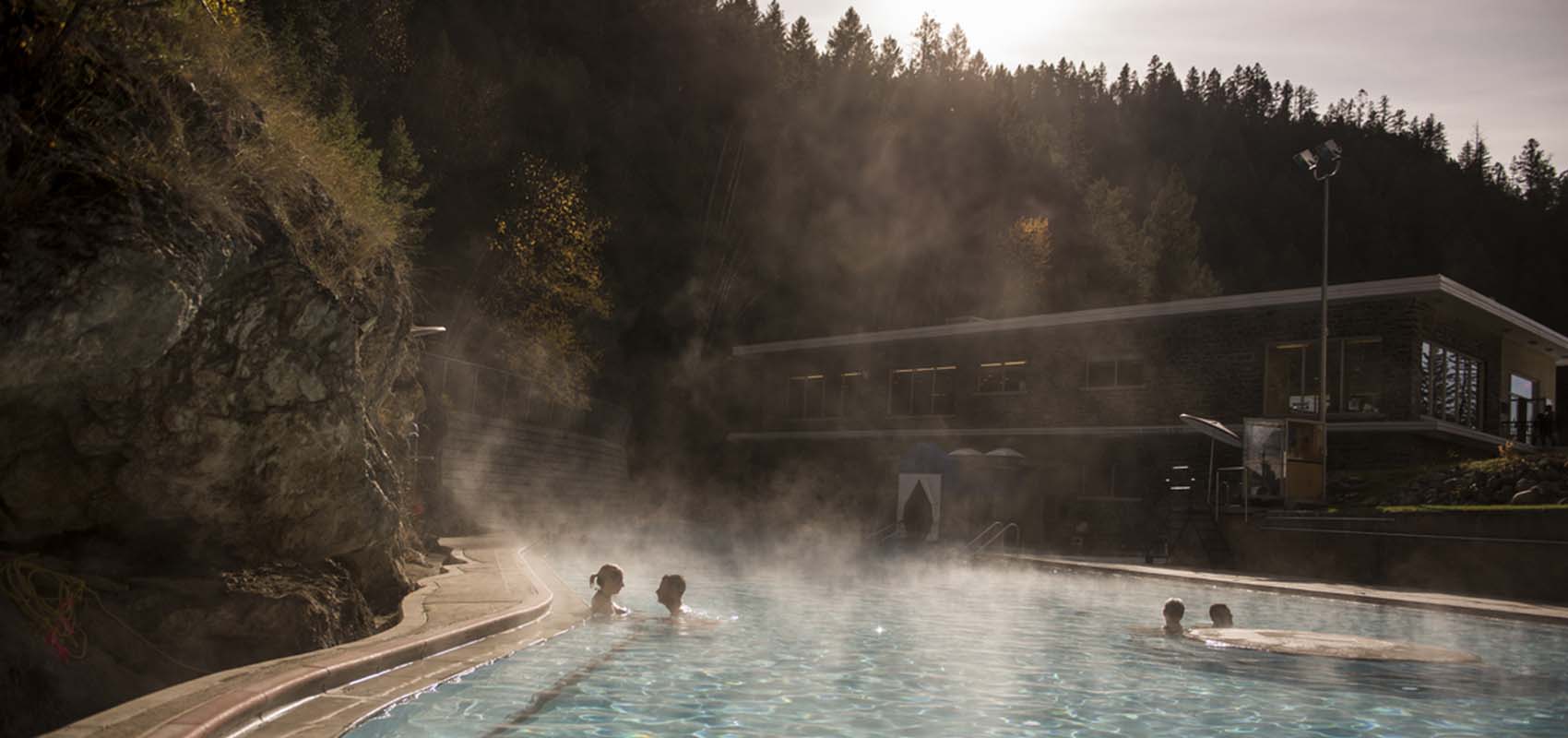 Radium Hot Springs by Destination BC/Kari Medig
Distance from YVR: 930 km
Warmest month: July
Coldest month: January
Fun fact: Radium Hot Springs water is 44° C at its source. That's hot. And when you golf at The Springs Course, you'll be playing to a gallery of mildly curious mountain sheep.
Get inspired on Instagram
Honolulu wants you to enjoy their sun-soaked sand, warm blue skies and pink umbrella drinks. You can surf, play, and relax on Waikiki Beach or take a lei-making class, hike a 2.7-km trail to see Manoa Falls (a 45-metre waterfall that empties into a glimmering rock pool), hike to the summit of the Diamond Head crater and enjoy a luau feast at the Polynesian Cultural Center. Need a vehicle to get around? BCAA Members save 5% on vehicle rentals at Enterprise and Alamo, and up to 20% at National car rental.
Distance from YVR: 4,357 km
Warmest month: August
Coldest month: January
Fun fact: Purely based on geographical reach, Honolulu is the largest city on Earth. That's because Hawaii's state constitution states that any Hawaiian island that isn't attached to a county belongs to Honolulu. So, dozens of small, uninhabited islands, islets, and atolls from the island of Nihoa to the Kure Atoll (except Midway), known as the Northwestern Hawaiian Islands, are all officially part of Honolulu—making it about 2,400 km long.
Get inspired on Instagram
City livin'
Before the pandemic kept us away, we left our hearts in San Francisco. Steeped in history, San Francisco is a true jewel of the Pacific Coast. Enjoy great San Francisco restaurants, ride a cable car up Nob Hill, catch a Golden State Warriors game, walk over the Golden Gate Bridge, see waves crashing on the rocks on Ocean Beach, and catch a breathtaking sunset view of the Bay Bridge from the Embarcadero. Pro tip: Use your BCAA Membership to save up to 10% on hotel bookings so you can use that money for other things, like dining at one of the many must-try restaurants mentioned above.
Distance from YVR: 1,522.1 km
Warmest month: September
Coldest month: January
Fun fact: San Francisco is known for two things: steep hills and 108 days of fog every year. By the way, that classic San Francisco fog? The locals have named it 'Karl' and you can follow Karl, the San Francisco Fog on Instagram where he has 251K followers and follow Karl the Fog on Twitter, where Karl has a massive 346K followers.
Get inspired on Facebook
Welcome to the live music capital of the world and one amazing southern destination. Although it's the capital of Texas, has a major university (go Longhorns!) and is one of the fastest growing cities in the US, Austin still retains its small-town feel. Come for sunshine-filled days, bluebird skies, 200+ parks, 14 nature preserves and 80 kilometres of biking and hiking trails. There are rivers for kayaking and a spring-fed swimming hole at Barton Springs Pool. Plus, if you're in town from March 11th-20th, check out the SXSW festival that showcases exciting new tech, film and music. Tip: save money on your Austin hotel booking with your BCAA Membership. See all the offers here.
Distance from YVR: 3,621 km
Warmest month: August
Coldest month: January
Fun fact: Austin has North America's largest urban bat colony. 1.5 million bats migrate to Austin during spring and summer and live under the Congress Avenue Bridge. Every night, locals and tourists watch the bats fly out from the bridge.
Get inspired on Instagram
Porto is beautiful in the spring and an underappreciated European gem. Some great ways to spend your time: Rent bikes for the day and wheel down the river and through Crystal Palace gardens. Take a 3-hour guided e-bike tour. Take a Douro Valley wine tour, then a cruise down the Douro River. Ride trams all over Porto. Go scuba diving. Then ride a dune buggy in Serras do Porto Natural Park.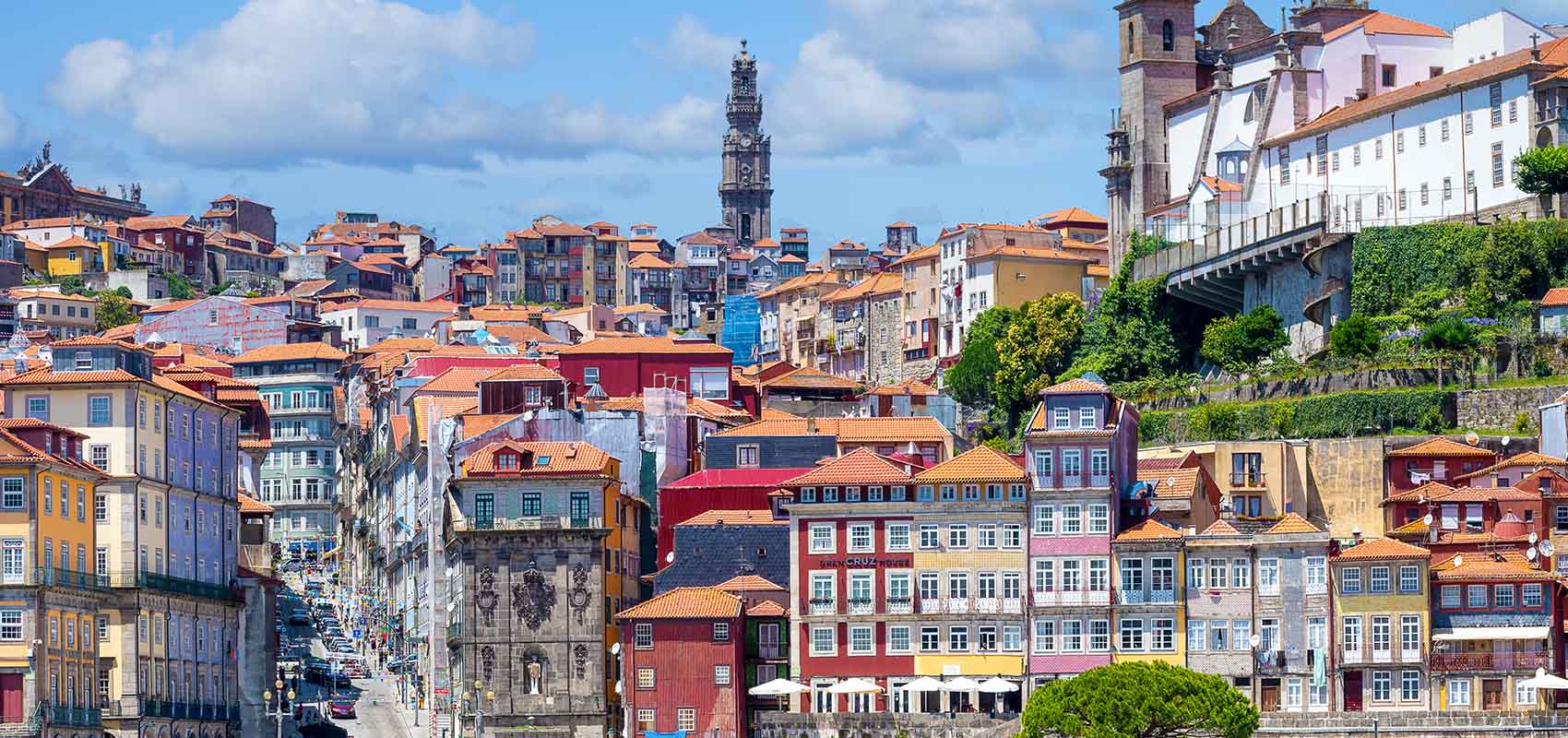 Distance from YVR: 8,093 km
Warmest month: August
Coldest month: January
Fun fact: You can take the Porto Metro (Metro do Porto) subway system to the beach. Bring your sunscreen, beach chair and towel, and head to Trindade station. From there, you can reach the golden sands of the coastal city Matosinhos in less than half an hour.
Get inspired on Instagram
There you have it: 11 ideas for where to getaway this spring break, this summer and beyond. Once you decide where you want to go, BCAA can help you plan, research and book your next trip. You can find a wide variety of trip planning tools here. Pro tip: if you're flying out of YVR, don't forget to use your BCAA Membership to save on parking. Members save up to 15% at Park YVR and save 20% plus earn 3% in CAA Dollars® at Park 'N Fly.
Before you book, be sure to follow the health, vaccination and testing guidelines for every airline, airport and destination on your wish list. You'll also want to get travel insurance, in case the unexpected happens and you need to change your travel plans or get emergency medical care.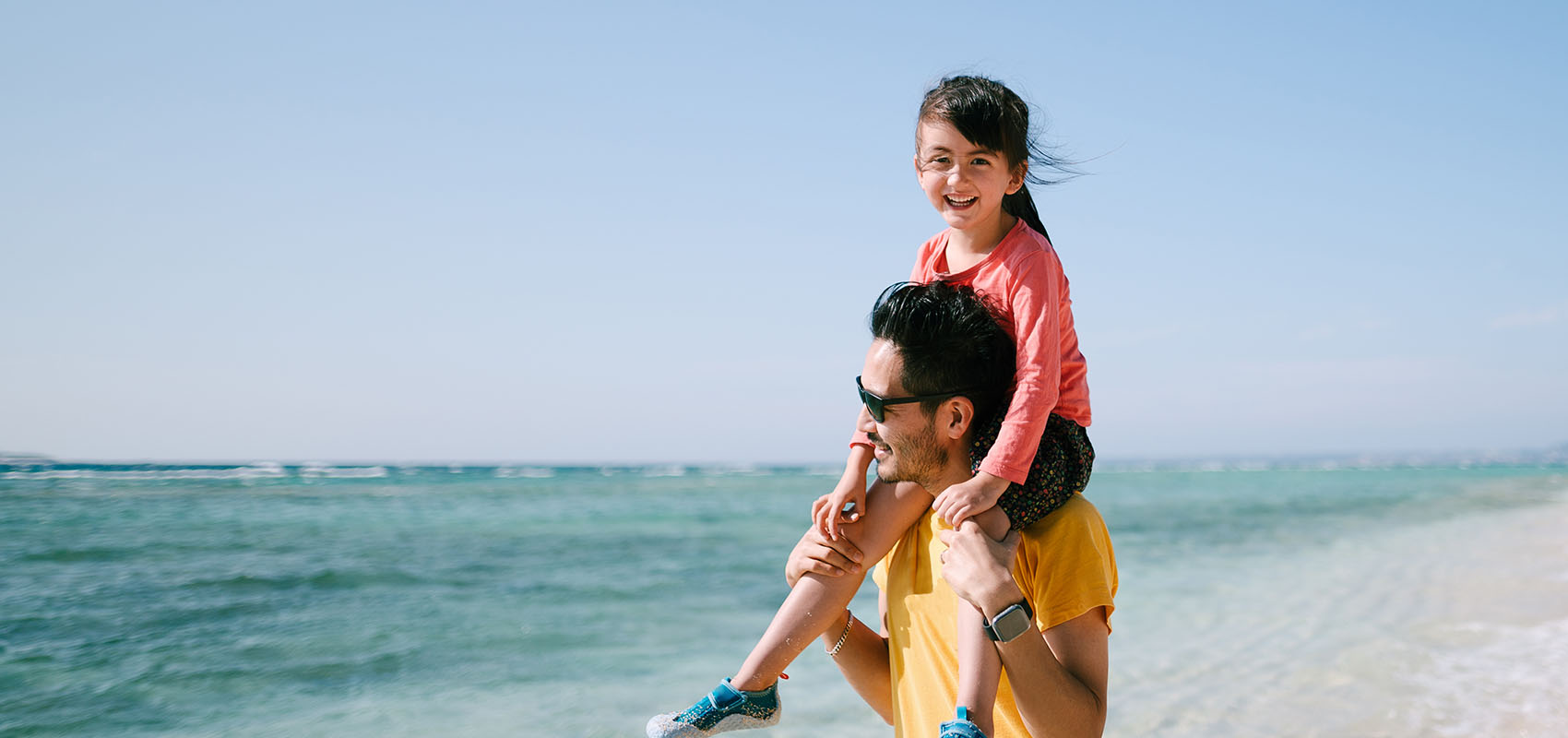 Familiarize yourself with travel insurance options
Travel Emergency Medical Insurance. Whether you're planning a trip next week or next year, it's a good idea to familiarize yourself with your travel medical insurance options. If you get sick while you're away, the last thing you want to worry about is reviewing your coverage and claims process. Check your insurance policy to understand the coverage it provides. Some policies, like BCAA Travel Insurance, include COVID-19 coverage, which offers up to $10 million in coverage for COVID-related emergency medical expenses outside of Canada depending on your eligibility and vaccine status*. Children under 18 are covered, regardless of their vaccine status. BCAA Travel Insurance also offers optional Travel Delay & COVID-19 quarantine coverage for unplanned accommodation and living expenses if you are fully vaccinated and mandated to quarantine due to testing positive for COVID-19, and are unable to return on your originally-scheduled return date.
Plus, BCAA Travel Insurance offers 24/7 virtual care so you can get the medical help you need wherever you are in the world**. Depending on the situation, you may even be able to have a doctor visit you in person where you're staying. BCAA Claims Assistance is always available to help you navigate the claims process.
Trip Protection Coverage. Travel insurance can also help if you need to cancel your trip or you're out of province and need to get home unexpectedly through trip cancellation and trip interruption coverage. Just be sure to check your policy details, as many policies still exclude reasons related to COVID-19.
If you're planning two or more trips this year, you may want to consider an Annual Multi-Trip policy. You'll get affordable coverage for unlimited trips (of any length!) so that you can travel worry-free.
Wherever you choose to go, BCAA has your back along the way
Your vacation is sure to be monumental, no matter where you're going. To make the most of your trip, visit BCAA.com/travel to check travel insurance off your list. To top it all off, BCAA Members save 10% and Kids Go Free on Family Plans. Have a safe, relaxing holiday!
---
*$10,000,000 CAD COVID-19 medical coverage limit applies if you are fully vaccinated and up to date (including all recommended vaccines, including booster shots made available to you) for COVID-19 and up to $1,000,000 CAD if you are partially vaccinated (have been administered one dose; or have been administered two doses but have not yet been administered a booster that has been made available to you). Coverage provided at no additional cost with the purchase of a BCAA Travel Emergency Medical Insurance policy. Children under the age of 18 are covered regardless of their vaccine status. Full eligibility criteria for COVID-19 coverage and all policy terms, conditions, exclusions and limitations can be found in the policy wording at bcaa.com/wordings.
**The availability of virtual care options depends on various factors, including the geographical location, nature and urgency of the medical emergency, and will remain subject to the advice and discretion of the health care and travel medical insurance professionals advising the BCAA Claims Assistance team.