Food for Thought: Delicious Okanagan Destinations
Attention, BC food lovers! We've got another delicious adventure for you: a local BC foodie-focused road trip. We previously shared a drool-worthy list of 10+ great restaurants and food experiences on Vancouver Island, and now we're focusing our attention on the interior of the province. The Okanagan offers a feast of culinary experiences, and we've curated some favourites based on recommendations from our Members and team members.
Are you ready to feast? Grab your BCAA Membership, hit the road and prepare to eat your way around the interior. With 24/7 Roadside Assistance, we'll help keep you going in case of the unexpected, so that you won't miss a single café, market or bistro on your list. Pro tip: download the BCAA Mobile App to help you get faster access to Roadside Assistance, plus find real-time travel conditions and savings from BCAA Rewards Partners along the way.
Starting in the south, your Okanagan food odyssey begins in the vibrant resort town of Osoyoos and the heart of BC Wine Country.
Population: 6,737
Town motto: 'Canada's warmest welcome'
As you arrive in Osoyoos, savour the stunning Similkameen Valley scenery. You can picnic by lush orchards, organic vineyards and award-winning wineries and cideries. For lunch or dinner, of the many excellent restaurants in town, there's one to ensure is on your list:

Wild BC salmon at The Bear, The Fish, The Root & The Berry
The Bear, The Fish, The Root & The Berry
Spirit Ridge Resort in Osoyoos, BC
Boasting incredible views of mountains, the lake and vineyards, this newly renovated gem serves modern vineyard cuisine inspired by Indigenous roots.
The name is inspired by the Four Food Chiefs of the Syilx People of the Okanagan Nation: Skimxist Black Bear, Ntytikxw Chinook Salmon, Speetlum Bitterroot and Seeya Saskatoon Berry. Representing the key elements of Indigenous cuisine, references to these four elements can be found throughout Chef Murray McDonald's dishes. Try the Bannock with roasted corn & hot pepper succotash, Salish sea clams in seaweed beer broth, and, for dessert, hazelnut praline choux with peach & sage compote and pistachio sponge.
Fruit Stands
Heading north from Osoyoos en route to your next meal, you'll want to stop at fruit stands or U-pick orchards to buy fresh cherries, apricots, peaches, juices and vegetables. Okanagan fruit stands and farms tend to start reopening in April for the season. Here's a great list of local fruit stands, farms, and gardens.

Okanagan cherries
As you pass through Oliver be sure to stop at Covert Farms (circa 1959), known for regenerative organic farming and wines. They offer wine tastings (ensure you have a designated driver!), amazing farm tours and picnics in their rustic, open-air log barn. Come summer, they host Live Music Sundays with live bands and performers singing from 1-4 pm.
Another great option if you're looking for a lunch spot is to take a short detour off the highway from Okanagan Falls where you'll find an amazing little bistro at Nighthawk. This spring, they're re-opening their outdoor Vineyard Kitchen & Patio (and firing up their custom wood-fired oven from Portugal). Specialties include wood-fired pizzas, salads and a charcuterie and cheese boards. Yum.
A half hour north, you'll arrive in a town that's experiencing a cuisine boom:
Population: 46,885
Town motto: 'A place to stay forever'
Locals will tell you that any Penticton food journey starts with scrambled eggs at Terry's Comfort Food with Attitude (huge portions and great coffee) and one of the amazing breakfast sandwiches (vegan meatball, big bacon) at Wayne and Freda. If you still have room, follow it up with a Greek souvlaki lunch at Theo's.

Wayne and Freda, Penticton
Come nightfall, however, there's a new wave of restaurants you have to try, including:
Wild Ginger
Penticton, BC
Hands down one of the best restaurants in Penticton. As one happy Vancouver expat reports, "I give Wild Ginger a 20 out of 10. We ordered four dishes, and they were all amazing, plus their wine list is all BC wineries." Popular dishes are their Mongolian beef, pineapple sweet and sour pork and their vegan Singapore noodle.
Tacos Del Norte
Penticton, BC
This funky hole-in-the-wall taqueria serves authentic, freshly-prepared Mexican food on homemade corn tortillas. It's like something you'd see on Commercial Drive in East Vancouver. Build your tacos with pork, chicken, beef, or chorizo sausage and flavour them with three types of salsas (traditional, pico de gallo, and/or salsa de piña).
Facebook: @tacosdelnorteca
Instagram: @tacosdelnorteca

Penticton, lakeside
When you're ready to head further north up the Okanagan, be sure to leave on a Saturday morning. That way you can stop at the Penticton Farmers' Market, which some (OK, lots of) people say is one of the best farmers' markets in BC. The market is held every Saturday in the 100 block of Main Street, right downtown, from April until October. A few must-visit stalls at the Market:
Now that you've loaded the trunk with fresh market delights, you're just 15 minutes away from:
Population: 11,615
Town slogan: "Summerland is a Magical Place to Live or Visit!"
Tuna tataki bowl at Shaughnessy's Cove
Shaughnessy's Cove
Summerland, BC
Located right on the waterfront, Shaughnessy's Cove is a family-friendly, lakeview restaurant that serves exceptionally tasty dishes. They host a weekly Supper Club with 3-course set meals for you and up to six hungry friends. Winning tastes include their ahi tuna poke (appetizer), tuna tataki bowl, bibimbap featuring Korean marinated beef and their herb and panko crusted sablefish with cauliflower clam chowder.
Facebook: @shaughnessyscove
Instagram: @shaughnessyscove
As you head towards Kelowna, your next stop is Off the Grid Organic Winery in West Kelowna, which is solar-powered and doesn't use any herbicides or pesticides. It's an easy dip off the highway and serves you great food truck pizzas that are named after characters & episodes of Friends (try the Phoebe when the pizza truck opens in May). You can also buy organic, hand-crafted wines, plus you'll get to see the farm goats! These bearded friends donate their cheese for your pizza and are happy to give you a friendly "baaaa" hello.
Eighteen minutes later, you arrive in the fastest growing city in BC. Whether you dine in, deliver, or get takeout, these restaurants will wow your tastebuds:
Population: 149,596
Town motto: 'Fruitful in unity'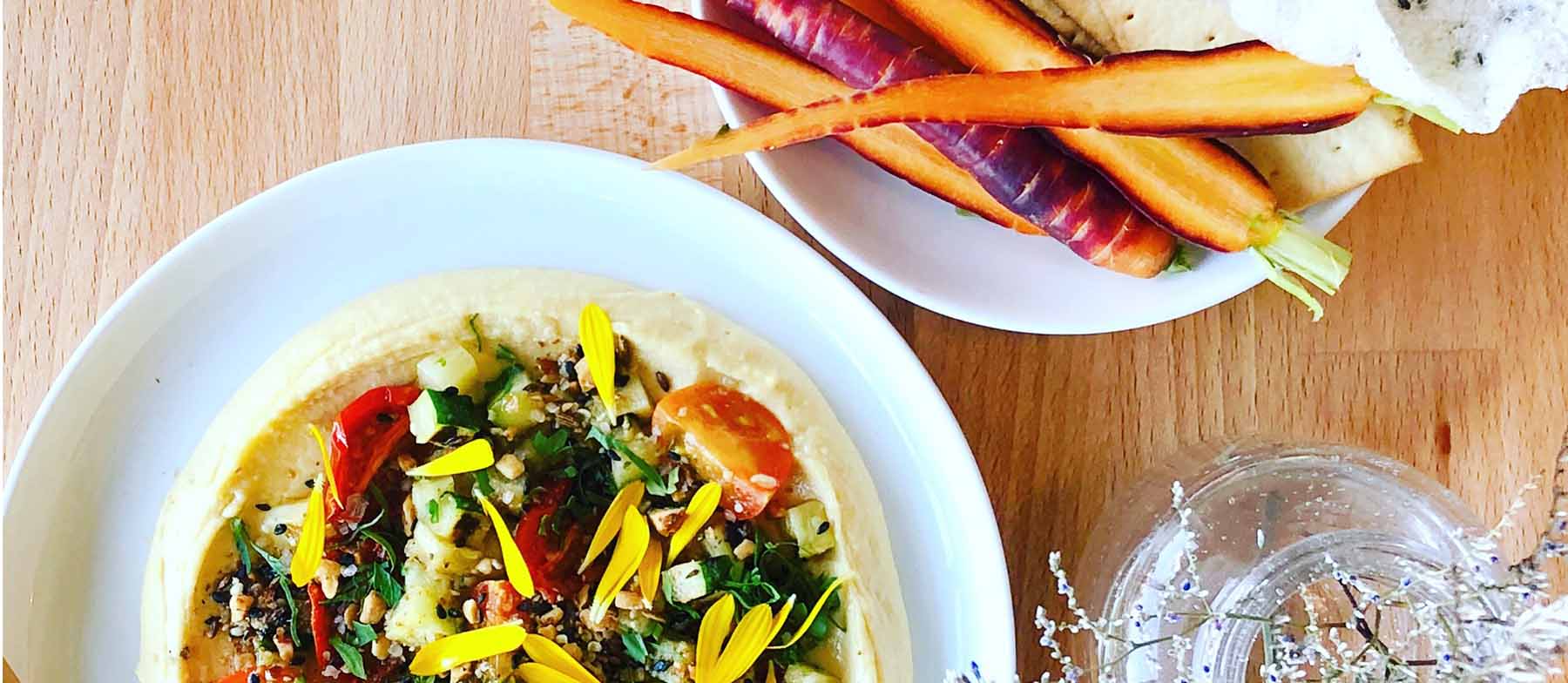 Spanish carrot hummus at Frankie We Salute You
Frankie We Salute You Kelowna, BC
Located in Kelowna's new District Market area, the plant-based Frankie We Salute You serves up some of the best meals you'll find in the entire Okanagan. The chef, Brian Skinner, was the 2013 Gold Medal Plates winner and co-owner of the Vancouver/Main Street vegetarian restaurant The Acorn. Locals say "even meat lovers LOVE this place. It's just truly fantastic food." You'll enjoy their rockin' broccoli benny, cauliflower wings, vegan sushi, plant-based chorizo sausage bowl and their emphasis on Okanagan wines, craft beers, and ciders.
Facebook: @frankiewesaluteyou
Instagram: @frankiewesaluteyou
Zabb Thai
Kelowna, BC
Voted the Best Thai Restaurant in Kelowna every year since 2015, Zabb Thai is known for authentic Thai dishes and amazing service. Tasty standouts include their pad thai with shrimp, green curry, pineapple fried rice, and drunken ginger chicken. Thai speakers would call their menu simply aroy (delicious).
Facebook: @ZabbRestaurant
Instagram: @zabbthai

Parmesan gnocci with broccoli pistou at RauDz
RauDZ
Kelowna, BC
A great downtown date spot, this brick-lined, fine-dining bistro serves up great steaks and locally-sourced Pacific Northwest dishes. Chef & co-owner Rod Butters shares his love of fresh local/West Coast ingredients. Try his delicious grilled sockeye salmon signature BLT (served on fig anise toast with local pancetta), oat-crusted Arctic char, and seafood from the local fishmonger such as Ocean Wise ahi tuna. For dessert, try the pear affogato or the chocolate caramel crunch that's built with sponge toffee and Vancouver Island sea salt caramel ice cream.
Twitter: @RauDZ
Instagram: @raudz
Now that you've enjoyed some of the Okanagan's best eating, it's just another couple of hours before you sample excellent food experiences in the Tournament Capital of Canada. Kamloops is technically located in the Thompson Okanagan but we've included it here to make sure you're well-fed throughout the Interior.
On your way to Kamloops, stop in at Davison Orchards Country Village in Vernon. They officially open for the season April 28th when their Farmhouse Café serves up amazing lattes, healthy homemade lunches, and their famous slices of pie. Meantime, the farm's online pickup store is open all year, every Thursday and Friday, offering you easy pickups of apple juice, caramel, peach butter, and take-and-bake pies and quiches.
Next, you'll approach Kamloops from the east on Trans-Canada Highway #1. This means you'll pass Monte Creek and can enjoy a charcuterie plate with a mountain view on The Terrace at Monte Creek Winery, 25 minutes from downtown Kamloops. Or get your charcuterie in a picnic box, so you can spread out on the grass to enjoy a lovely view of the winery's vineyards.

The brew burger at Bright Eye Brewing
Population: 90,280
Town slogan: 'Boldly unscripted'
Once you hit Kamloops, you'll find the best fine dining date nights at the Brownstone Restaurant (their tree-lined patio is kind of magical) and Cordo Resto & Bar (get the blackened trout or vegan bibimbap).
Now it's time to cross the bridge to the North Shore and scruffy Tranquille Road where you'll get blown away by these chefs and kitchens.
Bright Eye Brewing
North Kamloops, BC
Who is this incredible chef? Bright Eye needs to do everything they can to keep 'em on the team, as we love their creole prawn risotto, and their Szechuan soy ramen. We observed one happy customer describe Bright Eye's burger (ground brisket & a short rib patty with provolone and prosciutto) as "the best burger I have ever, ever, EVER tasted." Meantime, if you like fruity beers, you've come to the right place as they like to serve saisons and pale ales flavoured with peaches, plums, guava, and passion fruit (but stick to soda if you're just passing through).
Facebook: @brighteyebrewing
Instagram: @brighteyebrewing

The patio at Red Beard Cafe
Red Beard Cafe
North Kamloops, BC
Just down the road from Bright Eye, Red Beard is a combo pub/cafe/restaurant known for delicious bistro-style meals. You'll love their duck wings, venison sandwiches, chaat, and potato croquettes. Pair them with 18 rotating cider and craft beer taps and devour it all on the leafy patio by the cozy, wood-burning fireplace.
Facebook: @redbeardcafe
Instagram: @redbeardcafe
Congratulations, foodie!
You've done it. You've sampled food up the Thompson Okanagan and can start working your way back down through the other great restaurants and food experiences we didn't have room for (this time). Have a great, safe, and satisfying travelling feast!
Any fave Okanagan restaurants and food experiences that you'd love to add to this list? Share your pics with us on Facebook, Twitter and Instagram using #TravelwithBCAA!
A few final tips before you hit the road
Ensure your trip goes smoothly by taking a bit of extra time to plan and get your vehicle road trip ready. Here are a few helpful tips:
Review your Membership plan to make sure you have the right level of coverage. With a Plus or Premier BCAA Membership, you'll get up to 160/320km of towing distance, motorcycle and e-bike coverage, road trip interruption coverage, and more. If you need to upgrade your BCAA Membership, be sure to upgrade or make any changes well before you leave by logging in to your BCAA Online Account or calling us at 1.888.268.2222.
Tune up your vehicle to avoid unexpected breakdowns. Here's a great pre-road trip vehicle check-list to follow, plus a few pointers on essential post-winter car care. You can also prep your vehicle by visiting a BCAA Auto Service Centre, where for a limited time you can get a free brake inspection.
Get car insurance that goes the distance. BCAA's Optional Car Insurance now has Free Tire Protection, so you can travel with ease knowing that you're covered if your vehicle tire is damaged from potholes or punctures (yep, winter roads can be tough on your car). This is just one of the many features that provide peace of mind on the road. Plus, BCAA Members save up to 20% on BCAA Optional Car Insurance.
Not a BCAA Member yet? Join today and get the Best Roadside Assistance for less than $8 a month.
---
Subscribe to our BCAA Member Rewards e-news for more travel content, exclusive BCAA offers, contests, deals and more.