Food for thought: 10+ great restaurants and food experiences on Vancouver Island
If you're looking for a unique BC travel idea, why not make your next vacation a food-focused adventure. Vancouver Island offers a moving feast of culinary experiences – and we've curated over ten great island food destinations for you based on recommendations from our team and Members. Here are some delicious ideas for how to eat your way up and down the island.
Helpful health tip: Like all of us, BC restaurants are adjusting to our return to travel, shifting health advisories and evolving staff. If you can, reserve your table well in advance, understand their health rules and guidelines, bring your BC vaccine card (available to download September 13th) and research a backup restaurant in case your first choice isn't possible. Be calm, patient, and remember, we're all in this feast together.
Moving from south to north, here are some terrific island restaurants and food stops:
Korean BBQ Wings at Saveur
Your island food odyssey begins in our provincial capital. Locals will tell you that any journey should start at Pagliacci's, a delicious Victoria staple serving up pasta, soups and excellent brunch. We also recommend two vegan restaurants: Be Love, serving healthy smoothies and a revolving menu of plant-based dishes, and The Very Good Butchers a 'plant-based butchery' known for BBQ plates, spicy plant burgers and poutine with house-made gravy. Yum.
Seeking great French fare? Here's another must-try to add to your list:
Victoria, BC
Known for: French-inspired seasonal tasting menus
Once a derelict boot factory, Saveur is now a rustic-meets-modern Chinatown favourite. Chef/owner Robert Cassels serves high-concept, artfully plated French cuisine, family menus and grill feasts. You'll love his Salt Spring Island mussel escabeche, Korean BBQ wings (featured in the photo above), Barkley Sound salmon with horseradish new potato croquette, and veggie options like chilled soba noodles with miso dressing and pickled fennel.
Facebook: @saveurrestaurant.ca
Instagram: @saveurresto
Next, drive west out of Victoria to Tugwell Creek Honey Farm in Sooke, BC. You'll want to linger and load up on their organic honey and their flavoured/spicy meads. Then head west for 20 minutes to arrive in lovely, rural Shirley, BC and the cafe known as: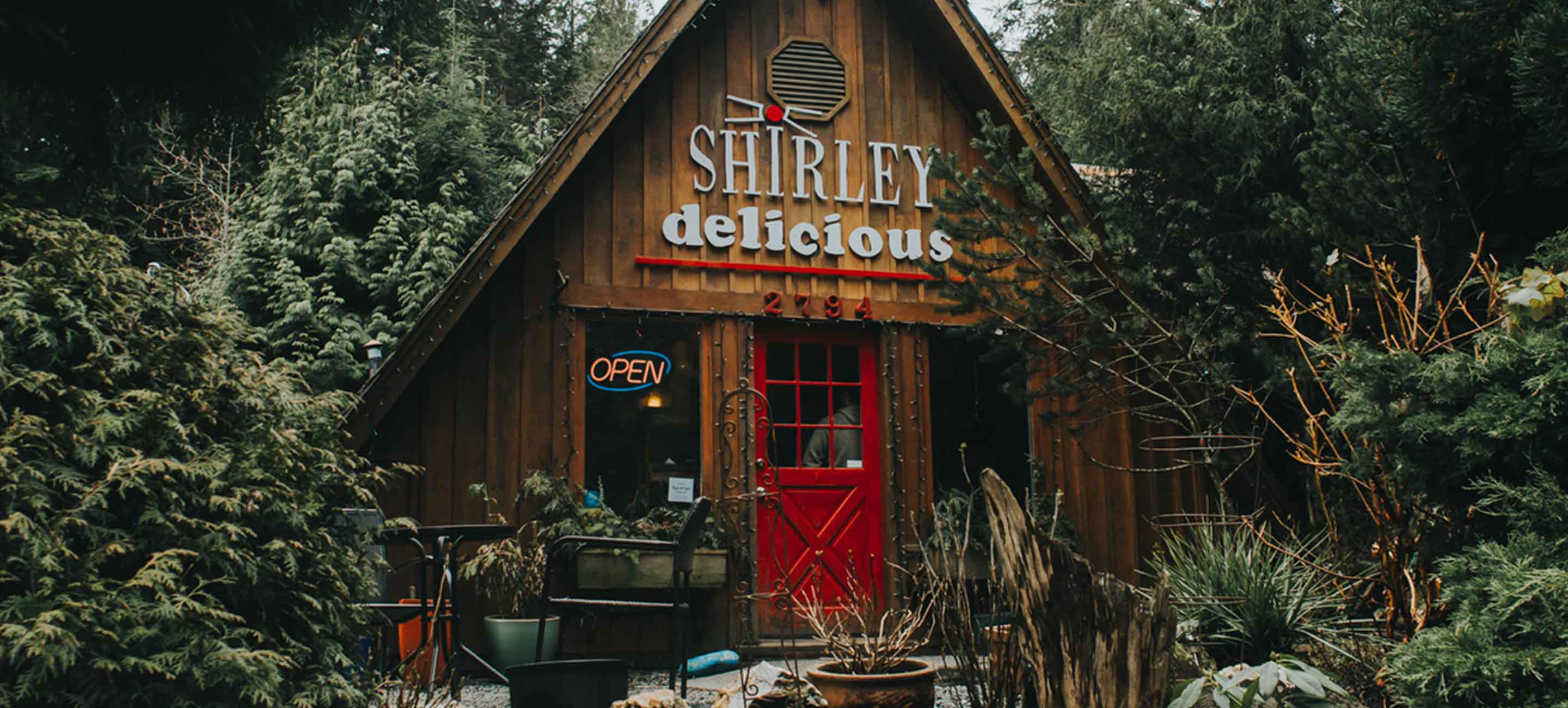 Shirley Delicious café by Destination BC/@melaniewonder
Shirley, BC
Known for: Tasty morning breakfast food
This quirky cafe is an island gem and the pride of Shirley, BC (population: under 50). They serve up delicious breakfast burritos, caramel salt lattes, home-baked pastries like salted caramel cheesecake and excellent vegan and gluten-free options.
Facebook:@ShirleyDelicious
Instagram:@shirley.delicious
Now that breakfast or lunch is covered head back to Sooke for mountains of lunch and dinner at:
Sooke, BC
Known for: West Coast Canadian cuisine that reflects the harvest and season
Wild Mountain's organic menu evolves with the harvest to give you coastal-inspired dishes and drinks in a casual space. Start with Cowichan beef tartare with Abergavenny blue cheese & baguette, then feast on chickpea falafel with buffalo feta cheese, fire-roasted lingcod with fennel sauce or roasted boneless loin chop with chanterelle mushrooms. Be sure to leave room for their Peruvian chocolate pudding. Note if you're travelling this month: they'll be closed Sep 20th-30th for a much-needed staff break and re-opening October 1st.
Facebook:@wildmountaindinners
Instagram:@wildmountaindinners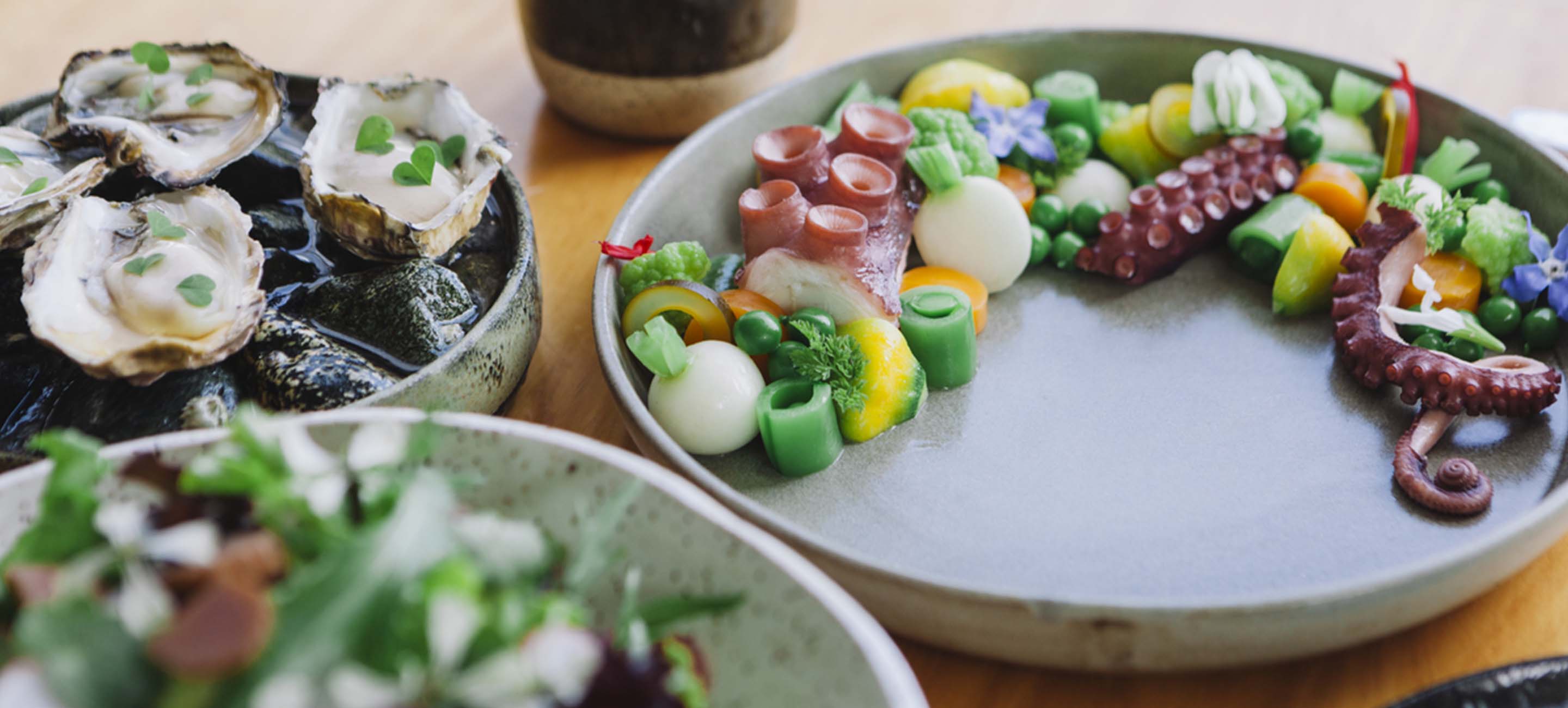 Seafood lunch at Wild Mountain Food & Drink by Tourism Vancouver Island/Ben Giesbrecht
Now it's time to head to Tofino for a coastal feast.
En route to Tofino, stopping to see the goats in Coombs is a must. Beginning as a roadside fruit stand in 1973, the Coombs Old Country Market is the big tourist attraction in Coombs (population: about 1,300 people and a handful of happy goats) as tourists flock to see the market's famous Goats on the Roof. For over 40 years, the market's roof has featured a 'trip' of goats (a trip is up to 20 goats), all hanging out and munching on the market's grassy, environmentally friendly roof.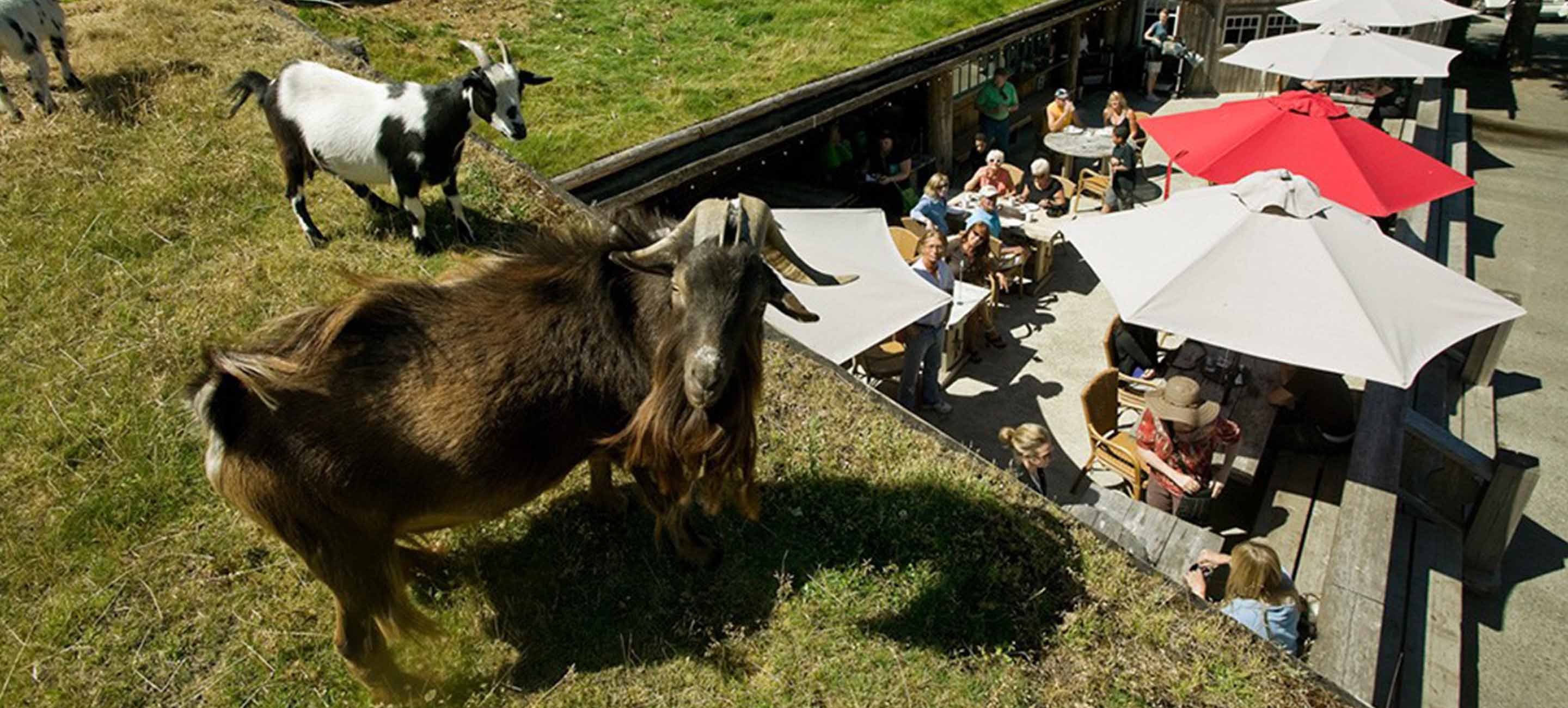 Goats on the roof at Coombs Old Country Market by Cuckoo Trattoria
Right downstairs, the market serves delicious cheese bread, ice cream, gelato, specialty coffees and extra-special doughnuts like Billy Gruff Bombers (caramel filling, topped with bacon). And right out back, you'll find great Italian dishes at:
Coombs, BC
Known for: Combining fresh West Coast ingredients with traditional Italian recipes
Just 10km's west of Parksville, this Italian-inspired stucco building (behind the world-famous Goats on the Roof) serves up scrumptious lunches and dinners. Come for bison carpaccio, fettuccine salmone, and linguine pescatora with fresh prawns, shrimp, clams, mussels, and scallops in creamy alfredo sauce, all prepared by Italian-born & raised head chef Fausto Bellicini. Outside, you can sit at beautifully spaced tables surrounded by forest.
Facebook:@CuckooinCoombs
Ready to head to Tofino? Fill your water bottle before you go. Once you leave Port Alberni (after stopping for the incredible pulled pork sandwich on the rooftop deck of Dog Mountain Brewing), there's no looking back (and zero restaurants) until you reach the Pacific Rim on the island's west coast.
There you'll find two towns that will feed you well, each with a handful of standout dining experiences. Here are two to try: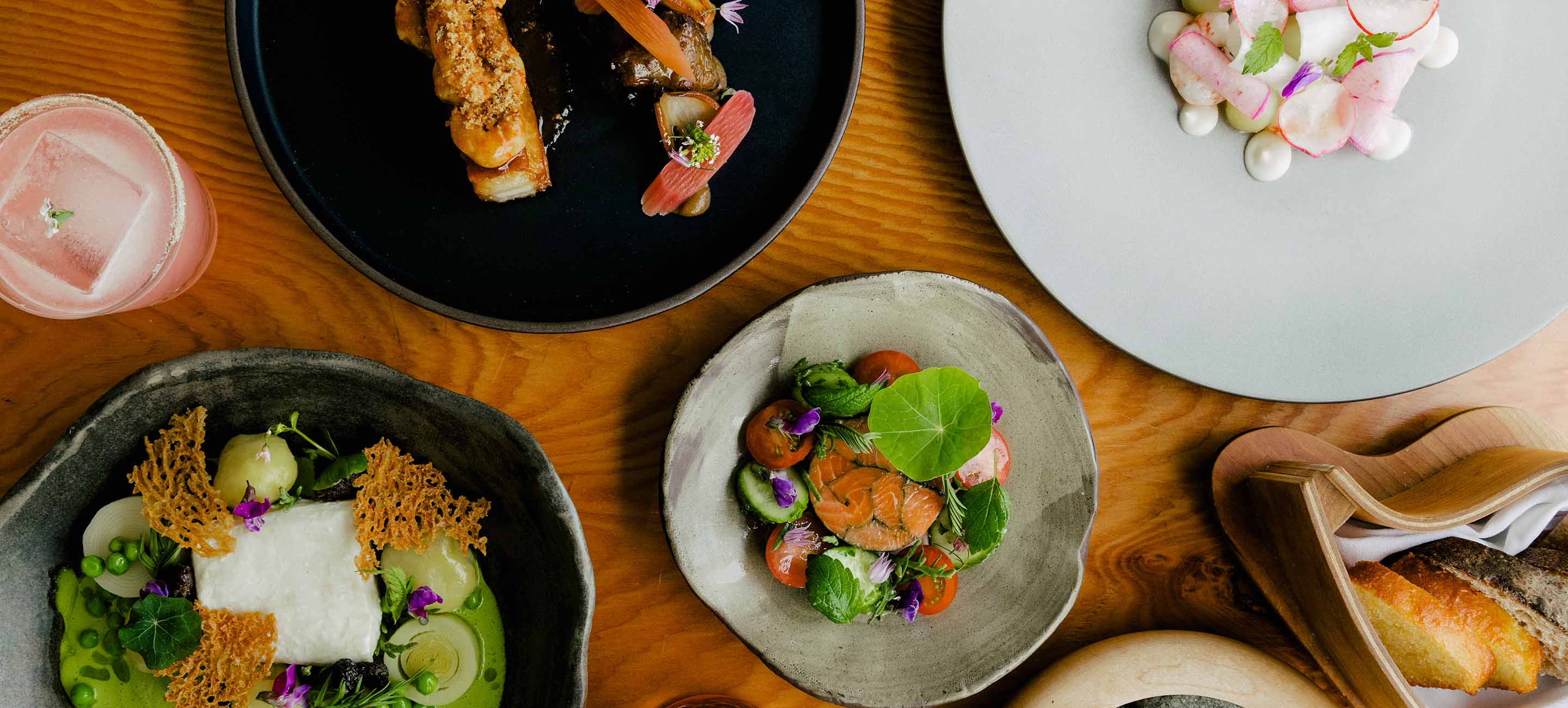 Pluvio by Jordan Dyck
Ucluelet, BC
Known for: Open kitchen, small restaurant, and a show-stopping 3-course dinner
Pluvio is a flavour-filled must after a day's beaching, surfing, or riding your bikes between Tofino and Ucluelet on the new connected path. To tackle their creative and inspiring menu, start with a Humdog appetizer, then choose from slow-cooked Fraser Valley pork shoulder with crispy potato pave or confit halibut with shrimp potato cakes. Or just enjoy it all with the Chef's Tasting Menu. Vegetarian, vegan, gluten-free, dairy-free, shellfish-free and nut-free options are always available. Staying in a room upstairs? Each room has a private balcony, outside entrance and exclusive use of Pluvio's rooftop garden patio.
Facebook:@pluvio.restaurant.and.rooms
Instagram:@pluvio_restaurant_and_rooms
Tofino, BC
Known for: Sophisticated menu with a spectacular 240-degree view of the Pacific Ocean
Come for the surf and storms, stay for the amazing dinners. You'll have plenty of delicious dinner choices around town, but The Pointe Restaurant at the Wickaninnish Inn is the #1 choice for dining well in Tofino. This upscale, fine dining restaurant (dress code: smart casual) serves farm-fresh Canadian dishes and Sunday brunch. For dinner, choose from confit halibut, beef tenderloin with foie gras fried rice, whole steamed Dungeness crab or for vegetarians, the grilled king oyster mushroom with laird lentils and blackberry teriyaki.
Instagram:@thepointetofino
Okay, that was truly delicious – but if you couldn't get a dinner reservation at The Pointe, they do offer a daily brunch from 7:30am – 2pm. They've also got a great mid-day menu from 2pm - 5pm in their lounge. Another great Tofino dinner option: check out the mouth-watering gourmet grassroots meals at SoBo. Still couldn't get a table? Here's an excellent backup plan: order a charcuterie plate from Picnic Charcuterie and snack wherever you like.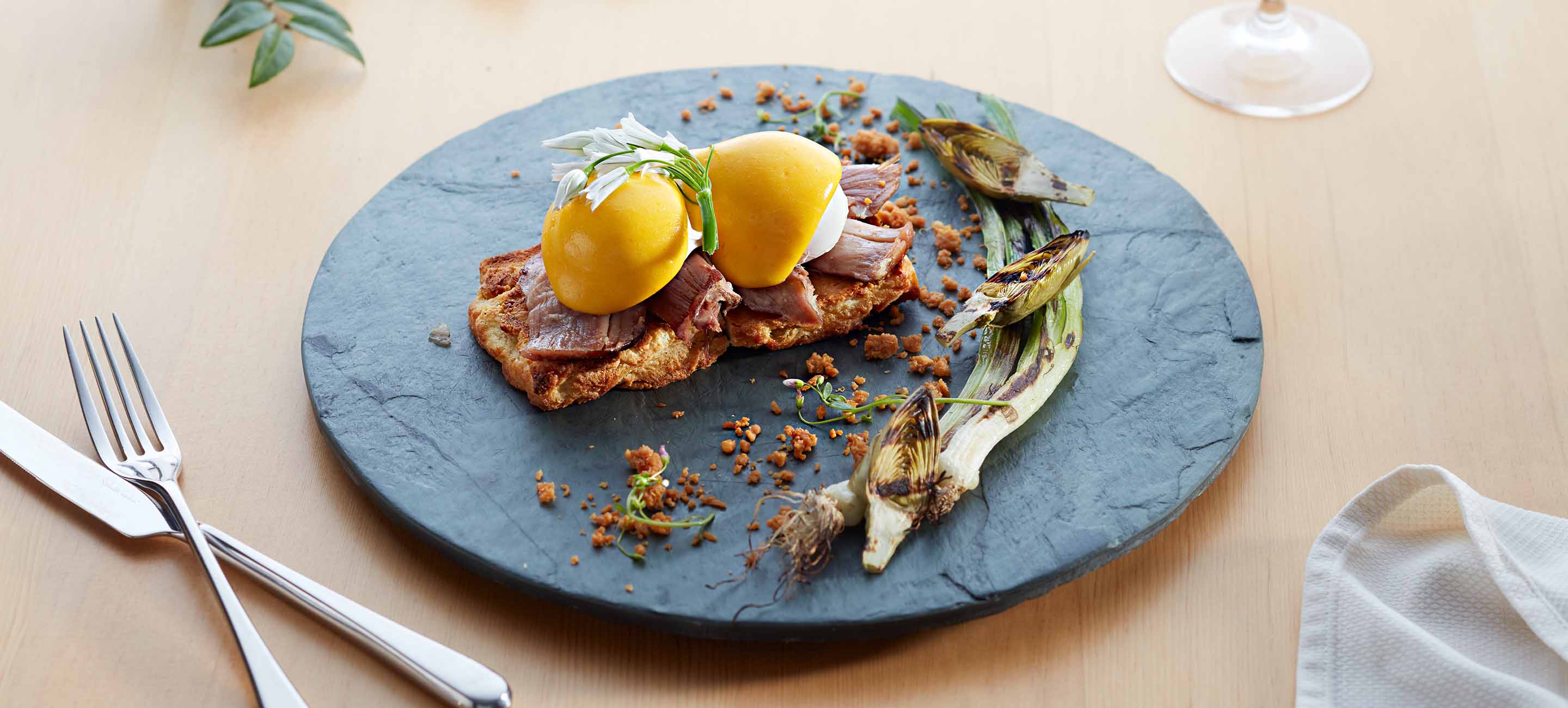 Eggs benedict at The Pointe by Makito Inomata
Now head east again towards Parksville, where you'll turn left and head north to the island's delicious middle.
You have plenty of cafes and restaurants in Cumberland, Courtenay and the Comox Valley to pick from. But maybe you want to cook for yourself in a vacation rental? Call ahead and book your chance to grab the island's best seafood at Fanny Bay Oysters. This legendary local seafood shop sells fresh shellfish, fish fillets, live Dungeness crabs, smoked salmon, cooked dishes and frozen seafood from 9am - 5pm.
When you get to Campbell River, head to Royal Aroma which serves delicious Tandoori cuisine and vegetarian dishes like stuffed mushrooms, Dal Bukhara (creamed lentil in Indian spices) and their incredible Veggie Vindaloo. If you crave Italian food, pull up a barstool at Mattone Italian Kitchen (est. 2021), where local hero Chef Ryan Gark is a Chopped Canada champion serving tastebud-pleasing Italian dishes like clam linguini.
There's also another up-and-comer restaurant in Campbell River that locals are raving about:
Campbell River, BC
Known for: Daily deliciousness and a talented chef
Want to try something truly unique in CR? Pull up a deck chair at Beach Fire, a stylishly casual gastropub that transcends typical pub fare and where the chef updates the menu daily. Beach Fire is a foodie's delight, as each day's diverse menu (which they stream live) offers mouth-watering meals like fish stew, chipotle lime mussels, vegan options and soft and chewy pretzels to go with your autumn brew. Beach Fire offers patios at front and back.
Facebook:@beachfirebrewing
Instagram:@beachfirebrewing
There's another rare and unique option for dining in Central Vancouver Island. To enjoy it, you need good timing and a fast Internet connection.
More Eatery virtual dinner prep
Campbell River, Courtenay, Comox Valley, Quadra Island
Known for: Guided virtual dinner parties
When the pandemic struck, More Eatery pivoted to serve virtual dinners to hungry home-bound locals in Campbell River, Courtenay, and their home turf on Quadra Island. Their unique events: once a month, you can sign up for a Friday night virtual dinner. On the day of your dinner, you get a drop box on your doorstep that contains all the ingredients for a themed feast. At 6:30pm, you join the video call and cook along with 20 other couples, all cooking a great date-night home-cooked meal. Past virtual dinners have featured Latin street food (Peruvian picarones and Argentinian tortilla de papas) and a savoury brunch where you cook your own smoked salmon eggs benedict with miso brown butter hollandaise.
Instagram:@moreeatery
After that incredible experience, time to move north from Campbell River, where you'll have a 2.5-hour drive to Telegraph Cove near the northern tip of Vancouver Island. It's a lovely drive without many places to stop and eat. One must-visit, however, is Roberts Lake Resort (26 minutes north of Campbell River) for their infamous hot Cinnamon Buns (Fridays, Saturdays and Sundays).
Kwa'lilas Hotel by Indigenous Tourism BC/Kimberley Kufaas
You made it! You reached the top of the island, and it's time for your culinary prize. Worth the trip for their seafood alone, reward yourself after a day of whale watching, fishing, hiking, or kayaking with a feast at:
Telegraph Cove, BC
Known for: West Coast cuisine (mmmm salmon) and Greek specialties
Tucked in the Telegraph Cove Resort (next to the Old Saltery Pub), Killer Whale Cafe specializes in seafood linguine in white wine cream sauce, seafood carbonara in a light basil cream sauce, chicken souvlaki, and the best creamy-white seafood chowder on the planet.
Instagram:@telegraphcove
Congratulations, island foodie!
And there you are, you've done it. You've sampled food all over Vancouver Island and can start working your way back down through the hundreds of great restaurants and food experiences we didn't have room for (this time).
Want more recommendations? You'll find even more incredible Vancouver Island food choices from our friends at Destination BC.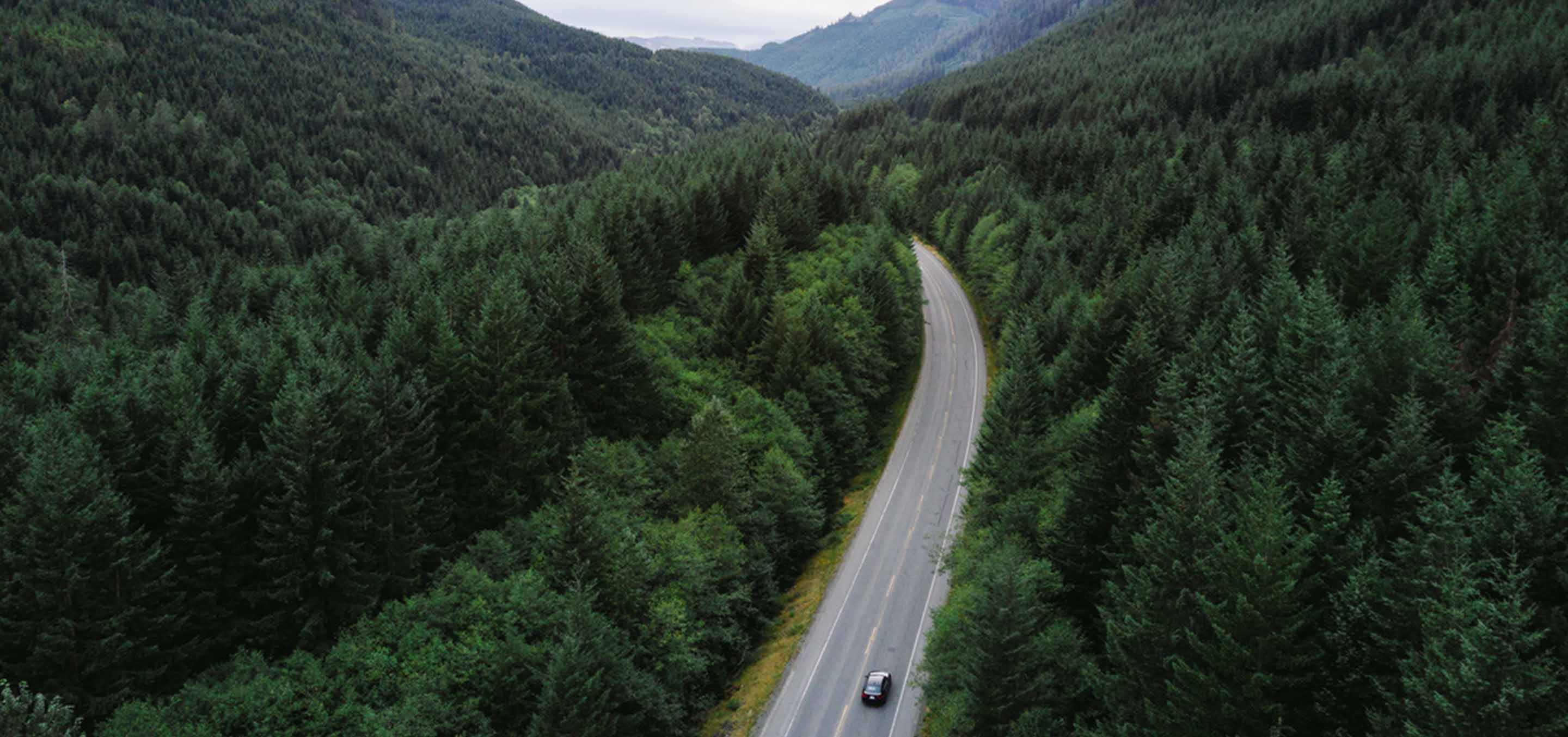 Driving Vancouver Island by Tourism Vancouver Island/Ben Giesbrecht
For the unexpected, take BCAA along for the ride
It's always a good idea to insure your trip, starting with BCAA Car Insurance and BCAA Travel Insurance. Should you need to cancel your trip, our Trip Protection Package can cover your non-refundable prepaid travel costs such as ferry reservations, hotel or vacation rental and airfare if you plan to fly there, as long as the reason isn't related to COVID-19. With savings of 10% for BCAA Members, you can enjoy your Vancouver Island adventures to the fullest. Learn more and get a fast online quote today at bcaa.com/travel.
And don't forget your BCAA Membership to keep your vehicle moving and earn you savings along the way. Download the BCAA Mobile App for faster access to roadside assistance and to search for reward partners nearby. Not a BCAA Member yet? Join today and get the Best Roadside Assistance for less than $8 a month.
Have a great travelling feast and stay safe. Any fave island restaurants and food experiences that you'd love to add to this list? Share your pics with us on Facebook, Twitter and Instagram using #TravelwithBCAA!