In the Line of Fire
by Christina Symons
Every year, just before summer, Shannon Bell collects her family's photos, heirlooms and essentials and packs them into bins in case she and her husband need to evacuate. The duo, who own a log house in the Nazko Valley west of Quesnel, had to leave their home for 40 days in 2017 during the Plateau "monster" wildfire, as Shannon calls it, one of the worst in BC history at more than 500,000 hectares. The blaze came within two kilometres of their community, and several nearby families lost everything.
The Bells found themselves on alert again in the spring of 2018 due to flooding, and yet again the following summer due to wildfires – experiences that caused almost as much anxiety as the evacuation itself. "You watch and wait, and then if the order comes down, it's a mad scramble to try and get things together," recalls Shannon. Which is why they now plan ahead.
Over the past several years, wildfires have become much more common in BC. On average about 60 per cent occur naturally – primarily from lightning strikes – and 40 per cent are human-caused, due to everything from cigarette butts and vehicle sparks to open burning. But the overall number and intensity are increasing.
"[The years] 2017 and 2018 were both record-setting wildfire seasons in terms of the areas burned: 1.2 million and 1.3 million hectares, respectively," says Kevin Skrepnek, Chief Fire Information Officer for the BC Wildfire Service. He adds that 2017 was also historic for the number of displaced residents (more than 65,000) and money spent (more than $500 million).
Why such a dramatic rise? A study published earlier this year in the journal Earth's Future, by Environment and Climate Change Canada with scientists at the University of Victoria, found that human influences have substantially increased the risk of wildfires. The total area burned in 2017, for example, was seven to 11 times larger than would have been expected without human influences on the climate.

FireSmart your home
All of this means wildfires are becoming a fact of summer life in BC. And while residents can't control whether their homes are in the path of a blaze, there are ways to improve a structure's chances of surviving. The BC FireSmart Homeowner's Manual recommends taking these precautions (for more, visit: firesmartbc.ca):
Clear a perimeter. Remove vegetation and combustible materials like piled wood, building materials, mulch and propane tanks within 10 metres of the home. "We keep a clear area all around our house and outbuildings and make sure that we have fuel-free zones, with an area of pea gravel all around the house," says Bell, who is a FireSmart advocate in her community.
Stay on top of maintenance. Keep grass mowed and watered, and sweep away dry leaves, needles, twigs or other flammable debris from your roof, lawn, deck and eaves.
Plant fire-resistant trees. Deciduous species like birch and aspen are less flammable than conifers like cedars, spruce and pine. Space trees to at least three metres apart, and prune branches to within two metres of the ground.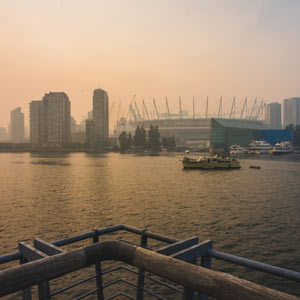 Into thin air
Compromised air quality has been a major secondary impact of BC wildfires. Sarah Henderson, a Senior Scientist in Environmental Health Services at BC Centre for Disease Control, studies air quality, measured by the concentration of fine particulate matter (PM2.5) per cubic metre of air.
"In the Lower Mainland, on a nice summer day, the PM2.5 concentrations will be less than 10 per cubic metre," Henderson notes, "while on a smoky day that can go up to 100 per cubic metre." Areas closer to a fire zone might see readings more like 500 per cubic metre on a very smoky day.
For most people, wildfire smoke is an annoyance, causing mild symptoms such as eye stinging, sore throat or minor coughs and headaches. Usually symptoms resolve quickly when smoke dissipates, Henderson says. "But people who have underlying diseases such as asthma, chronic obstructive pulmonary disease (COPD) or heart disease are at higher risk of smoke triggering something more severe," she adds.
When air quality is low, staying indoors with doors and windows closed is important. Running a portable air filtration device (available at most hardware stores) can help, too. If you have a central forced air heating system, install a fresh high-efficiency filter in your furnace and switch the fan on to help remove smoke from the air. Change out home air conditioner filters as well.
"And if you're driving, make sure to get your air filters changed in your car, keep your air conditioning on and set it to recirculate the air inside," says Henderson.
Tip!
For the latest updates on active wildfires, follow Emergency Management BC on Twitter: @EmergencyInfoBC
Tip!
Develop a fire safety and escape plan, and practise it with your family each spring.

Insurance on the front lines
"Fire is generally covered by a home insurance policy, so the key is making sure you have the proper coverage," says Shana Johnston, Senior Claims Manager for BCAA Insurance. Review your policy with your insurance advisor to make sure it reflects the current uses and replacement cost of your property and possessions, as well as additional living expenses (if you need to live elsewhere while you're on evacuation, or your home is being repaired). Keep an itemized list, photos or video record of belongings like jewellery, electronics and furniture, she suggests.
"In general, a homeowner's comprehensive policy will cover the replacement of the house and its contents, and include a limited amount of coverage for outbuildings and landscaping," says Johnston. "For renters and condo owners, there is usually coverage for personal belongings, as well as coverage for improvements made to the unit."
Evacuation Alert
If your home lies in the path of an active wildfire, you may need to leave quickly when the order comes down. Here are a few things to remember:
Store an emergency kit with enough food and water for three to seven days in a safe location.
Keep vital documents like passports and insurance close at hand.
Move valuables and irreplaceable items to a safe location, and back up important documents electronically.
Take photos or video of items you can't move, like furniture, antiques, electronics, trees, shrubs and plants.
If safe to do so, move secondary vehicles like RVs and boats to a safe location (you may need to buy liability insurance to do this – check with your provider).
Taking a proactive approach
If you need to make a wildfire claim with BCAA Home Insurance, you can expect the process to run smoothly. Our BC-based team takes a proactive approach and is available 24/7 to assist and process claims without delay, making sure you have the resources you need to recover as quickly as possible.
Photo Credits: Bernie Hudyma, The Canadian Press, iStock