Say Hello to Evo, Victoria
Created by BCAA, Evo Car Share is now available on Vancouver Island. Here's what to know!
by Julia Dilworth | BCAA Magazine, Fall/Winter 2021
Last summer, BCAA's Evo Car Share hopped the Georgia Strait. Starting with an 80-car fleet, the ultra-popular service launched in Victoria August 1, bringing communal mobility to a whole new set of active city dwellers who have people to see and gorgeous coastal places to go.
Metro Vancouver Evo Car Share Members will recognize the cars from the Mainland: the newest class of five-seat sedan Toyota Prius hybrid, with the signature electric blue roof racks for bikes, snowboards and skis. Whether you're in Victoria, New West or Vancouver, the same pricing applies, too, with trips at 45 cents a minute, $16.99 an hour or $99.99 a day.
It's a package that has convinced a ton of Metro Vancouverites they don't need to own a car – or rely on one as heavily – over the past seven years.
MEMBERS SAVE
BCAA Members get FREE Evo Car Share Membership and 60 free driving minutes. Plus, save 10% on driving rates. Use promo code EVO2BCAA or visit evo.ca/evo2bcaa.
"You don't have to worry about paying for parking, gas or insurance," says Evo Senior Manager of Business Operations Dave Wharf. "All you have to do is find a vehicle, reserve it, walk to it, open it and drive it to where you want to go, and you can leave it there."
In Victoria, the uptake was immediate. "The first weekend people were up in Tofino with the cars," says Wharf. His team has already been getting requests for Evo to expand its Home Zone to areas such as Esquimalt, Oak Bay and Saanich.
Evo Victoria has arrived – seen around town at BC's Parliament buildings and the entrance to Chinatown.
Destination in demand
The Island's strong green ethos was one reason Evo set its sights on Victoria, says Wharf: "Especially here, many people are looking at how to get away from fossil fuels and asking themselves, 'Can I go car-light or car-free?'"
The city also has one of BC's highest population densities outside Metro Vancouver. "Mobility goals are a big thing for us," says Wharf. "It's why BCAA continues to support Evo as a way to help people in BC move around."
Not only that, but Victoria was the birthplace of BCAA back in 1906. "It has always had a special place in our hearts," he adds. "And the city was supportive. They wanted us here."
Home in the zone
Evo's Victoria Home Zone currently includes downtown, with boundaries at Hereward and Harriet Roads in the west and Tolmie Avenue in the north. Foul Bay Road marks the easternmost boundary on the peninsula. To the south, the zone encompasses Dallas Road, James Bay, Clover Point Park and all the other beautiful beach spots you'd want to cruise to, with the exception of inside Beacon Hill Park. There are also two campus satellite zones where Evo Members can leave cars, at the University of Victoria and Camosun College Lansdowne Campus.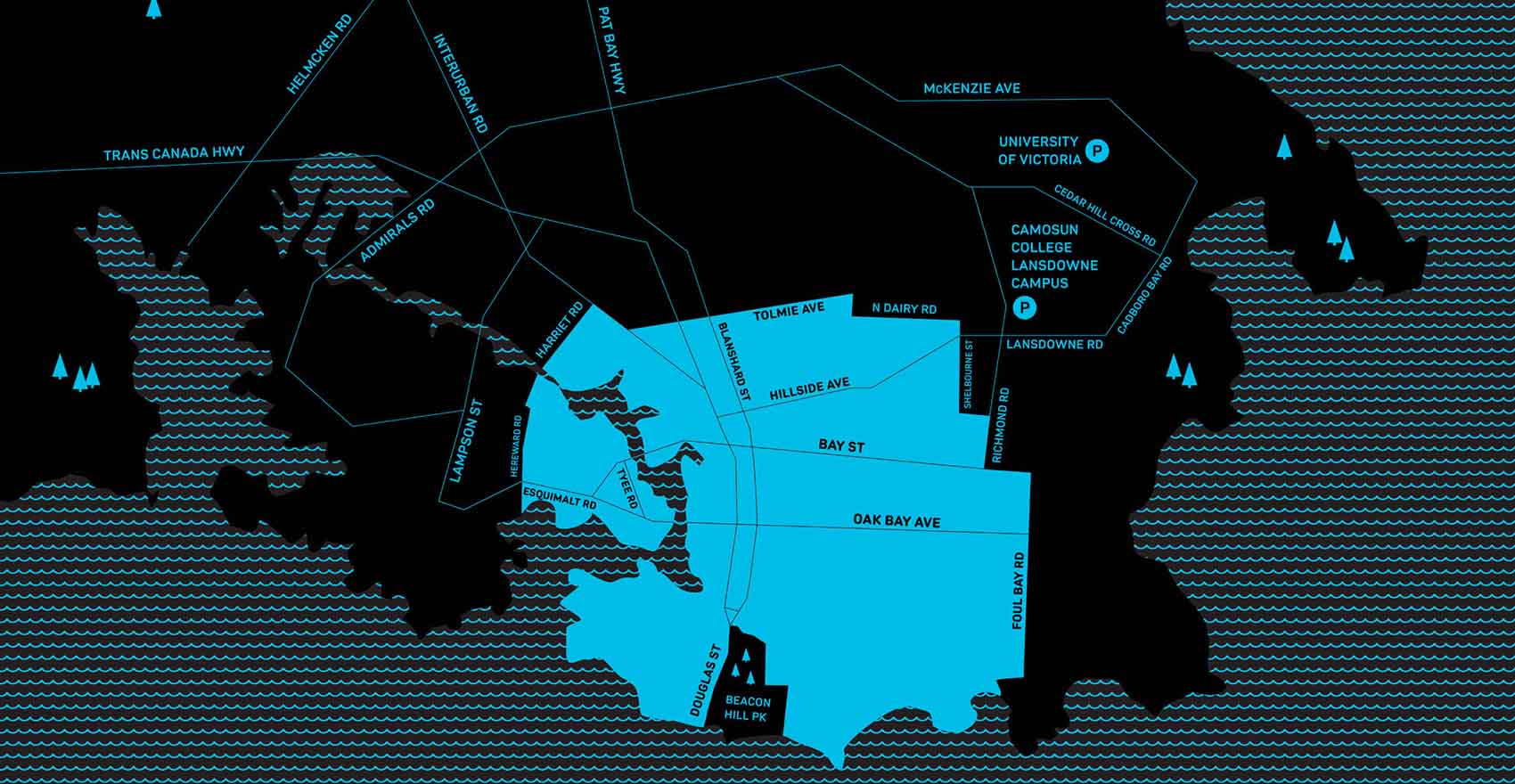 The Victoria Home Zone includes satellite parking at UVic and Camosun College Lansdowne Campus.
After years of fine-tuning the service in Metro Vancouver, Wharf and his team knew one of the keys to success would be parking. "The ability to leave Evo vehicles at parking meters took us about four years to get in the City of Vancouver," he explains. It was worth the wait. "Convenience is the number-one thing for Evo Members. It drives our business; pun intended," he says. The company is proud to offer the kind of convenience that allows an Evo Member to take a car downtown and leave it right in front of a restaurant, for example.
Working closely with the City of Victoria, Evo was able to secure parking in residential spots, and metered street parking (other than the 20-minute-max variety), within the Home Zone. And because the city owns or oversees most of the parkades downtown, Evos can park there, too.
For locals who have concerns about a car share using parking spots, Wharf says he hopes to spread awareness that Evo is ultimately taking vehicles off the road. "Car-sharing in general reduces car ownership," he says.
TIP!
Road-tripping Vancouver–Tofino, or Victoria–Whistler? Remember: journeys must start and end in the same Home Zone.
To get into a Victoria-based Evo, you can be a Metro Vancouver Evo Member and get started right away. Or, download the app and sign up by supplying a copy of your driving record. And while you can't take a Vancouver car and leave it in Victoria or vice versa (trips have to start and end in the same Home Zone) there's nothing to stop Evo Members from doing a weekend or longer trip, farther afield.
Evo roof racks can accommodate bikes, snowboards or skis to match the West Coast lifestyle year-round.
Mapping the future
Cementing success and doing a great job of supporting Victorians is step one, says Wharf. But the service could expand quickly if residents of neighbouring communities call out for Evo.
"I had an area in Vancouver, Victoria-Fraserview, that literally sent in a signed petition with 200 signatures on it that said, 'Please come to our neighbourhood,'" says Wharf. "It was a neighbourhood we hadn't actually thought of. But we started looking at it – where the trips were ending, the Evo Members who lived there – and then we decided to do it. I think the same thing will happen in Victoria. We'll start to hear it. We're really excited to keep expanding Evo on the Island, and throughout BC."
5 Top Spots to Evo Around Victoria
Now that you have wheels, here are a few suggestions to take in what the city and Island have to offer:
1. Malahat Skywalk
The SkyWalk is a must-stop for anyone day-tripping across the Island. Around 35 minutes northwest of downtown, this elevated walkway towers above a forest of arbutus trees, ending with a 32-metre timber and glass lookout – and views, views, views. Finlayson Arm, a gleaming Mount Baker; it's almost more than eyes can handle. A 20-metre spiral slide is the quick route back to the bottom.
2. Mount Douglas
A 22-minute drive north of downtown, you'll find Mount Doug, with its trails, secluded beach and sweeping panoramic vistas of the Haro Strait and nearby San Juan Islands. Pack in pals or pets and drive to the base, park and walk up. Or, drive all the way to the summit and park there, to take in the coastal scene from your heated interior.
3. Mount Washington Ski Resort
Vancouver Island may be known for a year-round climate that's oh-so-moderate, but Mount Washington gets some of the biggest snowfalls in North America. More than 688 hectares of in-bound terrain call powder hounds from Victoria and beyond, along with cross-country skiing trails, snowshoeing, a dedicated nordic lodge and tube park. Strap boards and skis to Evo's roof racks and make the three-hour drive up-island for a snow-venture day trip or overnighter.
4. Ferris' Oyster Bar
Now that you can park anywhere on Yates St. thanks to Evo, it only makes sense to warm up on cold days at Ferris' Oyster Bar. Locals love this downtown haunt for a host of tasty favourites, but the chicken penne soup routinely causes lineups. The fresh veg, cilantro, penne and sweet-and-spicy chili broth are just the opening act for fried wild rice dumplings, which are nothing short of spectacular.
5. Matheson Lake
Located in Metchosin, this 156-hectare regional park is one of the best just-out-of-the-city destinations year-round. A treed, 3.8 km waterfront trail snakes around the water, dotted with lookout points and rocky perches. And nearby My-Chosen Cafe (see what they did there?) is a must-visit for homey baked treats. At 28 km southwest of Victoria, the only practical way to reach this spot is to drive. And wouldn't you know it, you have four extra seats.
TIP!
Evo's year-round mud-and-snow tires may not be suitable for some snowfalls and ice, so use caution.
---
Photo credit: Malahat SkyWalk/Tourism Victoria, Shutterstock