BCAA is there for you throughout COVID-19
For over 100 years, BCAA has helped British Columbians move forward. Keeping us safe at home, on the road and wherever the next adventure might lead. So when the COVID-19 pandemic began, we leaned into our Purpose and our Beliefs, to shape how we could be there for you, our Members, customers, employees and the communities at large, now more than ever.
We believe in PROTECTING OUR HOME.
Our team members acted fast to adjust to the new realities of working from home – no small feat for an organization 1300+ employees strong! To help keep you, our employees and the wider community safe we closed our Service Locations and sourced the technology needed to maintain support for Member needs. With our locations closed to foot traffic, many of our agents are working remotely, practicing physical distancing and helping over the phone with things like insurance renewals or buying a new Membership. During this time we can even offer ICBC Autoplan over the phone! To keep British Columbians safe and moving, these are the ongoing ways we're here to help:
Roadside Assistance and BCAA Auto Service Centres
As an essential service, our Roadside Assistance team continues to operate but with adjustments to support physical distancing for everyone's safety. This includes contactless payment options, new sanitization and physical distancing protocols, and personal protective equipment for drivers. To continue to provide necessary car maintenance and servicing support, all our BCAA Auto Service Centres remain open for emergency appointments. You can request BCAA Roadside Assistance online or download the BCAA app for Android or iPhone.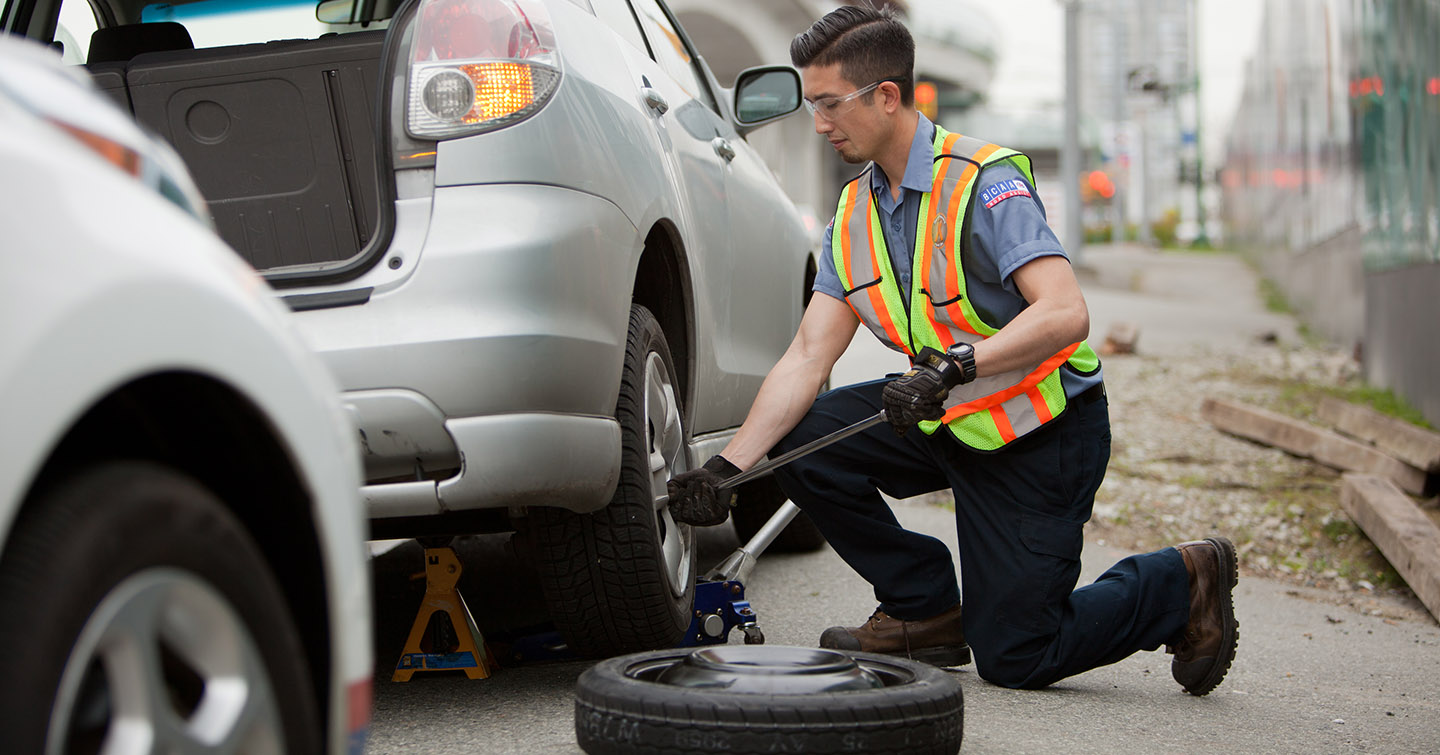 All Your Insurance Needs Online & Over the Phone
Our BCAA Service Locations may be closed for in person visits, but we're still here to help with Insurance and Membership online and over the phone, including ICBC Autoplan. Visit bcaa.com or call us at 1-888-268-2222.
Evo Car Share Operating for Essentials Trips
As BC's only one-way car sharing service, Evo continues to operate for essential trips. We've stepped up cleaning and sanitizing all Evo cars and have temporarily closed the Evo retail location in Vancouver. Learn more at evo.ca/news.
We believe in PUTTING PEOPLE FIRST.
While work from home became a new reality for many, our Roadside Assistance, BCAA Auto Services and our insurance team continued their support for Members across our province as essential services. When all of us faced a shortage of cleaning supplies, we sourced locally produced hand sanitizer en masse from Gillespie's Fine Spirits to ensure our teams had ample access. Plus, we adjusted some of our practices to support physical distancing for everyone's safety.
We also knew extra time and space was necessary for those adjusting to life at home, from home-schooling children to balancing health and wellness. To ensure that we were there for them as well, we kept in touch through regular online and virtual updates and offered additional resources to ensure their physical and mental health as they adjusted to changes in how they worked. Because at the end of the day our BCAA team members are family too.
We believe in THE POWER OF COMMUNITY.
On top of their day jobs spent rescuing Members at the roadside and maintaining the BCAA Fleet, some of BCAA's Fleet Technicians have added something new to their work: delivering food, essential supplies and personal protective equipment (PPE) to neighbourhood houses and care homes in the Greater Vancouver Area.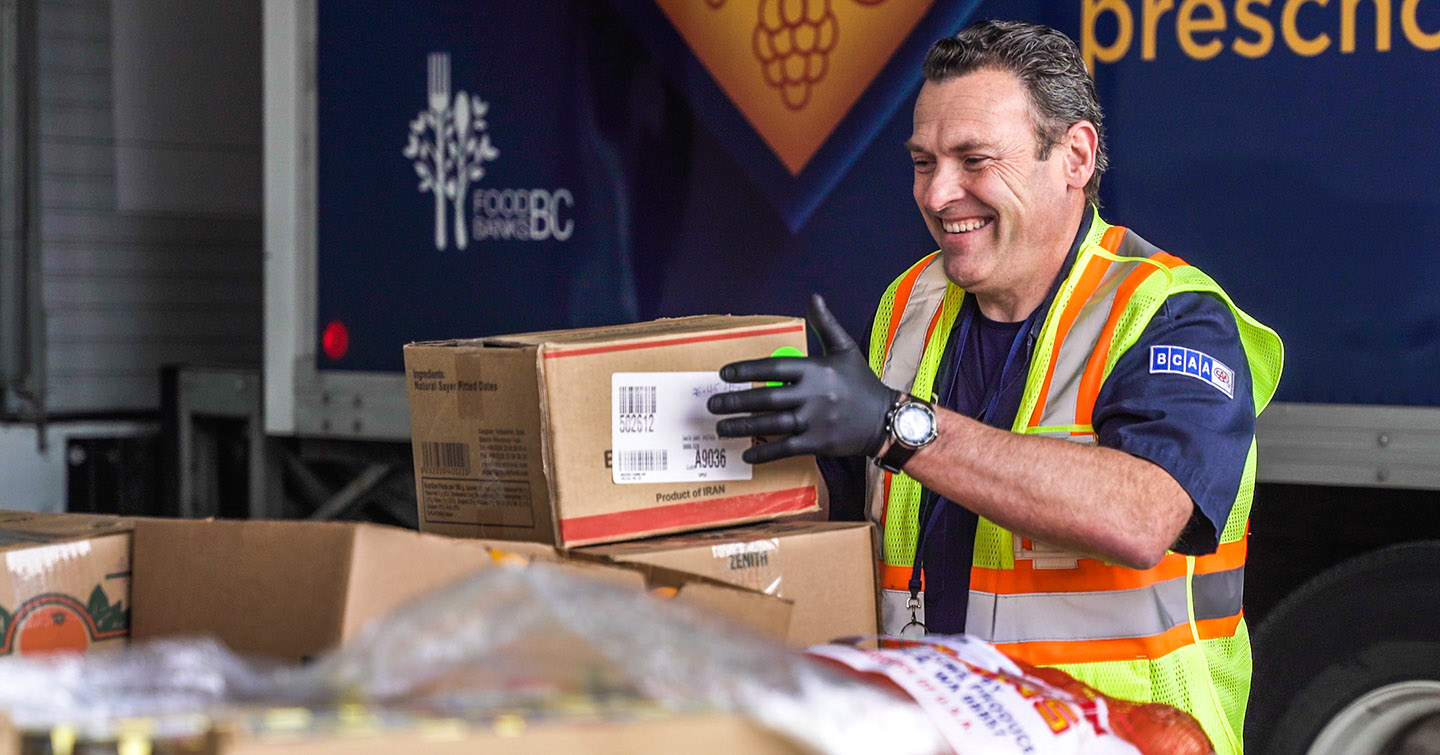 In response to the COVID-19 pandemic and its impact on the most vulnerable British Columbians, United Way of the Lower Mainland has created Local Love Food Hubs in neighbourhoods throughout the Lower Mainland and Fraser Valley to safely distribute groceries, food hampers and other necessities. When they needed a way to transport donations, BCAA stepped up.
We do pickups and drop-offs about three times a week. One day, it's 115 loaves of bread from Delta to South Vancouver. Another day, it could be 300 prepared food packages for families, or 500 granola bars for kids' lunches, or 160 PPE units for care homes. Whatever it is, we get it where it needs to go.
So far, the BCAA Road Assist team has delivered over:
1,350 prepared food packages for families,
600 food items like packages of eggs, bread or vegetables,
520 cases of granola bars and pastries, and
3,800 PPE items.
Like you, we've been proudly clapping our hands and banging spoons on pots at 7pm each evening to honour our heroes on the frontlines. We recently caught glimpses of some of BCAA's very own heroes in blue and white tow trucks participating in 7pm processions in Kelowna and New Westminster. Let us know how you've been celebrating heroes in your communities by tagging us on social media and using #stayhome.
We believe in DOING THE RIGHT THING.
When stay at home orders became a reality, the demand for travelling within Vancouver and on nearby adventures decreased. Evo Car Share became an advocate for flattening the curve by focusing on frequent cleaning and designating Evos for essential trips only. To be sure those trips could be taken safely, we've partnered with local distilleries such as Electric Bicycle Brewing and Pemberton Distillery for hand sanitizer supplies for Evo Car Share.
The real heroes these days are healthcare workers on the frontlines. To enable them to do their best work without concern for safe transportation, Evo Car Share partnered with local Health Authorities and donated 250 Evo cars to frontline healthcare workers. Each car is sanitized and fuelled, designated for an individual as identified by the Health Authorities to use free until the end of May.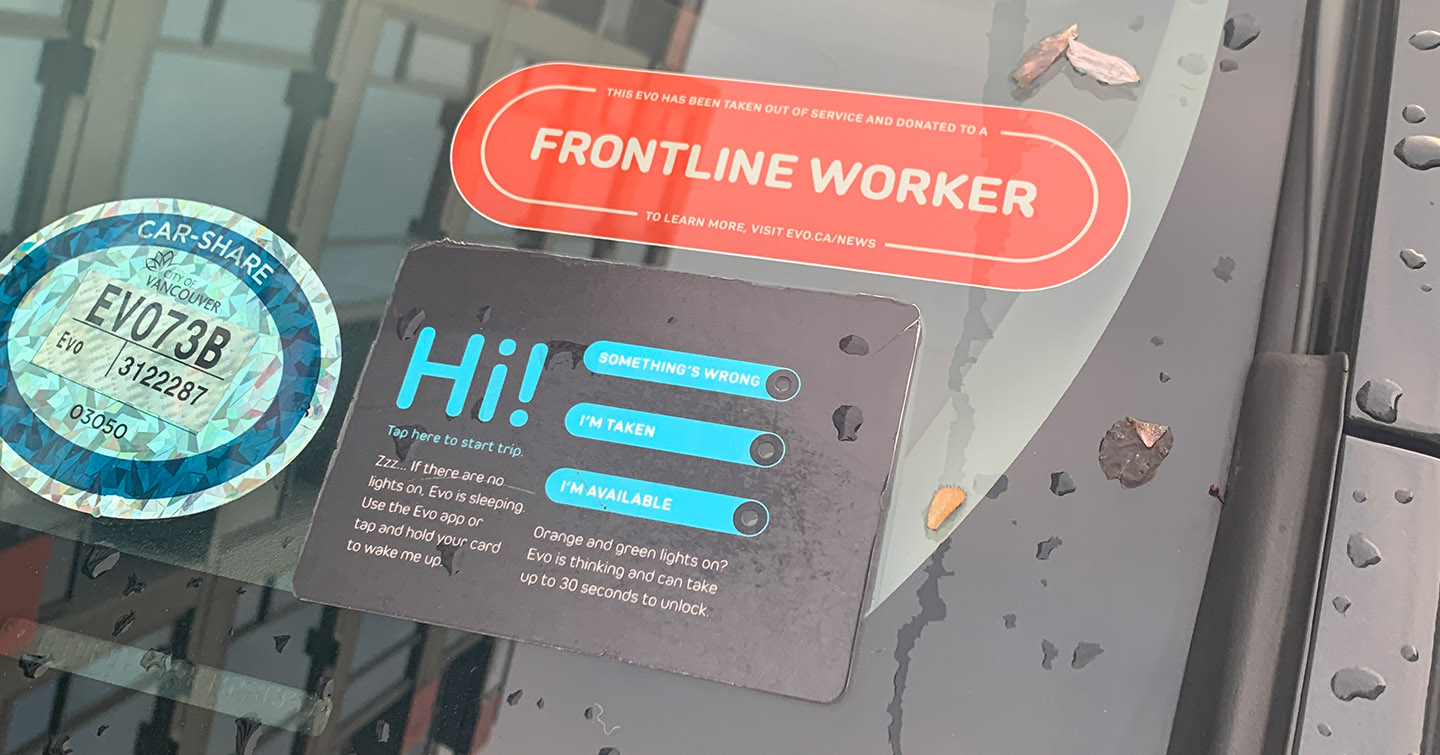 We believe in SHAPING THE FUTURE.
While we all learn to adjust to the new realities the COVID-19 pandemic brings, one thing has remained constant – the importance of having purpose, connection and community. Together we can adjust and innovate, knowing that as British Columbians, we are there for one another.
For BCAA our purpose ("Together, we mobilize British Columbia to shape a brighter future for all") is to be there now and in the future. That might look like help for your essential trips thanks to Evo Car Share, Car Insurance over the phone, ideas of what to do while staying at home, daily entertainment thanks to Blue the Bear for your kids, or simply the peace of mind knowing that we're here for you when you need us.
Regardless of what today looks like, we will be on this journey with you, proudly supporting our Members, employees and communities. Because as we try to embrace our new reality, we're all in this together.
Additional Resources
Learning resources and accurate, timely information about schools, programs and educational services, including regularly updated FAQs: www.gov.bc.ca/SafeSchools
This government website is constantly being updated with the latest information: www.gov.bc.ca/COVID19
The best source of COVID-19 health information can be found at the BC Centre for Disease Control website: www.bccdc.ca