Car seat guide: how to choose the right seat for your child
Buying a car seat for your little one can be a daunting task. Many options look similar but have different features, unique size limits, and can vary widely in price. Plus, the type of car seat or booster seat your child needs will change as they grow.
As a parent, we know that you have enough to worry about, and that's why we're here to help. Our BCAA Child Passenger Safety Program provides information and resources to keep kids safe while travelling on BC roads. To make selecting and buying a child car seat just a little bit easier, we're sharing our top five useful tips below.
Five tips to finding the right child car seat
1. Do your research
Take the time to learn about different types of car seats and find out which one best meets your child's age, weight and height requirements. In addition to reading online reviews, ask your friends and family for recommendations. They're likely to be honest about what they do and don't like about their child's car seat and can share knowledge from their own experience.
2. Buy your car seat in Canada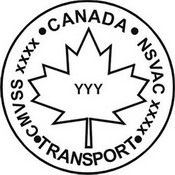 When buying your car seat, look for the National Safety Mark label (sample shown on the right), which indicates that it meets Canadian safety standards and is approved for use by Transport Canada. Be careful ordering a car seat online, as car seats bought in other countries, even those in the United States, aren't legal for use in Canada. Finally, keep in mind that an expensive car seat with all the bells and whistles doesn't mean it's a safer seat. As long as it has the National Safety Mark label, it meets Canadian safety standards.
If you're considering buying a used car seat, be cautious. Download and review this checklist and take a look at Transport Canada's safety precautions to know what to look for. Be sure to check the car seat for any safety recalls or notices .
3. Make sure the car seat fits your child
Every car seat will have unique weight and height limits depending on the make, model and type. Finding a car seat that provides the widest range of those limits will keep your child harnessed in the rear-facing or forward-facing positions longer, providing them better protection.
If possible, take your child with you to the store and have them try out different seats to see how they fit. Tip: make sure they aren't wearing a winter coat or other bulky clothing when testing the seats as it could affect proper fit. Remember, you'll be using this seat daily, sometimes for years. It's an investment in your child's safety, so taking the time to choose wisely is worthwhile.
4. Make sure the car seat fits your vehicle
The same way every car seat is unique, every car is unique as well - and not all car seats will fit all vehicles! If you're able to, try the store's demonstration model in your vehicle to make sure it fits correctly before making the purchase.
5. Register your car seat
When you buy a child car seat, make sure you register it online or complete the mail-in registration card that comes with the car seat. Registering your car seat can act as proof of purchase if you ever have issues with it, and in the event of a safety recall, it will ensure that the manufacturer contacts you.
Installing your new car seat
Now that you've researched, selected and purchased your new car seat, it's time to install it. Ensuring that it's installed and used correctly is of the utmost importance, and we can help with that too. Learn how to correctly install your car seat and secure your child in it. And finally, don't forget to practice!
For more information and how-to videos, visit bcaa.com/carseatsafety, or contact us at 1.877.247.5551 or roadsafety@bcaa.com to connect with one of our BCAA Child Passenger Safety Educators.