Pride Season kicks off in June!
Happy Pride Season! Through the summer months, we celebrate the resiliency, strength and spirit of 2SLGBTQIA+* communities, acknowledge the work still to be done and learn about the history of Pride in Canada.
In the spirit of Pride Season, we encourage all British Columbians to visit their local Pride Society website to learn how to get involved. BCAA is proud to be an ally to 2SLGBTQIA+ communities, celebrating diversity in love across British Columbia. To celebrate Pride month and show our continued support, you will notice updated storefront signage in all BCAA Service Locations and Auto Service Centres.
Why is it important for BCAA and Evo Car Share to be involved in Pride?
BCAA is a Member-based organization empowering British Columbians to move forward. We believe in the power of community and treating people with care and respect. This impacts how we help our Members, customers and British Columbians and how we respect and celebrate diverse ideas, backgrounds and perspectives internally with our employees. For years, BCAA & Evo Car Share have partnered with the Vancouver Pride Society to convey our support for the Vancouver 2SLGBTQIA+ community, and stand up for freedom, dignity and equality for all.
"Inclusion" to us means an environment where individuals feel valued and connected regardless of their differences – where all feel comfortable bringing their authentic and full selves to work.
Beyond Pride Season, we've actively taken steps to advance 2SLGBTQIA+ inclusion at BCAA, incorporating personal pronouns into our name tags, business cards, email signatures and recruitment materials. We're also supporting team members undergoing gender transition through medical leave and partnering with gender diversity consultants, such as Ambit Gender Diversity Consulting, to offer training sessions on accessible and affirming workplaces.
To get a deeper understanding of Pride at BCAA & Evo, we asked some of our team members what Pride means to them:

Peter – Member Contact Centre, BCAA, Pronouns He/Him
"When I think of what Pride means to me, I can boil it down to 3 words: CELEBRATION OF LOVE! It's about inclusion, acceptance, friends, family, strength and equality of rights. It's a chance to come together and forgive and heal from the past. Pride has become a family event – my mom comes every year from Alberta and my sister joins in the March alongside other friends and co-workers. It's one of the highlights of my year."
Natalie – Learning & Development, BCAA, Pronouns She/Her
"Being a part of the Pride Parade and advocating for equality is very important to me. There are many reasons for biased motivated crimes (hate crimes) in both Canada and the United States, unfortunately race, religion and sexual orientation continue to be prevalent for these types of crimes. For me the Pride Parade represents a concerted effort to move away from these negative archetypes, it means accepting people for who they are, showing my solidarity in the face of adversity and having a great time with like-minded people. It is an opportunity to stand and support my friends and family who have been judged for being and loving who they chose. At the end of the day we all want to be loved for who we are, and we should be able to do so safely and freely."
Dave – Customer Operations, Evo Car Share, Pronouns He/Him
"Pride is important to me because all groups need avenues to be seen and heard… this is especially true these days. Acceptance and visibility go hand in hand. As a father I want my daughter to be able to see examples of all people being free to be who they truly are, this will encourage her to be her genuine self as she grows up and teach her to be accepting of others."
Crystal – Real Estate & Facilities, BCAA, Pronouns She/Her
"As a person who has endured childhood bullying and seclusion as an adult, I stand tall with those who struggled with identity and are now in a long-term happy and loving relationship with themselves and others. I want to show support. Pride is important to me because it keeps the heart beating with love!"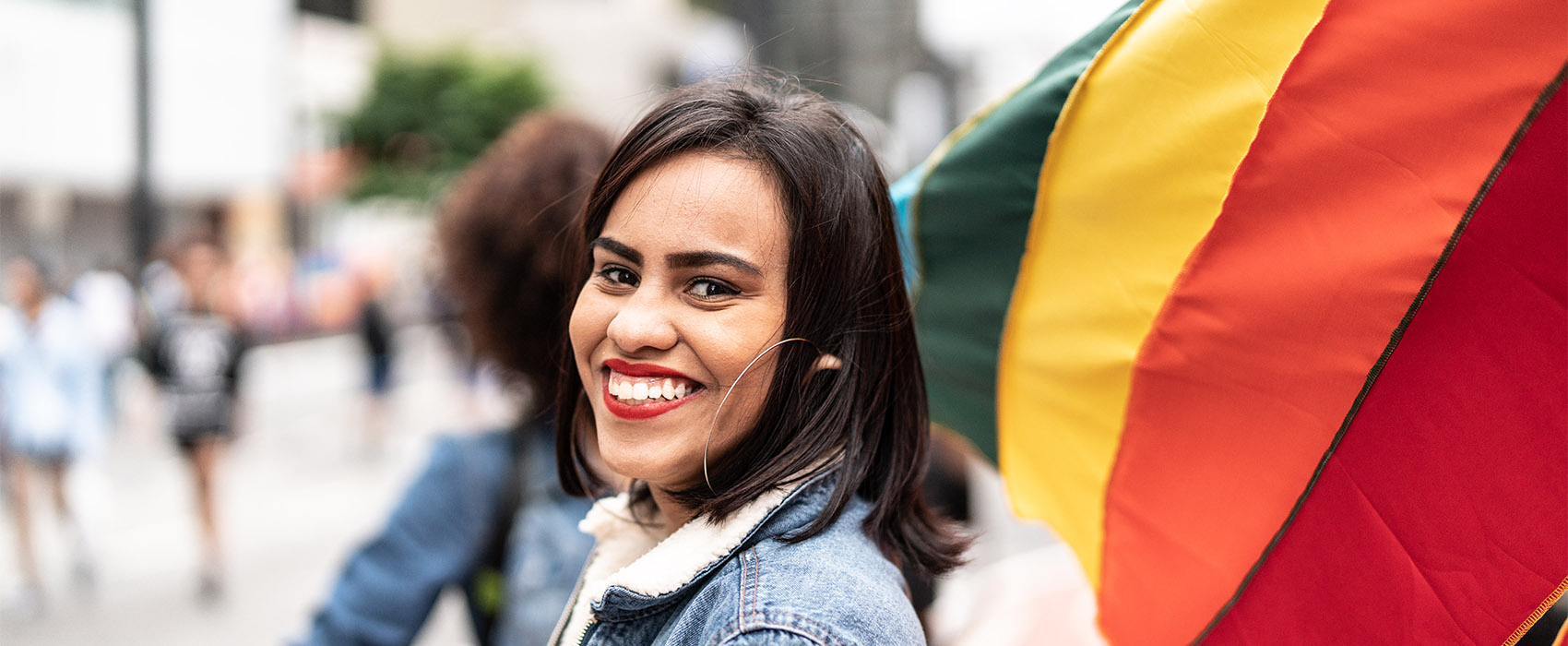 What can you do?
Join BCAA in supporting 2SLGBTQIA+ organizations through our BCAA Gives Back platform. Throughout Pride season, BCAA team members are making contributions to support QMUNITY, LOUD and Pflag Canada in their impactful work, and our Members can donate too. BCAA will match all Member donations received.*

Click here to donate now
We all play a role in creating an inclusive society for all British Columbians, so here are some steps you can take to celebrate and support the 2SLGBTQIA+ community:
Check out your local Pride Society for their calendar of events coming up over the next few months.
Volunteer your time or contribute donations to 2SLGBTQIA+ organizations.
Support 2SLGBTQIA+ arts and culture – if you're in Vancouver, take in an event at the Queer Arts Festival.
Host a movie night with friends. Some great viewing ideas are:


Go Fish
Boys Don't Cry
Carol
Moonlight
The Adventures of Priscilla, Queen of the Desert
Milk
Rocketman

Learn more so that you can be an ally**


Check out

QMUNITY

, BC's Queer Resource Centre, for some fantastic resources.
Reach out to your local Pflag Chapter for resources and support.

During your everyday meetings and discussions, consider who is at the table and whose voices might be missing: diverse perspectives add tremendous value to any conversation.
Diversify your social media feed and follow influencers from the 2SLGBTQIA+ community – you'll learn about issues they face and how you can be an ally.

*Definition of 2SLGBTQIA+
Acronym used to refer to Two-Spirit (2S), Lesbian, Gay, Bisexual, Trans, Queer, Intersex, Asexual, and Aromantic identities. The '+' sign is used to denote other identities that are not reflected in the current acronym.
**Definition of an Ally:
A person who supports and celebrates 2SLGBTQIA+ identities, interrupts and challenges oppressive language and behaviours and willingly explores heterosexist and ciscentric biases within themselves. Being an ally requires action: telling colleagues that their jokes are inappropriate; advocating for the health, wellness and acceptance of 2SLGBTQIA+ family members, friends and colleagues, etc.
Resource: QMUNITY Queer Glossary
*BCAA will match up to $2000 in Member donations during June 1 - August 31, 2023