The beginner's guide to biking in the rain and cold
For many British Columbians, biking is a fair-weather activity. We tend to limit our time on two wheels to the warmer months, but it doesn't have to be that way. Biking, especially right now, as we all find ourselves spending more time indoors and at home, can benefit our health in so many ways. So, in partnership with our friends at HUB Cycling, we've pulled together a few wet and cold weather cycling tips to help you on your way.
With the proper gear and know-how, biking (like singing) in the rain can be invigorating. Here are the basics to keep you warm, dry and safe on the road.
Before you go
When it comes to wet, wintery-weather cycling, a little bit of planning goes a long way. Proper bike maintenance is of the essence, as is having the right gear.
Practice regular maintenance and inspection. Keep your brakes clean, your chain oiled and your tires well-inflated. It's also a good idea to wash or wipe down your bike as soon as you finish each ride to prevent damage over time. Ensuring that your bike is maintained correctly will minimize the risk of a mechanical breakdown and help ensure that it will perform properly in an emergency (like having to stop suddenly).
Make sure you have the proper bike set up and gear. When it comes to your set up, a few items that are highly recommended for cold, rainy day rides include a good waterproof jacket, warm waterproof gloves, fenders and lots of lights.
Dress for the weather and to be seen. Always wear bright colours and reflective gear no matter the time of day. And when it comes to waterproof clothing, don't forget your feet. Waterproof shoes or shoe coverings are a great option. For warmth, wool keeps you dry even when it's wet. Look for merino wool base layers, glove liners, socks and everything else for cold-weather commutes.
Fenders are a must for comfortable wet weather bike rides, as they will protect your body and bicycle from the water, mud and sand kicked up from the road.
Invest in quality, waterproof bike lights. Look for something that has a balance between brightness and water-resistance.
Rain or shine, to safely ride your bike, it is essential to have your equipment working correctly. Here is a comprehensive gear check list.
Know your limits. Always be smart about venturing out into the elements and know your limits. Check the forecast before you leave and use good judgement. If you can't see 10 feet in front of you, the streets are beginning to look more like a river, or the wind is blowing so hard the trees look like they might uproot, it's best to leave your bike at home.
On the road
Riding in cold, wet weather is not all that different from riding in dry weather, but there are a few things to keep in mind to ensure you have the safest ride possible. Here are some tips and tricks for cycling in the rain and cold:
Be highly visible. Lights, lights and more lights – we cannot stress this enough. Always ensure your bike has a white front light and a red rear light. Reflectors on all angles of your bike and clothing are helpful, as are helmet lights, which provide a higher point of visibility and lateral coverage whenever you stop and look side-to-side.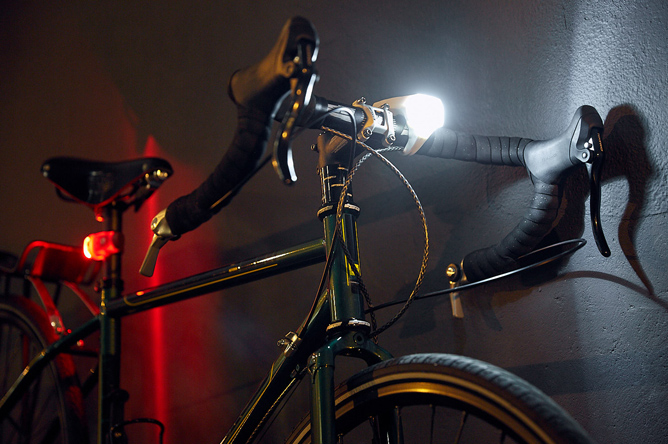 Be extra wary of motorists' blind spots. Even if you've taken the necessary precautions, it's best to run on the assumption that motorists cannot see you. Rain obscures drivers' vision, so always ride defensively. Make eye contact with drivers wherever possible and stay out of blind spots.
Look out for slick spots on the roads. Any form of metal, like maintenance hole covers or railroad tracks, are all going to be extra slippery in the rain. Similarly, piles of leaves and painted lines will be a bit slick, as will anywhere you see gasoline on the concrete as the new rain brings up oil and gas left from cars. So, stay aware of the road ahead.
Be aware of black ice. This is especially important on morning commutes when temperatures have reached freezing overnight. Avoid areas where water is likely to have built up and frozen – gutters, at the edge of puddles where there may be a thin sheet of frozen water, under bridges and around drains.
Don't ride through puddles on roads you're unfamiliar with. Although riding through puddles might seem harmless, it could send you flying over your handlebars. The water reflection can easily disguise potholes or dips in the road, so it's best to avoid them all together.
Adjust your braking. Wet or icy conditions can reduce the effectiveness of your brakes. This is especially the case for bikes with rim brakes because water and dirt around the outer wheel reduce the friction between the brake pads and the rim. Bikes with disc brakes on the other hand stop by squeezing a metal disc near the centre of the wheel, which is more protected from wet conditions and therefore keeps its stopping power! Always play it safe and give yourself twice as long to come to a stop as you normally would.
Ride more slowly (and defensively). Give yourself extra reaction time to handle the unexpected because you just never know what might come your way.
In certain parts of the province, winter blows a whole lot more your way than freezing temperatures and rain. If you're considering biking in the snow this winter, there are a few extra considerations to ensure that your bike is road ready. Check out this gear and how-to guide for cycling through snow and remember that the same advice applies – stay warm, be seen and exercise caution.
For the unexpected, BCAA can help
Most BCAA Members are familiar with our 24/7 Emergency Roadside Assistance, but did you know that you can get the same level of service when you're riding your bike as when you take the car?
If you find yourself with a flat tire or a broken chain, give us a call, and we'll send a BCAA Roadside Assistance Technician to help you get back on the road. If the breakdown or mechanical issue cannot be repaired on the spot, we'll drive your bike to a nearby repair shop or your home (up to the distance included on your BCAA Membership plan). For those with a motorized E-Bike, make sure you have a Plus or Premier Membership which include coverage for E-Bikes and Motorcycles.
Not a BCAA Member yet? Join today and get BC's Best Roadside Assistance, including Bike Assist, for less than $8 a month.