Make the most of your outdoor space for the fall
As we spend more time at home this fall, there are still safe ways you can enjoy the outdoors. Whether you have a backyard or balcony, check out our advice below on how to make the most of your fresh air space for continued enjoyment through the fall season and into winter.
Stay warm
The first item required to getting cozy as the temperatures dip is a reliable heating source for your balcony or patio. Here are three options:
Natural gas patio heaters, similar to the ones often seen at restaurants, are an excellent choice. There's no open flame, so they are safer for wooden decks, and they evenly keep an area of a few metres in every direction toasty for hours.
Artificial fire pits, depending on the model, can be hooked up to a natural gas line like patio heaters, or to a propane tank like a barbecue grill (the latter allowing convenient portability). Nothing beats recreating the campfire feel right at home, but take care to check the strata regulations first if you live in a shared complex.
Electric heaters usually involve minimal setup, and those of the infrared variety are quick to warm up. However, an accessible power outlet is required and may cost more to operate in the long run compared to the previous two.

Brighten up
Just because the days are getting shorter doesn't mean you have to stay in the dark. Enhance your outside lighting by adding string lights, path markers, floor lamps, lanterns or whatever else suits your space. Go solar or LED to save on the energy bill.
Whatever type you decide on, make sure all fixtures and extension cords are rated for outdoor use. Never attach a bulb that exceeds the fixture's maximum wattage, and perform an inspection for frayed wires, loose connections and other signs of wear and tear before and after installation.
Embrace Nature
Throwing in a bit of nature goes a long way in creating a comfortable and aesthetically pleasing area for relaxing. Of course, you'll want to choose plants that thrive in colder weather, or all year round.
Winter pansies are particularly sturdy, and if planted during autumn, will flower in the following months into spring. Available in a variety of bright colours, they look great in a hanging pot. To really make them pop, add in a bit of equally harder filler, for example, ice dance or Mexican feather grass.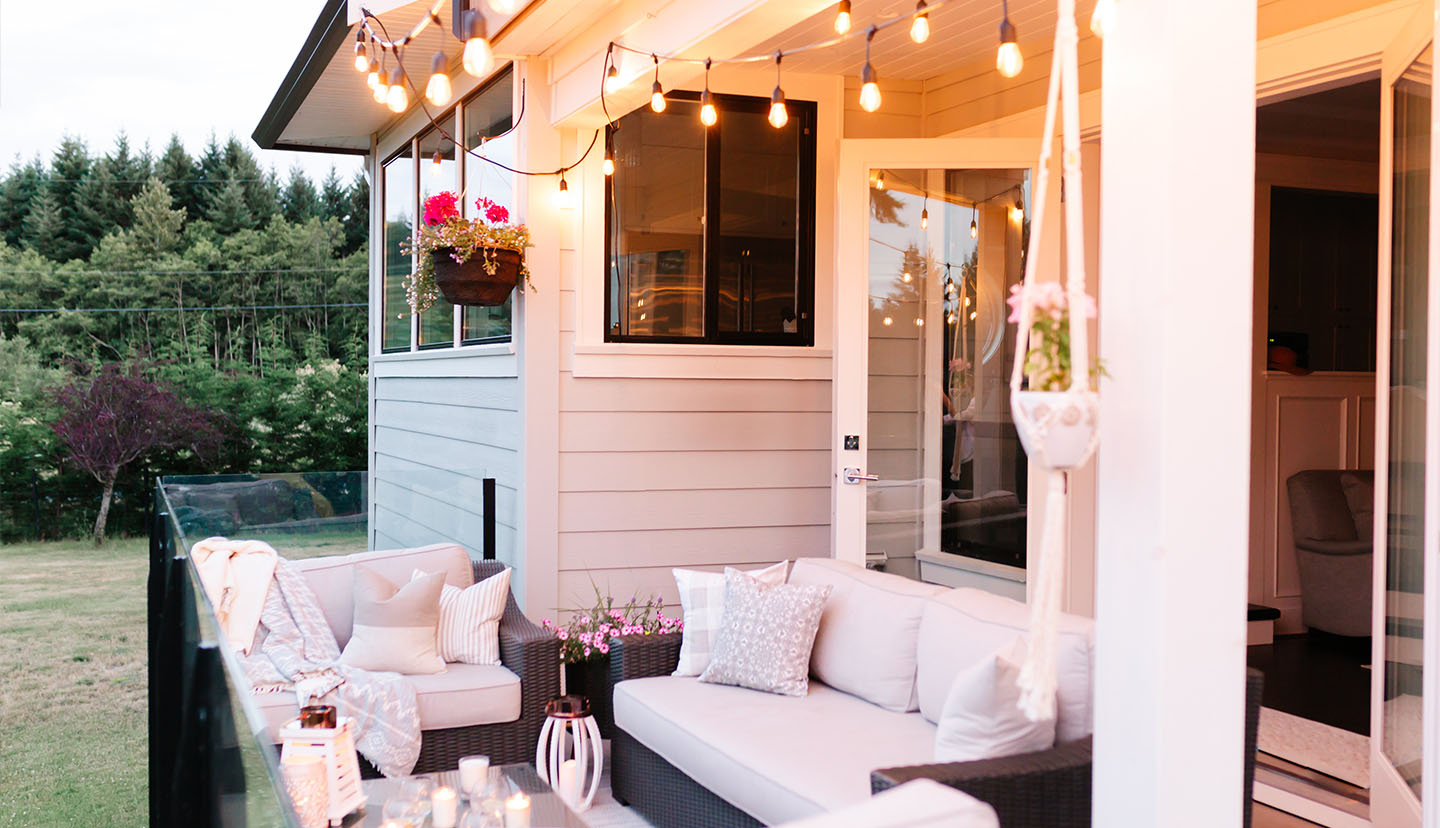 Accessorize
Last but not least, furnish your open-air space with the appropriate weather-resistant tables and chairs. Shop for chairs made from materials designed to brave the elements such as properly coated steel, wood or wicker. Even then, it's a good idea to invest in protective coverings to toss overtop while not occupied and/or bring pillows and cushions inside whenever there's precipitation.
Given the amount of wet stuff that comes down in BC, especially in the southern regions, don't forget the shelter. Umbrellas and gazebos aren't only for sunny days; both allow the use of decks and patios rain or shine.
For extra peace of mind, ensure you have adequate insurance for your backyard investments. Our BCAA Insurance Advisors can help you customize your policy to match your unique space and lifestyle.