Seven ways to create the perfect patio for summer
7/21/2022
---
If there's one thing we've all come to appreciate lately, it's the value of the outdoors. Whether you have a tiny balcony, a modest deck or (lucky you) a spacious patio, make the outdoors an extension of your home and a place you love to spend time. Here are seven tips to help you create a cozy oasis, plus a few ways to perfect your park setup too.
Before you get started on sprucing up your outdoor space the first step is to ensure you and your home are protected. BCAA Home Insurance is built for the unique needs of British Columbians. Our customizable insurance packages make it easy to find the coverage that's right for your home and lifestyle. Plus, Members can save up to 20%. Save an additional 5% if you buy online. Check it out.
Give flooring a new life
There are lots of options for sprucing up a concrete or wooden floor. If you're the creative type – and a condo owner – paint the concrete in a solid hue or use a stencil for maximum impact. If you're looking for a quick fix – or you're a renter – cover it with interlocking deck tiles that snap together. An even simpler solution is to throw a machine-washable outdoor rug over the area.
Build your own budget-friendly furniture
Since we're all trying to spend more time outdoors while at home, patio furniture has become a bit of a commodity, and it can be a bit pricey. Fortunately, you can do plenty of simple furniture projects on your own, which don't require many tools.
If you have access to tools – a drill, maybe a circular saw and an electric sander – you can make just about anything for your patio. DIY patio furniture may not have the same polish as store-bought items, but thanks to something called the Ikea Effect, we place far more value on things we make ourselves.
Accessorize with greenery
You can create an urban oasis by bringing in various-sized planters filled with beautiful blooms as well as hanging flower boxes on railings. Choose flowers based on whether your balcony or patio gets mostly shade or mostly sun. You can find planters, seeds and garden tools online at Home Depot or Rona where BCAA Members earn 2% in CAA Dollars®.
And while no outdoor space is complete without a few plants and flowers, you can also turn your balcony or yard into your own personal supermarket by growing plenty of herbs and vegetables. Herbs like chives, thyme and rosemary are all relatively easy to grow, and kale, radishes, zucchini and tomatoes can all thrive with limited maintenance.
Once your veggie garden is in full bloom, you can have a (safely distanced) al fresco dinner party and include your home-grown veggies in the recipes.
Helpful tip: you can also use greenery to create privacy. Here are a few plants that do the trick.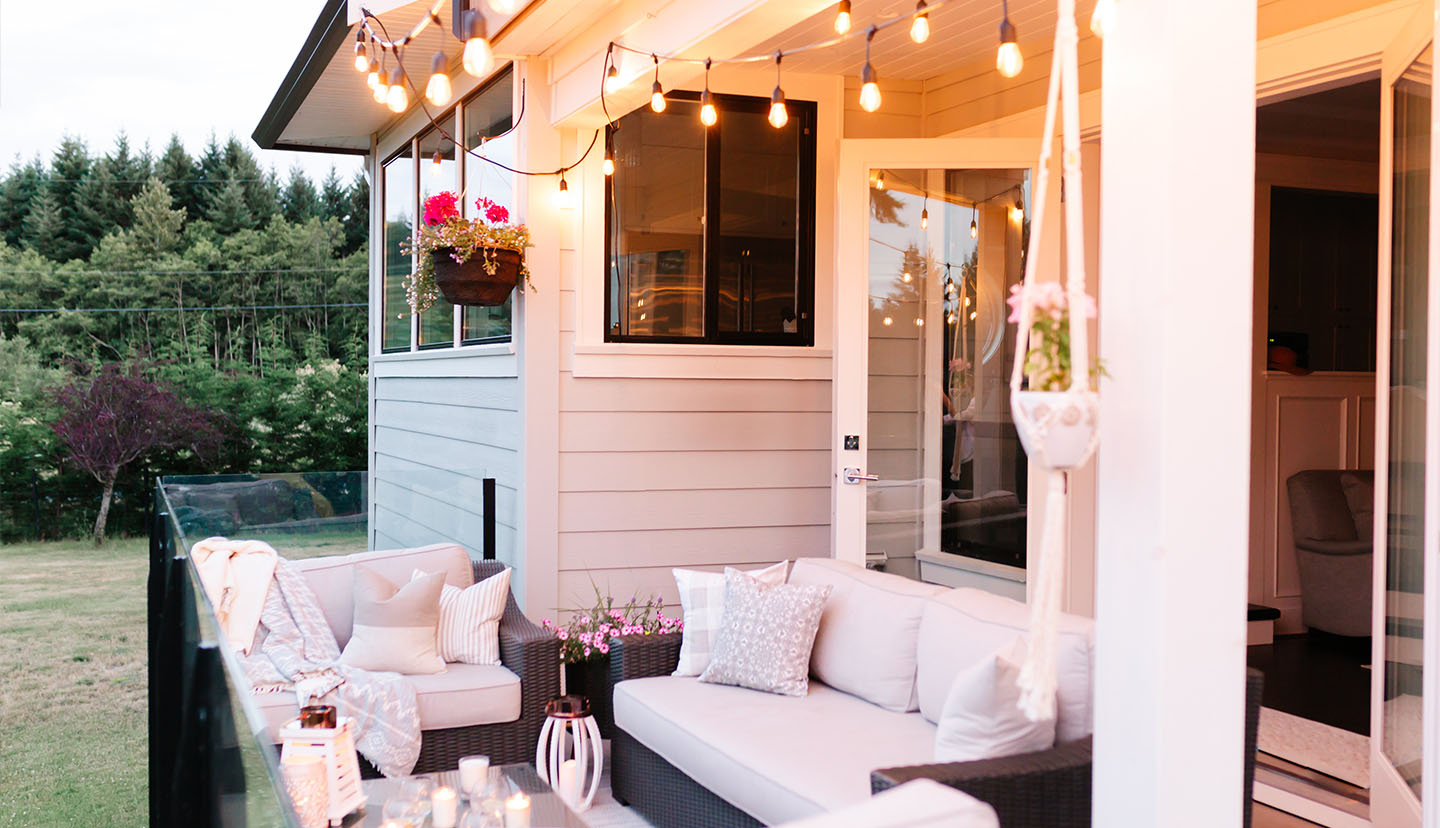 Light it up
Of course, once you have your furniture, you're going to want to spend a few evenings outdoors enjoying the fruits (and vegetables) of your labour.
String lights are an affordable way to light up your space and create ambience – you can even get solar-powered lights to keep your electric bill in check. You can find various options at The Source, where BCAA Members save up to 20% online and in-store.
Stay warm (while staying safe!)
Barbeques and fire pits are a great addition to any larger outdoor patio space - barbeques for grilling delicious meals and fire pits to stay warm on cooler evenings (and for making s'mores!).
If you are going to add heat sources, it's important they aren't too close to your home and kept in an area where people won't accidentally bump into them or knock them over. You can surround fire pits with seating and keep the BBQ area well lit to make sure it's always visible. Of course, you should always keep a fire extinguisher handy, just in case.
Note: if you're in a condo, check to see if your building allows BBQs before buying one.

Keep everything dry
If you plan to have any soft materials on your patio – like cushions or blankets – you should consider getting a waterproof storage bin. Keeping those items set aside will save you the trouble of scrambling outside when it starts raining and will make sure everything is dry when you want to spend time outdoors.
Helpful tip: keep the elements in mind when purchasing or DIYing new furniture. And make sure that it is also water-resistant. Seating and tables made from synthetic wicker – waterproof, resilient polypropylene – will stand up to the elements. Teak, cedar and redwood are good choices for those who opt for wood furniture. Whichever you choose, water-repellent covers are a good idea for year-round protection.
Create a workspace
Your outdoor space doesn't need to be reserved for relaxing after work. If you're working from home and have a covered area, bring the office outside to get fresh air while working. Just make sure your computer and electronics aren't in direct sunlight, as they can overheat pretty quickly.

Bonus tip: personalize your park setup
The reality of city-living is that not everyone has a balcony or patio at home. However, that doesn't mean you can't create a cozy setup in a local park. In BC, we're lucky to have plenty of public green spaces. So here are a few ways you can add a personalized touch to your post-work hangout, picnic or BBQ.
Add some mood lighting. For the evening, bring along some paper lanterns with battery-operated candles as a safe choice.
Personalize with accessories. Add a pop of colour with a print blanket and blend comfort with style by adding a few cushions. BCAA Members save an extra 5% in-store and online at Bouclair on all your decor needs, and for a great book for lazy days in the park earn 1% back in CAA Dollars when shopping online at Indigo.
Bring fresh flowers. Flowers are a great way to dress up your next picnic. Place a few in a mason jar as a simple, portable and beautiful centrepiece.
Don't forget the music. Browse plenty of compact options with great sound for up to 20% off with your BCAA Membership. You can find compact, ultra-portable options at The Source if you don't already have one at home.
When it comes to updating your outdoor space or accessorizing the perfect picnic, don't forget to take advantage of the many exclusive Member savings available at hundreds of brands. And for extra peace of mind, ensure you have adequate insurance for your outdoor investments. Our BCAA Insurance Advisors can help you customize your policy to match your unique space and lifestyle.
Happy patio season, everybody!