How to celebrate National Pet Month with your furry friends
May is arguably the best month of the year. Here in BC, the weather's getting better and better, we're finally travelling again, and there are playoff hockey games to watch with our pets. Best of all, May is National Pet Month.
It's the perfect month to enjoy with your furry friend, whether you're watching TV together or having adventures together in the backyard, nearby park, or visiting great cabins around BC. Here are 9 ways to celebrate National Pet Month with your beloved friends.
1. Learn how lucky you are with these Canadian pet stats
Canadians have a lot of pets
According to the Canadian Animal Health Institute, Canada has the highest percentage of pet owners in the developed world. Approximately 58% of Canadian households have at least a dog or cat. 38% of Canadian homes have a cat (we have 8.1 million cats in Canada), while 35% have a dog (there are 7.7 million Canadian dogs).
No surprise for parents whose kids beg them to get a puppy, kitty or rabbit: Canadian households with kids have more pets than households without kids. Before you say yes, here's what it costs to own a pet in Canada. It costs:
$2,150/year to own a cat
$2,912/year to own a dog
$995/year to own a bunny
2. Throw a party for your pets
One great way to spend money on your pets: celebrate National Pet Month by hosting a gathering for your dog, cat, or rabbit (and their very best friends). Invite your family and friends to your yard or nearby park.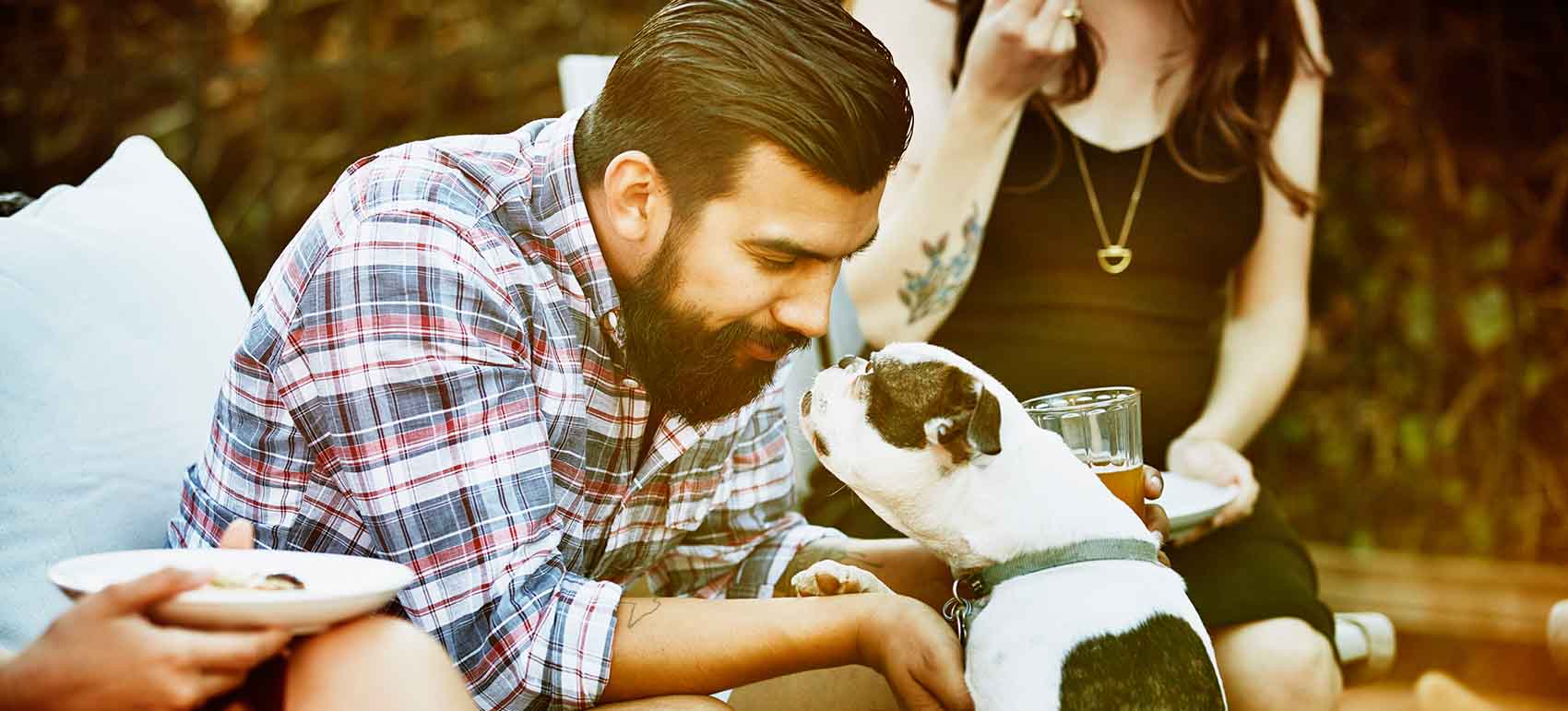 You can even encourage props and costumes, and give it a party theme. Imagine if all the party guests came dressed like characters from Disney movies or horror films. Here's HGTV's guide to hosting a perfect party for your pets. Their tips include:
Pick the perfect pet-friendly venue
Create pet-friendly foods and treats
Hide the breakables
Choose your guest list with care
Plan party activities
Set up your DIY party photo booth
3. Book a photo shoot with your pet
Has it been a while since you had a really good furry family photo? Commemorate your bond by scheduling a professional photo shoot (you can find a pet photographer here) or have your own photo shoot.
Follow Fido around with your camera, tripod, and phone, then print the photos and put them in picture frames around your house. At your local drug store photo lab, you can even get your pet's smiling face printed on shirts, mugs, calendars, coasters, water bottles, and koozies. Plus, you could even create an Instagram account for your pet, just like your favourite celebrity pet 'grammers.

4. Enter fun contests
Wouldn't it be great if your pet could bring in some income to pay for its rent, kibble, and cat food? Enter fun contests and see if your furry roommate could win some prizes like:
5. Take your pet on vacation
Sure, your pet loves your home but why not expand their world and surprise them with a holiday. We've made a fun list of pet-friendly weekend getaways that include pet-friendly BC beaches, parks, trails, hikes, canoe paddles, pet yoga, patios, and crab fishing. And if you're taking your dog on a long road trip (or flight), here's WebMD's tips on how to vacation with a dog.

6. Pet presents! Get them clever treats and toys
Don't wait for their birthday, use National Pet Month as a chance to spoil your pet all month. Get their fave treats and chew toys and watch how happy you make them. Here are automatic cat treat dispensers to keep your kitty occupied. To exercise your dog's mind and body when you're away, give them a CleverPet Hub. The world's first game console for dogs, it keeps your dog entertained all day with 12 increasingly challenging brain puzzles that you monitor on your phone. So you'll never feel guilty about leaving them home when you have to go out.
7. Adopt a new pet
Every year, the BC SPCA cares for tens of thousands of homeless animals. You can be one of thousands of British Columbians who give a loving home to an amazing, caring animal. Just be sure you're ready to commit to owning and caring for a pet. It's a big decision and not right for everyone. Before you adopt a pet, ask yourself these questions.
You can see the BC SPCA's list of adoptable animals here (cats, dogs, and other animals), apply to adopt online, and book an in-person shelter appointment to find your perfect match. First, get yourself ready by reading their pre-adoption tips.
8. Spa day: visit a groomer or give them a special bath
People love the spa and our pets can learn to love it, too. Book a trip to the groomer for your furry friend to get a nice warm bath, their claws trimmed, a blow dry and a nice brushing. Regular grooming helps maintain a healthy coat and skin. The scrubbing, blow drying, and brushing removes their dead fur and skin, lets air circulate through their coat, and helps spread your pet's natural oils throughout their coat. Here's where to find a pet groomer / salon near you.

9. Insure your best friend
Did you know that of the 15 million dogs and cats in Canada, less than 3% of owners have pet insurance? That's far behind pet insurance numbers in the UK and Sweden, who protect their pets—and their wallets from vet bills—with a higher rate of coverage.
Protect your furry friend with pet insurance through our partner, Pets Plus Us. Our plans cover your pet for injuries like broken bones, accidents, and illnesses like diabetes or cancer. You'll get services like:
Coverage for pet hospitalizations, consultations, exams, and medications
Emergency 24-hour poison control hotline
Alternative therapies and holistic treatments like hydrotherapy, naturopathy and chiropractic care
Medical devices
Behavioural therapy for diagnosing and treating abnormal behavioural problems in your pet
You'll save money if you're a BCAA Member, too, as Members automatically save 12% with BCAA's pet insurance provider, Pets Plus Us. Not a BCAA Member? Sign up today.
No matter what your National Pet Month plans are, just remember to let your pet know how much you care! Learn more about BCAA's new pet insurance partner Pets Plus Us and get an online quote today.
*CAA Members receive a preferred rate of 12% off. Non-members receive a preferred rate of 7% off.
The information herein is summarized. All pet insurance plans have limitations and exclusions. Specific products, features, rates, and discounts may vary by province and territory, eligibility, and are subject to change. Medical Conditions that are noted, symptomatic or diagnosed prior to enrollment, or during a waiting period are pre-existing to Coverage and not eligible for reimbursement. Waiting periods, annual deductible, co-insurance, benefit limits and exclusions may apply. For all terms and conditions visit: https://www.petsplusus.com/service-claims/brochures-guides.
BCAA trademarks are owned by, and use is authorized by, the Canadian Automobile Association. Pet insurance is sold and administered (including with respect to claims) by PTZ Insurance Services Ltd. (PTZ), a licensed insurance agency and is underwritten by Northbridge General Insurance Corporation (Northbridge). The insurance transaction is between the customer and Northbridge. B.C.A.A. Holdings Ltd., dba BCAA Insurance Agency, receives commissions from PTZ for referrals of potential customers for pet insurance. PTZ receives fees and commissions from Northbridge for sales and administration of pet insurance.
© 2022 All rights reserved. Pets Plus Us®, Pets Plus Us & Design and related words and logos are trademarks and the property of PTZ Insurance Services Ltd.