How to make tasty DIY dog food recipes
Making your own dog food is easy and it's healthier for your pup, too! You can easily make your own dog food recipes at home and they'll often be cheaper and healthier than the processed food you get by the bag.
We care about your pet's health so we wanted to share some healthy dog food recipes you can make in your own kitchen. Here are six tasty and affordable recipes that your dog is going to drool over.
Recipe 1: The classic
This healthy dog meal includes classic ingredients of homemade dog food recipes, like brown rice, turkey, and vegetables. It's healthy, inexpensive, and easy to make. You can make large batches and freeze them as single servings that can last for days and weeks. For maximum health benefits, we recommend you buy nutrient-rich fruits and vegetables from the organic section.
Ingredients:
1 1/2 cups (325 grams) brown rice
2 carrots, shredded
1 tablespoon olive oil
1 zucchini, shredded
3 pounds (1.3 kg) ground turkey
1/2 cup (125 grams) peas, frozen or canned
3 cups (750 grams) chopped baby spinach

Directions:
In a large saucepan, add three cups (750 grams) of water and cook rice according to package instructions. Set aside.
Heat your olive oil in a large stockpot on medium heat. Add in your ground turkey, cook until browned for about 3-5 minutes. Crumble the turkey as it cooks for even cooking.
Now stir in your carrots, zucchini, spinach, peas and brown rice until the spinach has wilted and the mixture is heated through (approx. 3-5 minutes).
Let this cool completely then serve with rice to your happy dog.
Recipe 2: Pupsicles!
In the hot summer months, help your dog to chill out with an icy, fruity treat. First, here's a quick list of fruits your dog can and can't eat:

Dogs can eat:
Apples
Bananas
Most berries (blueberries, raspberries, black berries, strawberries)
Pumpkin puree
Pineapple
Low-fat yogurt (unless your dog is intolerant to dairy)
Dogs can't eat:
Avocado
Cherries
Grapes
Grapefruit
Lemon
Lime
Plums
To make these pupsicles, you'll need:
Mashed banana
Nonfat unsweetened yogurt - avoid artificial sweeteners
Unsweetened peanut butter. If your dog isn't a fan or has an allergy, here are

alternative nut butters

your dog can eat.
Directions:
First you need to make the mold. Unlike people popsicles which have wooden or plastic sticks, you'll have to dog-proof your pupsicles to prevent choking hazards. You can use:
Celery or carrots as the sticks

Silicone dog popsicle molds

An ice cube tray
Next, mash or blend all ingredients until smooth. Add water as needed to get a pourable texture.
Freeze the pupsicles. Pour the mixture into molds, leaving a little space at the top so they can expand. Insert an edible stick into each mold well or ice cube tray hole. Freeze until hard, four hours minimum.
Run your mold under warm water for a few seconds until they loosen up. Remove and serve to your smiling dog.
Recipe 3: Beef stew doggy-style
This tasty beef stew recipe is filled with iron from fresh protein. You can serve it up almost hot, store it in your fridge for much of the week, or freeze and heat it up later.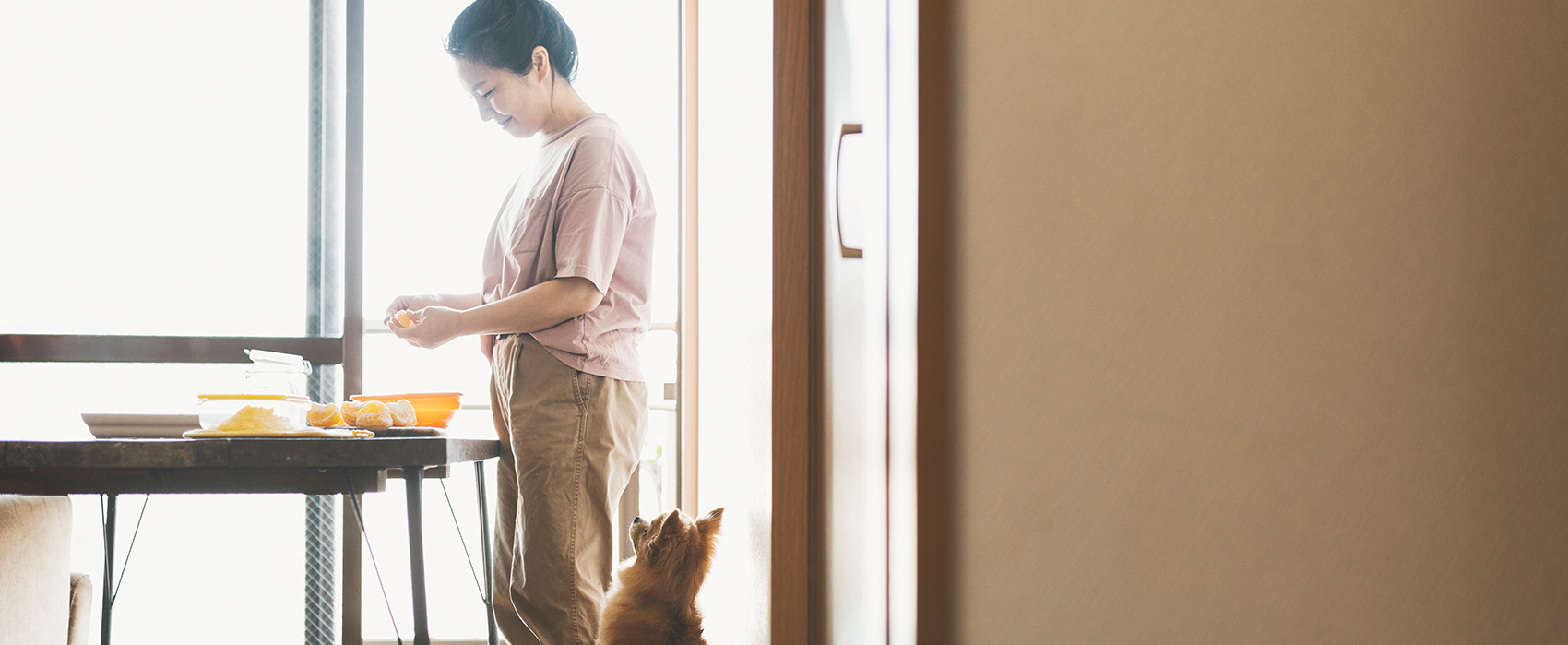 Ingredients:
1 pound (0.5 kilogram) of beef stew meat
1 small sweet potato
1/2 cup (125 grams) of diced carrots
1/2 cup (125 grams) of diced green beans
1/2 cup (125 grams) of flour
1/2 cup (125 ml) of water
1 tablespoon vegetable oil
Directions:
In a microwave, cook the sweet potato for 5-8 minutes until it's firm but tender. Set aside.
Slice beef into small, nickel-sized chunks.
Turn the stove to medium heat. Add a tablespoon of vegetable oil to a pan. Cook the beef stew pieces in oil for 10-15 minutes or until they're well-done.
Remove beef chunks from pan, reserving the drippings.
Dice your sweet potato.
Heat your drippings over medium-low heat. Then slowly add water and flour into the drippings, and whisk to make a thick gravy.
Add the sweet potato, beef, carrots, and green beans into the gravy. Stir to coat.
Cook until the carrots are all tender (approx.10 minutes).
Let it cool and serve to your smiling pooch.
You can store the leftover stew in the fridge for up to five days.
Recipe 4: Slow-cooked chicken and veggies
If you've got a Crock-Pot or slow cooker, you can easily make this meal to feed your dog for days and weeks.
Ingredients:
2 ½ - 3 lbs (1.13 - 1.4 kg) boneless skinless chicken thighs and breasts
2 cups (500 grams) frozen peas
1 sweet potato, cubed
1 large apple or 2 medium apples, cored and cubed (remove seeds)
2 carrots, sliced
1 can kidney beans, drained and rinsed
2 cups (500 grams) frozen green beans
2 tablespoons olive oil
Directions:
Place chicken in your slow cooker and add water so it just covers the chicken. Add carrots, potato, green beans, kidney beans, and apple.
Cook on low for 8-9 hours. When it's nearly done, add frozen peas and cook for 30 minutes more.
When done, drain excess liquid, add olive oil, and stir it to mash (or mash it in a food processor).
When cooled, scoop single servings into Ziploc bags and freeze. Every night, you can remove a bag from the freezer and put it in your fridge to defrost overnight.

Recipe 5: Doggy meatloaf
You'll love this creative meatloaf recipe for its beautiful presentation—it looks good enough for humans to eat. This is good, wholesome comfort food for the fall and winter months ahead.
Ingredients:
1 lb (0.45 kg) lean ground beef
1 ½ cups (192 grams) grated mixed vegetables (use your dog's favorite veggies – Amy used broccoli, carrots and apple)
2 eggs
½ cup (125 grams) cottage cheese
1 ½ cups (192 grams) rolled oats
Directions:
Preheat oven to 350 degrees Fahrenheit (177 Celsius).
Hand-mix all your ingredients in a bowl until they're thoroughly combined. Press evenly into a loaf pan.
Bake for 40 minutes.
Refrigerate or freeze your meatloaf in slices for easy serving.
Recipe 6: Crunchy kibble
This meal is perfect for the dog who loves their usual dry food. You can add herbs and spices to this kibble, so long as they're not toxic to your dog (such as garlic or onions, which you should avoid). This is a perfect first recipe to try as your first homemade dog meal.
Ingredients:
6 cups (1.5 kg) of flour (white, whole wheat, or oat flour)
3 large eggs or 4 medium eggs
1 cup (250 grams) powdered milk
1/3 cup (79 mls) baking oil
2-1/2 cups (591 mls) of milk, broth, or water
Directions:
Preheat the oven to 350 degrees Fahrenheit. Spray cookie sheet with a light coating of baking spray and set aside.
Pour your flour and powdered milk into one mixing bowl. Stir with a wooden spoon to thoroughly combine the ingredients. Set bowl aside.
With a wooden spoon, mix the eggs, baking oil, and your choice of liquid (milk, broth, or water) in the second mixing bowl until ingredients are thoroughly combined.
Combine your dry ingredients with the wet ingredients and mix into a thick, moist dough (it should feel similar to bread dough). Add any extra ingredients you want to mix in (like cheese, shredded meat, and pureed fruits or vegetables). If the dough's too dry, add more liquid. If the dough is too wet, add a little extra flour to get a smooth consistency.
Using your wooden spoon, spread the kibble dough onto your greased cookie sheet until it's about a half inch (1.3 cm) thick. Place the cookie tray in the oven.
Bake the dog food for about 45 minutes until it's brown and firm to touch. Remove the cookie sheet from the oven and let it cool.
Remove your baked 'cookie' from the cookie sheet and break it into nice dog bite-sized pieces. Once it cools, serve immediately. Store the leftover crunchy dog food in an airtight container in your fridge.

We're cooking up a healthy life for your pet
Here at BCAA, we're all about protecting the health of you and your family, as well as protecting your pets with Pet Insurance at BCAA. It's a great way to use your Membership, too. BCAA Members automatically save 12% with BCAA Pet Insurance provider, Pets Plus Us. Not a BCAA Member?
We're committed to giving you expert advice and best-in-class protection for your pet. Learn more about BCAA's new pet insurance partner Pets Plus Us and get an online quote for your dog today.
Bone appétit!
*BCAA Members receive a preferred rate of 12% off. Non-members receive a preferred rate of 7% off
All pet insurance plans have limitations and exclusions. Specific products, features, rates, and discounts may vary by province and territory, eligibility, and are subject to change. Medical Conditions that are noted, symptomatic or diagnosed prior to enrollment, or during a waiting period are pre-existing to Coverage and not eligible for reimbursement. Waiting periods, annual deductible, co-insurance, benefit limits and exclusions may apply. This advertisement is an outline only; policy terms and conditions 'User Guide' will prevail. For all terms and conditions visit: https://www.petsplusus.com/service-claims/brochures-guides.
© 2022 All rights reserved. Pets Plus Us Pet Insurance policies are underwritten by Northbridge General Insurance Corporation, distributed by PTZ Insurance Services Ltd. & Société d'Assurances Collectives (Sodaco) Inc. in Quebec. Sodaco is registered with Autorité des marches financiers as a property and casualty insurer (Reg#603622) https://lautorite.qc.ca/en/general-public/registers/register-insurers-deposit-institutions-and-trust-companies Pets Plus Us Pet Insurance is available in all provinces and territories. Pets Plus Us®, Pets Plus Us & Design and related words and logos are trademarks and the property of PTZ Insurance Services Ltd.
BCAA trademarks are owned by, and use is authorized by, the Canadian Automobile Association. Pet insurance is sold and administered (including with respect to claims) by PTZ Insurance Services Ltd. (PTZ), a licensed insurance agency and is underwritten by Northbridge General Insurance Corporation (Northbridge). The insurance transaction is between the customer and Northbridge. B.C.A.A. Holdings Ltd., dba BCAA Insurance Agency, receives commissions from PTZ for referrals of potential customers for pet insurance. PTZ receives fees and commissions from Northbridge for sales and administration of pet insurance.