A guide to BC mountain fun for the non-skier
Snow Truth. Some people don't ski or snowboard—and that's just fine. If that's you and your family, you don't have to strap on skis or a snowboard to enjoy BC's amazing mountains and have the time of your life.
Whether you're a snowboarder, skier or just a fan of wool socks and fireplaces, BC is definitely the place to be for winter fun. From exploring ski villages to relaxing in a thermal bath, there are plenty of wintertime experiences for everyone to enjoy. A favourite thing that anyone can do at any ski destination is to simply get cozy in front of warm fire with a hot drink and great conversations with family and friends.
If you're thinking about a visit to one of BC's ski mountains, your BCAA Membership card can save you up to 20% at popular ski resorts on lift tickets, rental equipment and even lessons. BCAA Members can enjoy premium mountain resorts for less this winter season.
So, to all the non-skiers out there, here are some tips and a list of things to do when visiting a snowy mountain destination.
1. Plan ahead
What's available for skiers and non-skiers is going to depend on the location and where you're staying. Research your options beforehand to get the most out of your trip. If you're travelling as a mixed group, it's important for non-skiers to be involved in the trip planning to ensure other activities are included and to coordinate meet ups and full-group activities.
Even if you don't plan to slide down the slopes, be sure to dress for the snow so that you're warm, stay dry and are comfortable to play and be outdoors all day long. And don't forget to bring sunglasses for you and your kids. It may be cold, but it can also be sunny, and the brightness of sun rays when they hit snow can be intense.
2. Take a snowy walk or go snowshoeing
You probably won't have to wander far from your ski resort to see beautiful winter scenes. And, there are likely several nature trails nearby for a gentle stroll or a more challenging snowshoe adventure.
The great part about snowshoeing is that it allows you to reach certain areas and viewpoints to see ice-covered lakes, soaring mountain views and snow-covered forests without you worrying about sinking into the snow. Since snowshoeing doesn't require any technical expertise, it's great for just about anyone.
All you'll need is a pair of good-quality winter boots as most mountains and resorts rent out poles and snowshoes that you can strap to your boots. Many ski resorts offer guided hikes as well. If you want to head out on your own, be sure to ask for an area map of suggested snowshoe routes so that you don't get lost.
3. Sledding, tobogganing, tubing and ice skating
Mountain and ski resorts often have a designated area for anyone who wants to rent a sled or go snow tubing or tobogganing. Some may have a frozen over pond or indoor rink you can use to go ice skating. If not, there is likely a skating rink within driving distance.

4. Snowmobiling
If you want to explore and go longer distances, snowmobiling is a fun way to get around. Most snowmobiles can be ridden by one or two people at a time, and many companies offer guided tours.
The rental company will teach you the basics and how to ride safely so, pay careful attention to instructions and only go as fast as you and your passenger feel comfortable.
5. Adventure Parks
Many ski resorts have adventure parks which are often designed for kids and families, but some places also offer ones for adults. Park activities vary but often include things like zip lines, rope courses, swings, climbing walls, snow tubing and bungee jumping. Research ahead of time if there's an adventure park at your destination and what activities are offered, along with their level of difficulty.
6. Mountain top views
You don't necessarily have to ski or snowboard to head to the top of the mountain. Depending on the location, you may be able to stroll around and enjoy the views or mountain-top dining. Taking the lift to the top is a fantastic way to see spectacular views from a unique vantage point. Get your camera ready!
7. Play in the snow
Release your inner kid and have fun in the snow, especially if your family doesn't live in an area that gets much of the white stuff. Build a snow fort, make snow angels or have a snowball fight (but no face washes, please!).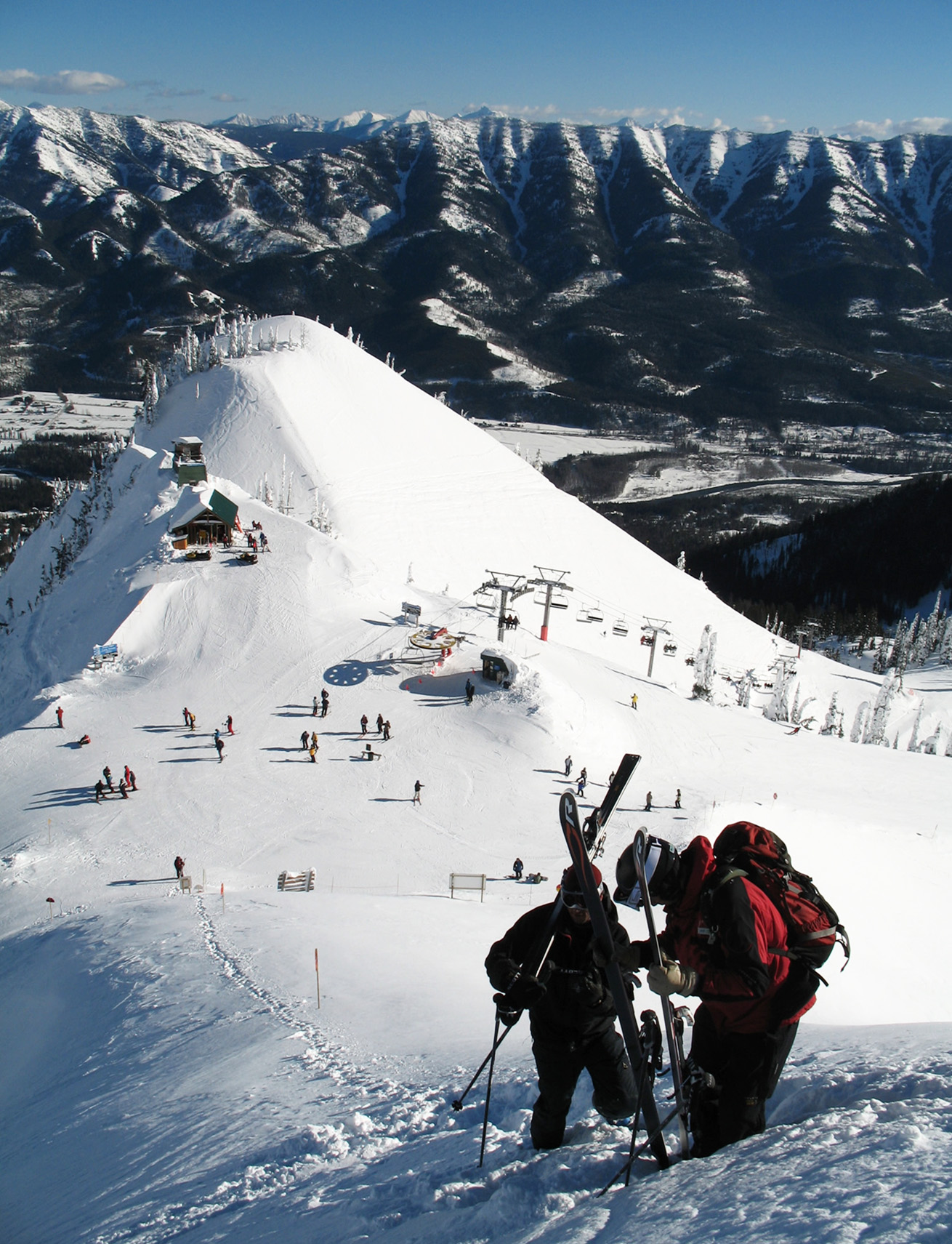 8. Ice fishing
Depending on your destination, you may have the option to try ice fishing. If it's your first time, it's best to do it as part of a tour where a local guide will know where to go and can teach you the basics and other safety instructions.
9. Sightseeing
Unless you're in a really remote location, there will likely be nearby towns and villages to explore and visit shops, museums and cultural attractions, and check out local events. Many areas near mountain resorts cater to visitors and you may find different tours for walking, food tasting or museums.
Depending on your location, there may be helicopter tours that can show you views that will take your breath away. Check with a mountain or hotel concierge to see what's available and the price range.
10. Shopping
Many mountains and ski resorts cater to many types of visitors and in many areas, you'll find quaint little ski villages with stores and restaurants. You can find almost any kind of shopping, such as winter gear, warm clothing, accessories, jewellery by local artists, delicious chocolate treats and souvenirs. Take a stroll, you'll be sure to find some interesting local stores to check out.
11. Comfort food and adventure dining (absolutely no ski experience required)
A winter getaway is a great time to eat some hearty meals. Whether you dine at your hotel, within the resort or in a nearby town, try some local winter staples such as soups, beef stew, clam chowder or chili.
Bonus tip: Book ahead to ensure you get your preferred day and time, especially if you're celebrating a special occasion. Mountain resorts can become filled with visitors and restaurants can get busy.
If you want to make dining an adventure, try a food and tasting tour to sample different local restaurants. Or, you can DIY and try a restaurant's tasting menu or flights. Something that makes a visit to a ski mountain or resort is that it's a great time to sample different hot drinks like cocoa, teas and elaborate coffees.
12. Après skiing
Whether or not you ski, these two words, "après skiing", or "après" for short is a name for a mountain 'ritual', and you'll want to experience it during your stay.
In general, it's French for "after ski" and used to describe the social activities that happen when people come together after a day on the slopes for food, beverages and to share stories about their adventures.
Even if you don't ski or snowboard, you can still grab a bite and enjoy the typically colourful scene of people still sporting their ski and snowboard attire, and maybe still catching their breaths. While there's no official timeframe for après, it usually starts in the late afternoon and lasts up until dinner.
13. Spa it up
If you're looking for some chill time, many mountains and their resorts have spas for visitors or skiers who need a break from the rigour of the slopes. You can find spas that offer services like facials, massages, saunas and hot tubs. If you're travelling with kids, check ahead to ensure you select an accommodation that has an indoor pool.
If you're a BCAA Member visiting Whistler, you can enjoy a day of rest at Scandinave Spa where Members save 15% on the spa's renowned hot and cold baths and 10% on massage service with bath access. Just show your Membership card and enjoy!

14. Snuggle up in front of a good fire
Every ski mountain will have one or more fireplaces throughout its resort and hotels. And without a doubt, any fireplace will be surrounded by comfy chairs and couches. It can be a magical setting to sip hot beverages, read and spend time with your family and friends talking, playing cards or diving into a board game.
This is also a perfect time to do fun relaxing things that you may not have much time for in your day-to-day life, such as doing a puzzle or crossword, writing or knitting.
15. Learn to ski or snowboard
While you may not be a skier or snowboarder, that doesn't mean you can't learn. And what better time and place to do so than during a trip to a ski mountain or resort. Almost all ski resorts offer lessons for adults and kids, along with equipment rentals. Be sure to check out reviews and prices ahead of time.
Don't forget, as a BCAA Member, you can save up to 20% on lift tickets, equipment rentals and lessons at popular ski resorts by showing your BCAA Membership card.
Get there safe with these winter driving tips
Wherever you decide to visit this winter season, ensure your vehicle is winter-ready starting off with having winter tires that meet BC's winter tire laws. Check road reports before you head out and ensure you carry winter tire chains as you'll be travelling on snowy highways and mountain roads. Check out our winter driving tips to ensure you and your family are safe.