Innes McColl
Engine Critter Problems
Cumberland to Terrace and back!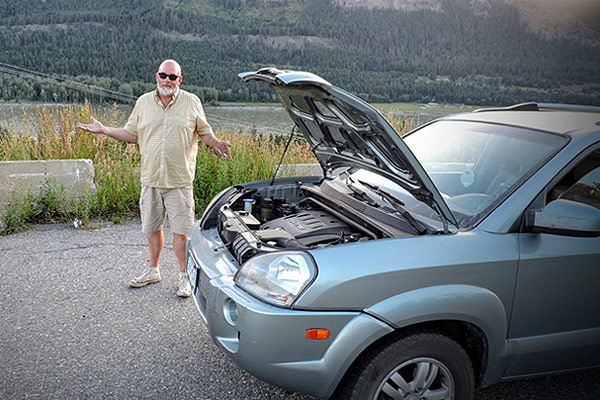 My wife and I closed our small business in the Comox Valley for 10 days last August to attend my family reunion in Terrace. We were super excited to do the drive in our Hyundai Tuscon packed to its rafters with every conceivable comfort.
The whole journey was spectacular: BC Ferries from Port Hardy to Prince Rupert (sunshine, humpback whales, amazing scenery), camping for 5 days beside the Skeena River in Terrace, incredible day trips from our base camp with the whole clan, and then the drive back via Lillooet/ Whistler to Horseshoe Bay and then over to Vancouver Island.
Midway between Quesnel and Williams Lake our vehicle lost power, really in the middle of nowhere. Conveniently, there was a pull out - a scenic Point of Interest - so we limped on in and called BCAA. The only information we could give them about our location on the highway was the Point of Interest sign- "Paddlewheels North". This point of interest apparently is not on the radar of tow truck drivers in the area. Luckily, this was a beautiful place to breakdown - a fantastic view at sunset of the mighty Fraser River. We put the hood up, emergency flashers on, and enjoyed the view until our tow arrived after dark. The driver towed our vehicle to the BCAA approved mechanic in Williams Lake - we found a hotel close by. No stress.
We called the mechanic the next morning - they had already assessed the issue. Little critters (likely mice) had found our wiring quite delicious and chewed through everything.The repair was not hugely expensive...and thanks to BCAA we were able to continue enjoying our vacation!
Sincerely,
Innes McColl
(BCAA Member since 2015)