BCAA partnership with Breakfast Club of Canada to provide over $85,000 nutritious breakfasts to B.C. kids
June 14, 2017
---
Burnaby, BC, June 14, 2017: BCAA is pleased to contribute $85,000 to Breakfast Club of Canada, an organization which supports 132 breakfast programs across British Columbia, providing nutritional breakfasts to over 6,000 children and youth.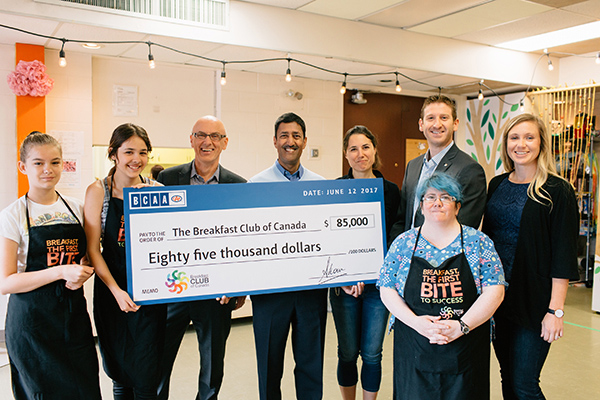 "We're happy that BCAA and its Members care about our mission to ensure every school-aged child in Canada is provided breakfast every morning," says Josée Desjardins, vice-president Ontario and Western Canada at Breakfast Club of Canada. "As the school year comes to an end, it's important that we generate funds early for the next year, and our partnership with BCAA will enable us to reach thousands of students across B.C. when the new school year begins."
For 20 years, Breakfast Club of Canada has been working to ensure as many children as possible have access to a healthy morning meal before school. The Club highlights that breakfast is proven to improve children's behaviour and concentration, academic performance, social skills, self-confidence and overall ability to learn. However, one in five Canadian children each day is at risk of going to school on an empty stomach. In B.C. alone, there are currently an estimated 130 schools currently waiting for a breakfast program.
"Too many children miss out on healthy breakfasts that would give them the energy to learn and play. BCAA is committed to protecting kids whether we help keep them safe on the road, give them better play spaces or help nourish them with an essential breakfast," says Shom Sen, BCAA president and CEO. "Helping to make children's lives better is a commitment we share with Breakfast Club of Canada and BCAA employees were proud for the chance to help raise funds and volunteer at breakfast clubs in their local communities."
For more information about Breakfast Club of Canada, how to get involved and to donate, visit breakfastclubcanada.org or visit bcaa.com to learn about BCAA's community programs.

-30-
About BCAA
The most trusted organization in British Columbia by its Members, BCAA serves 1 in 3 B.C. households with industry-leading products including home, auto and travel insurance, roadside assistance, Evo Car Share and full auto service at BCAA's Auto Service Centres. BCAA also has a long history focused on keeping kids safe on the road and at play through its various community programs.


About Breakfast Club of Canada
Breakfast Club of Canada is a non-profit organization that provides funding, equipment, training and support to school breakfast programs across the country. We are dedicated to making sure every child starts their day with a meal, helping them thrive at school, and in their community. Founded in Quebec in 1994, Breakfast Club of Canada began to fund and support school breakfast programs nationwide in 2005.


Media enquiries:
Niela Melanio
BCAA Communication Specialist
Office: 604-268-5342
Cell: 778-228-8859
niela.melanio@bcaa.com
Meagan Prokopanko
Marketing and Corporate Relations Coordinator
Breakfast Club of Canada
Office: 604 685-2220
Meagan.prokopanko@breakfastclubcanada.org