Small Space Hacks
Design ideas to make the most of a diminutive domicile
by Janet Gyeness | BCAA Magazine, Summer 2018
There's no shortage of creative ways to eke out extra room in a compact condo or tiny house. But sometimes clever space-savers – think ceiling-scraping shelves and piles of baskets – create visual clutter. Andrew Barker, Principal Designer and owner of AJ Barker Design in Vancouver, has designed more than 30 condos and townhouses. He offers some design hacks that maximize a home's available space while maintaining a sense of openness and flow.
Streamline your style:
"Just use one flooring material throughout the whole space – except maybe tile in the bathrooms," says Barker. "Don't mix tile and laminate and carpet and hardwood. Having all those different materials just chops the space up."
Sneak storage space:
"Start by integrating as much storage as you can into lost or unused space," says Barker. For instance, try transforming the bottom two steps of a staircase into drawers to hide items such as dog leashes and shoes.
Choose drawers over cupboards:
You can fit more in this way, Barker explains. Install fully extendable drawers in bathrooms and kitchens to create specific spots for items that often get corralled into baskets or boxes and crammed into the back of cupboards.
Float the bathroom vanity:
Although it might seem counterintuitive, don't take your bathroom cabinet all the way down to the floor. Keep it floating about 25 cm up to create visual space.
Consider a kitchen nook:
Barker is an advocate of installing storage benches or banquettes in place of space-hogging dining sets. But don't think 1970s throwback, he says. These modern upholstered pieces add comfort and can fit seamlessly into any design style.
Look for space-saving appliances:
The standard 30-inch (75 cm) range comes in a slimmer 24-inch (61 cm) width, while taller, counter-depth fridges that align with cabinet fronts save a lot of space, says Barker. European manufacturers offer the widest range of scaled-down models.
Slide, don't swing:
Use sliding barn or pocket doors instead of hinged doors, which typically swing out around 80 cm. These doors take up valuable wall space and create visual clutter when they're open.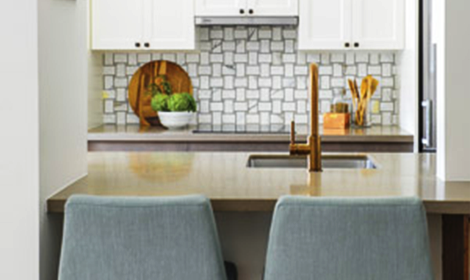 MEMBERS SAVE
Remodelling to save space? BCAA Members earn 4% back in CAA Dollars on every online purchase at Rona.