All Together Now
How to survive and thrive on a multi-generational family trip
by Claudia LaRoye | BCAA Magazine, Summer 2018
Travelling with extended family can be an amazing way to see the world and create special memories. While it can be a challenge to organize a large group, the enriching experience of having everyone along is worth the effort. But before you jump into that epic summer road trip or reunion cruise to Alaska, take note of these tips.
Planning:
Start thinking as early as possible about when and where you want to go, and how. Consider budgets – will you be pooling resources or going Dutch? Who will be paying, and for what? Draft a "to do and see" list that includes input from everyone, toddler to grandpa. Ensure everyone gets something from the holiday, whether it's a beach day, roller coaster ride or museum visit.
Accommodation:
Cruises or all-inclusive resorts are great for multi-generational trips. There are lots of activities for every age group, no one has to cook, and you can be together as often or as little as you like. Reserve adjoining rooms that allow family members space to spread out. For urban holidays, share a spacious home or apartment to save money and as a base for day-tripping.
Transportation:
Your destination will determine your mode of travel. Take advantage of airline discounts for group fares. If you plan to be mobile on your holiday, reserve rental cars well ahead of time. Make sure you have ways to communicate in case of emergency (roaming data, walkie-talkies) if you're travelling convoy-style.
General survival:
Practise patience, which isn't easy when stress and jet lag are added to the mix. Be flexible and respect the pace. Not everyone may be able to move at the same speed. Plan rest days and independent activities. Schedule nights out for parents and grandparents and take turns with child-minding.
When planning a multi-generational holiday, arrange activities you can do together, and separately, for a break. Pack lighter by sharing communal items like toothpaste and hair dryers.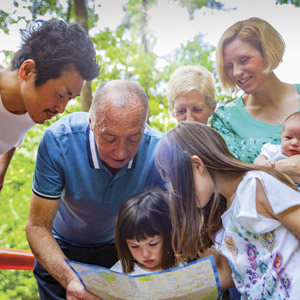 MEMBERS SAVE
Grabbing a bite with the extended family? BCAA Members save at eateries across Canada, including Montana's, New York Fries, Freshslice Pizza and more.
Photo credits: iStock