Shine Bright Like a Diamond
The Diamond Rating System gives review-weary travellers a guiding light
by Kirsten Rodenhizer | BCAA Magazine, Fall 2018
Inspector Karen Williams is off duty. She's spending a relaxed night in an undisclosed hotel before heading off on a three-week work trip. She's not evaluating her current digs – at least not formally. But after 11 years of roaming BC, Alberta and the Caribbean to review hotels and restaurants for the CAA/AAA Diamond Rating System, it has become second nature.
"I'm looking at the mirror in my room right now. It's an extra-large one with a really nice wood frame. It would probably score Four Diamonds," she says over the phone from her secret location. She's on her way to northern BC and Alberta to anonymously scope out new properties, and check up on previously rated spots to make sure they haven't slipped. She goes on: "The ceiling in this room has a popcorn finish. At this level of hotel, you wouldn't typically see that." So it's more of a Two Diamond ceiling. The toilet is an elongated Japanese number with automated controls. "It pretty much does everything for you," she says. "If it was in a separate room, it would be a Five Diamond toilet."
An unmatched system
Williams (not her real name) is one of 44 full-time inspectors who evaluate hotels and restaurants for CAA/AAA. While her description of the room might seem over-meticulous, this level of detail is hard-wired into the Diamond Rating System, which has 81 evaluation categories for hotels, and 59 for restaurants. A property's ultimate ranking takes in scores in all categories to render a verdict of One to Five Diamonds – making the program one of the most detailed, objective and consistent in the world. CAA/AAA evaluates more properties than any other rating entity, and it's one of only two that conduct on-site inspections.
To be considered for a single Diamond, properties have to meet base criteria for cleanliness, security, comfort and hospitality (things like deadbolts, adequate lighting and housekeeping are non-negotiable). This isn't the case with other rating systems, many of which are based on customer reviews – somewhat helpful, but also subjective.


In-person inspections
Following a strictly defined procedure, Williams begins every Diamond hotel inspection with a long look at the building's exterior. Does it have a covered area and parking? Is the architecture a heritage style, or distinctive in some way? Inside, she assesses the lobby and public spaces for amenities (plugs, WiFi, USB outlets) design and finishes, among other elements. "At Four and Five Diamonds, we start to look for more luxury elements, like natural stone, real wood, marble and leather," she says.
In the rooms, a litany of items get attention: lamps, draperies and floor coverings. Toilets, towels, showerheads, faucets. The heft of the curtains. The pile of the carpet. The size and features of the TV. The location and quality of the lamps, desk and chairs. The comfort of the bed, headboard and cushions. The style of the art and wall coverings. Access to gadgets like iPads or smart devices. The list goes on.
Restaurant inspections are just as exhaustive, taking stock of not only cuisine, but the entire dining experience. That means everything from plating and garnishes to ingredient quality, crockery, the wine list, decor, noise level and napkins – even how warmly the staff greet customers on their way in and out. The more skill, quality and creativity go into each element, the more Diamonds it earns.
Needless to say, after dining at thousands of restaurants and sleeping in more hotels than she can count, Williams knows exactly what she likes when she travels. Especially when it comes to a hotel suite: "I really appreciate triple sheeting personally," she says, referring to the method of wrapping a duvet inside two flat sheets, so the guest only touches items that have been washed between stays. "I also appreciate a comfortable chair, when it's the weekend and I'm staying somewhere away from home. And a nice, comfortable bed." Don't we all.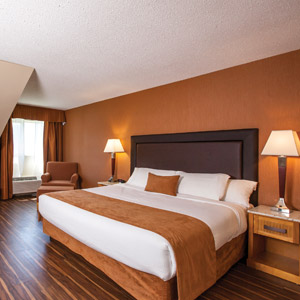 MEMBERS SAVE
BCAA Members save up to 20% in store and online at TheSource.bcaa.com/thesource.

Diamond Dining
CAA and AAA inspectors award One to Five Diamonds to restaurants based on the type of cuisine served and the trappings that go along with it. But even One Diamond can be delicious:
One Diamond
Quick-serve eateries with simple-yet-tasty fare, often served on paper plates. Shuswap Pie Company, Salmon Arm. Baked goods, soups and sandwiches made from scratch and served in a quaint café setting. The sweet (bumbleberry; raspberry-rhubarb) and savoury (steak-and-stout; curried veggie) pies are legendary.
Two Diamonds
Casual, affordable dining with familiar dishes served in a sit-down setting. Hello Toast, Kamloops. A homey diner that dishes up scrumptious home-cooked breakfasts, salads, soups and sandwiches in a sunlit space with local artists' work gracing the walls. Try the daily soup (like chicken mulligatawny), with avocado-seed-chocolate cookies for dessert.
Three Diamonds
Trendy fine dining prepared by a trained chef. You'll also find a curated wine list, creative cocktail menu and comfortable, coordinated ambience.
Four Diamonds
Complex, inspiring dishes made with high-quality ingredients, served in a slickly designed space by skilled wait staff who know the menu inside and out.
Five Diamonds
Haute cuisine prepared by a world-class chef that's plated like a work of art and served flawlessly in a lavish milieu.
Eden at the Rimrock Resort Hotel, Banff. This Rocky Mountain treasure sits atop Sulphur Mountain, with 180-degree views of Banff. It's also the only Five Diamond restaurant in the West, and one of only five in Canada. Expect white-linen tablecloths, a world-class wine menu and seamless service from a team of impeccably trained servers and sommeliers, along with a once-in-a-lifetime meal from award-winning executive chef Konstantin Chakhnov. Offerings rotate, but the Chef's Tasting Menu is always a good bet, stocked with delicacies like tempura oysters with black caviar, caramelized white chocolate and champagne; and bison with coffee, carrot and avocado.
Tip!
For more on CAA Diamond-rated hotels and restaurants, and general trip planning, visit bcaa.com/trip-planning

Stays that Sparkle
Look up the same hotel on different booking sites, and you'll see multiple – and probably conflicting – star ratings, scores and reviews, making it tough to know what you're getting. The Diamond Rating System assigns One to Five Diamonds based on consistent standards for quality, amenities, comfort and service:
One Diamond
Budget-oriented, clean and serviceable stays that offer comfort and hospitality without many frills. Alpine Motel, Hope. A snug-and-tidy roadside property with 14 units (some with kitchens) that are modestly yet cheerily decorated – and just down the road from the hiker-favourite Othello Tunnels in Coquihalla Canyon Provincial Park.
Two Diamonds
Affordable accommodations with modestly enhanced facilities, decor and amenities.
Three Diamonds
Plush accommodations, with plenty of extras geared toward guest comfort, along with spacious rooms and distinctive decor.
Coast Hillcrest, Revelstoke. Sitting in a tranquil, forested spot north of town, this property recently got a multimillion-dollar facelift, building on its rustic log-frame appeal with modern comforts and slick design touches. Its 75 roomy suites now come with touches like granite and marble counters, wood tones, organic patterns and bright pops of colour. Many rooms have balconies with leaf-framed mountain views.
Four Diamonds
Refined and stylish stays with upscale finishes, and every amenity imaginable, along with a high degree of hospitality, service and attention to detail.
Five Diamonds
The pinnacle of hospitality, sophistication and comfort, with meticulous personalized service, extensive amenities and impeccable design.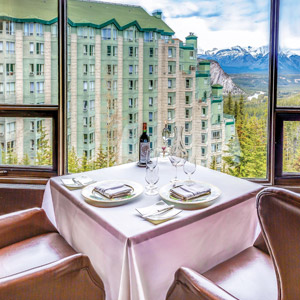 MEMBERS SAVE
BCAA Members save up to 20% at hotel chains, including Fairmont, Hyatt, Westin, Hilton, Sheraton, Hampton, Marriott, Accent Inn and more.
Fairmont Pacific Rim, Vancouver. Canada's newest Five Diamond hotel, this swanky downtown Vancouver property levelled up from Four to Five Diamonds this spring, taking its service from excellent to flawless. The exterior, public areas and finishes are all designed to meet exacting standards, and the guest rooms offer every imaginable indulgence: luxury linens, deeply plush beds, spa-like marble bathrooms with television-mirrors, 24-hour in-room dining, spectacular harbour and mountain views and more.
Photo credits: Luis Valdizon, Ema Peter, © 2010 Pal Warchol Photography Inc.