Heads Above Water
by Robin Schroffel | BCAA Magazine, Fall 2017
Just a year and a half ago, BCAA Insurance Vernon Service Location Manager Lindsay Silcocks and her husband moved into their home – a small cottage on the water at the head of Okanagan Lake, 20 kilometres northwest of Vernon, that they had spent years stripping down to the studs and rebuilding.
The couple was attracted to the area by its tranquillity. The possibility that their beautiful home on the edge of the lake could be at risk for flooding never crossed their minds. But this spring, like so many others in BC's Interior, the Silcocks family found themselves facing down the forces of Mother Nature. A combination of weather factors, such as above-average snowfall on the nearby mountains, a fast snowmelt and heavy rainfall, made for a volatile combination … and a lot of water.

In early May, the north Okanagan community of Lumby was hit hard by flooding; residents were evacuated and many homes suffered damage. As the Silcocks family followed the news that the waters were predicted to rise even further, they took proactive action to protect their home, removing the boards of their deck, which overlooked the lake, to gain access to the ground. Enlisting friends and family, they built a sandbag wall to protect their home from rising lake levels.
This foresight may well have saved their home: in mid-May, high winds began kicking waves over the sandbag wall. But the pump did its job, sending the water back into the lake as quickly as it came.
"It seemed like a losing battle at times," Lindsay says. "But my husband was very determined, and I'm glad he was. I think what saved us is we started early."
Over the coming weeks, they had many sleepless nights, lying awake wondering if they were going to be flooded. They built a makeshift breakwater, and with the help of friends, neighbours and firefighters from nearby Revelstoke, added another 600 sandbags to their wall. In the end, ingenuity and prompt action saved their home from damage. Although Lindsay recalls the fight to save their home as being stressful and "all-consuming," she says having Flood Insurance gave them some peace of mind, in case the forces of nature won out.
Between 2003 and 2013, Canada had 9 disasters with damages surpassing $500 million each. Prior to that, only 3 Canadian disasters exceeded $500 million in damages.
A new kind of Flood Insurance
Until 2016, Canadian insurers didn't offer coverage for overland flooding, or water entering a home from above-ground sources such as lakes, rivers, creeks and rainfall. But in the wake of the 2013 southern Alberta floods, which were the costliest natural disaster in Canadian history at $6 billion, the country's insurance industry came together and agreed to begin offering this type of coverage.
Last October, BCAA launched its own Flood Insurance product, attached to its DrainGuard Home Insurance rider, which is available to tenants, condo owners and homeowners. Jonathan Willoughby, BCAA Senior Manager of Underwriting, says about 40 households affected by the Interior flooding were able to benefit from BCAA's new Flood Insurance this spring.
"That was a great thing because it is quite a new product to the market. There would have been a time, not too long ago, when more people would have been without that sort of coverage," he says.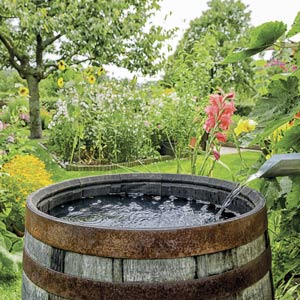 PREVENTING WATER DAMAGE
We may not be able to control the forces of nature, but we can take a few simple steps to limit costly water damage to our homes and belongings:
Direct water flow with landscaping. Design and grade your landscaping in a way that naturally directs water away from your home and basement accesses, and plant a garden nearby to catch and disperse water.
Check your eaves and roof
to ensure they are draining properly. Eavestroughs should extend at least two metres from foundation walls to prevent water from seeping into your basement (downspout extensions cost around $15).
Install a rain barrel.
This will help keep excess water out of already-overloaded storm sewers.
Apply a weather-protecting sealant
to the base of ground-level doors and basement windows.
Store smart.
If you keep important belongings in the basement, set them higher, as items on the ground are often the first to be affected by incoming water. Storing items in waterproof totes can also help to minimize damages.
Invest in a basement water alarm
to alert you if water is accumulating.
Coverage basics
Every policy is different, but BCAA's Flood Insurance covers the repair or replacement of your home and possessions if they're damaged by a flood, plus any additional living expenses you incur if you have to evacuate your home, or can't live in it until it's repaired. Additional living expenses, such as alternate accommodations, transportation and even pet boarding, are often covered during the period following an evacuation.
"BCAA also recognizes that in disaster situations, there is often urgent need, so we work with clients to provide incidental amounts to cover basic necessities," says Willoughby.
Geographical location is one of the main factors taken into consideration for Flood Insurance eligibility. Some areas that are considered higher risk may be excluded, or limited to a capped amount of coverage, but Willoughby says in most cases, normal coverage limits apply.
While the Silcocks' home escaped this year's floods unscathed, Lindsay says she was grateful for the increased sense of security that Flood Insurance provided.
"While the water levels of Okanagan Lake this year were unprecedented, having Flood Insurance certainly gave us peace of mind."

Flood Insurance tips
Flood Insurance can be the difference between a speedy recovery from water damage and a costly repair bill. Take these steps to make certain you're covered:
When buying a home, consider flood risks and insurability.
The property's location and proximity to bodies of water, large or small, could render Flood Insurance costly – or in some cases unavailable. Before you buy, find out if there have been any issues with flooding in the past, and check with your insurer about the possibility and price of coverage.
Even small bodies of water can raise the risk of flooding.
It's often the ones you wouldn't expect, such as small creeks, that pose the biggest flood risk. Suddenly, that idyllic babbling brook in the backyard, or that nearby pond, may not seem so charming.
Read, read, read your policy's fine print.
Many Home Insurance policyholders assume they are automatically covered for all types of water damage. In reality, overland flooding is usually not included by default, and you have to purchase a separate policy – as in the case of BCAA's DrainGuard.
Photo credits: Dan Derby, iStock, Getty Images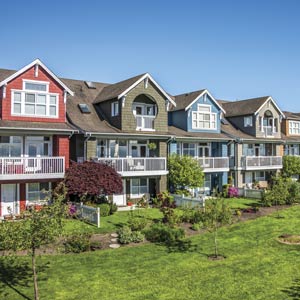 MEMBERS SAVE
Available to most BCAA Home Insurance customers with DrainGuard, flood coverage provides protection for damage to your home from the breaking out or overflow of fresh water, or accumulation of surface water from rainfall or melting snow. BCAA Members save up to 20% on Home Insurance and enjoy exclusive benefits, like a $200 deductible, one-claim forgiveness and access to premier packages, which offer enhanced coverage.