Charging Ahead: Is it Finally Time for an Electric Vehicle?
A decade ago, you couldn't buy an electric car in Canada. Today, there are more than 41,000 on BC roads alone. And around 10 per cent of new vehicles sold in the province are either fully electric (EV) or plug-in hybrid (PHEV). With better range, more models to choose from and an ever-expanding network of chargers, battery-powered vehicles are finally starting to surge. So, let's look at why they're buzzing – and whether it's finally time to make the switch.

By Jason Tchir | BCAA Magazine, Winter 2021
Going the distance
Battery technology has come a long way in the last decade. Range, or the distance an EV can travel on a single charge, was a real concern with early models. The 2011 Nissan Leaf, for example, topped out at 117 kilometres – enough to zip around a city, but not to entice long-distance commuters or single-vehicle households.
Tip!
So long, range anxiety: a BCAA Membership keeps you moving and comes with towing for EVs and hybrids, too!
With the availability of smaller and more powerful batteries, range anxiety is fading into the past, says Patrick Breuer, zero-emissions vehicle fleet advisor with Plug In BC. "The ranges and battery packs are getting to [the size] you need for comfort that you have enough range to do your commute," he says. The 2021 version of the Nissan Leaf offers a top range of 363 km. Others go even farther: Tesla's 2021 Model Y crossover, for example, can do an impressive 525 km on a single charge.
Hybrids, too, have evolved enormously since Toyota introduced its game-changing Prius to the North American market 20 years ago. Traditional hybrids, which charge by capturing kinetic energy from driving and braking, are still around, offering great mileage compared to their gas counterparts. But most of today's hybrid buyers go for a PHEV. These versatile vehicles plug in to charge, and can run fully electric for anywhere from 15 to 100 km on top of their gas range.
PHEVs are appealing for those who need one vehicle to do it all, says Breuer: "If you want to drive electric around the city regularly but still take a lot of long trips, a PHEV might be better for you."

Teslas juice up at a Supercharger station in Merritt.
More models, more muscle
The first EVs and PHEVs to hit the market in Canada were small hatchbacks that looked like quirky, futuristic appliances – great for city drivers, and embraced by early adopters. However, the small statures, and ranges of 120 km or so, didn't entice the majority of consumers – especially rural and suburban dwellers, who generally want more range, power and interior space.
The most popular vehicle category among North American drivers, SUVs, was all but absent until the last few years. But today, there are more than 40 EV and PHEV models for sale in Canada, including a host of crossovers and rugged SUVs. Increasingly, new models offer looks, capacity, and features that match or beat their gas-powered competitors. And there are many more on the way in the next five years – including trucks with potential to win over rural and working drivers.
"An electric pickup truck is the one thing that [has been] missing in the market," says Breuer. "Car companies were originally building EVs for the global market, where trucks aren't popular."

GM released an all-electric version of its brawny Hummer truck this fall.
That's set to change this year. General Motors recently launched an all-electric truck under the Hummer brand, with several large electric SUVs planned over the next few years. Ford plans to release an EV version of its iconic F-150 pickup in 2022, while the futuristic Tesla Cybertruck is expected any day now. American newcomer Rivian is currently accepting Canadian pre-sales for its R1T pickup, which boasts an impressive 754 top horsepower, 829 lb.-ft. of torque and 482-plus km range.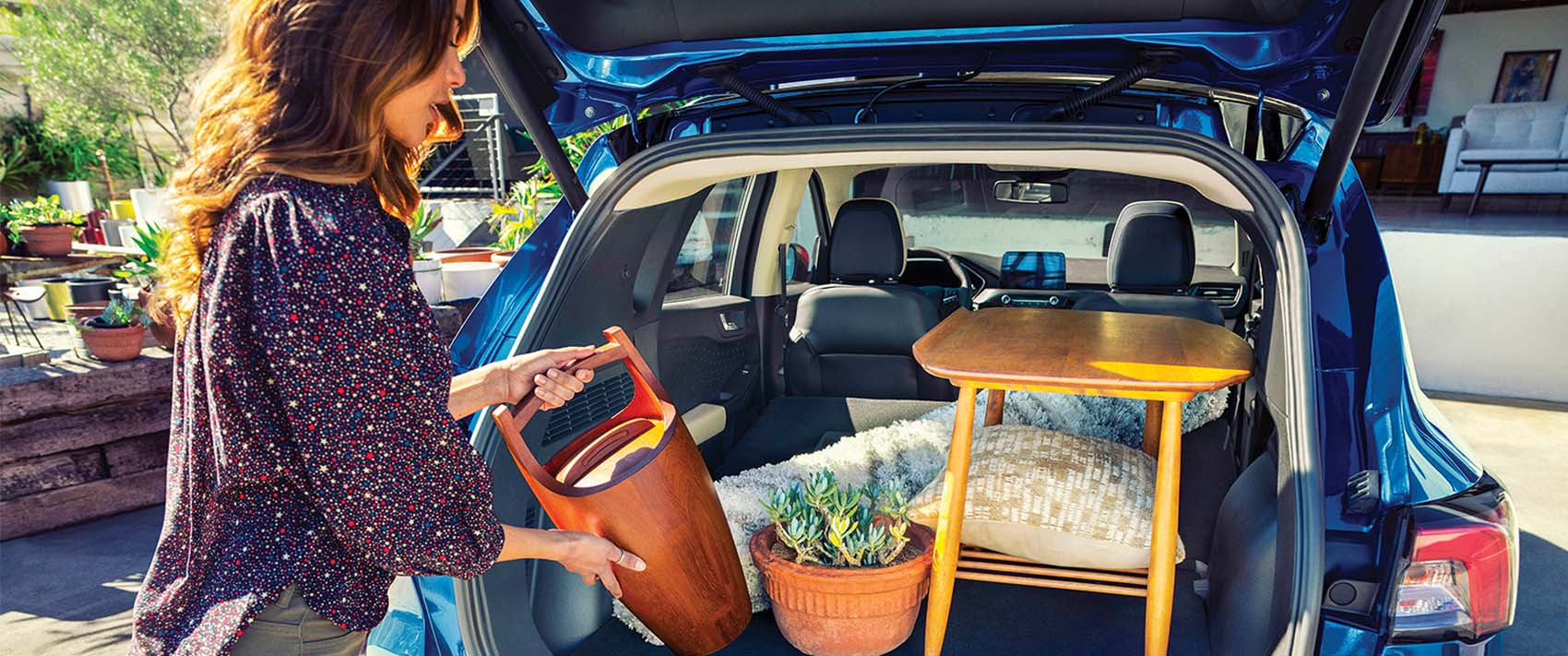 Lower lifetime costs
Cost is still keeping some people out of EVs and hybrids. And while it's true EV and hybrid prices are higher than their gas counterparts, combustion engines are more expensive in the long run. According to Consumer Reports, you'll spend around $8,000 to $13,000 less on an EV than a gas vehicle over its lifetime, factoring in all ownership costs. "If you go fully electric, you don't have much maintenance. There are no fluids to change and there aren't many moving parts," Breuer says.
Government rebates help, too. BC offers a $3,000 provincial rebate for EVs that cost less than $55,000, while the federal government provides $5,000 for EVs with a base model starting under $45,000. BC's Scrap-It program kicks in up to $6,000 if you scrap an older gas vehicle to buy an EV or hybrid.
EV and PHEV prices are likely to drop further as battery technology improves, adds Breuer. For instance, Tesla CEO Elon Musk has promised that new battery-manufacturing techniques will lead to cheaper batteries and a US$25,000 (CA$33,000) Tesla "in about three years."
Budget shoppers who can't wait have another option: buying used. Just be sure to get the vehicle checked by a qualified mechanic, and ask for a battery-capacity test before you buy. Most EV batteries have an eight-year or 160,000-km warranty, but many last long after these benchmarks have passed.
Ford's all-electric F-150 prototype proved its mettle in a test by towing more than 560,000 kg of rail cars and other vehicles.
Tip!
Considering a home EV charger? If professionally installed, it's covered by BCAA Home Insurance. See: BC Hydro.
A growing network of chargers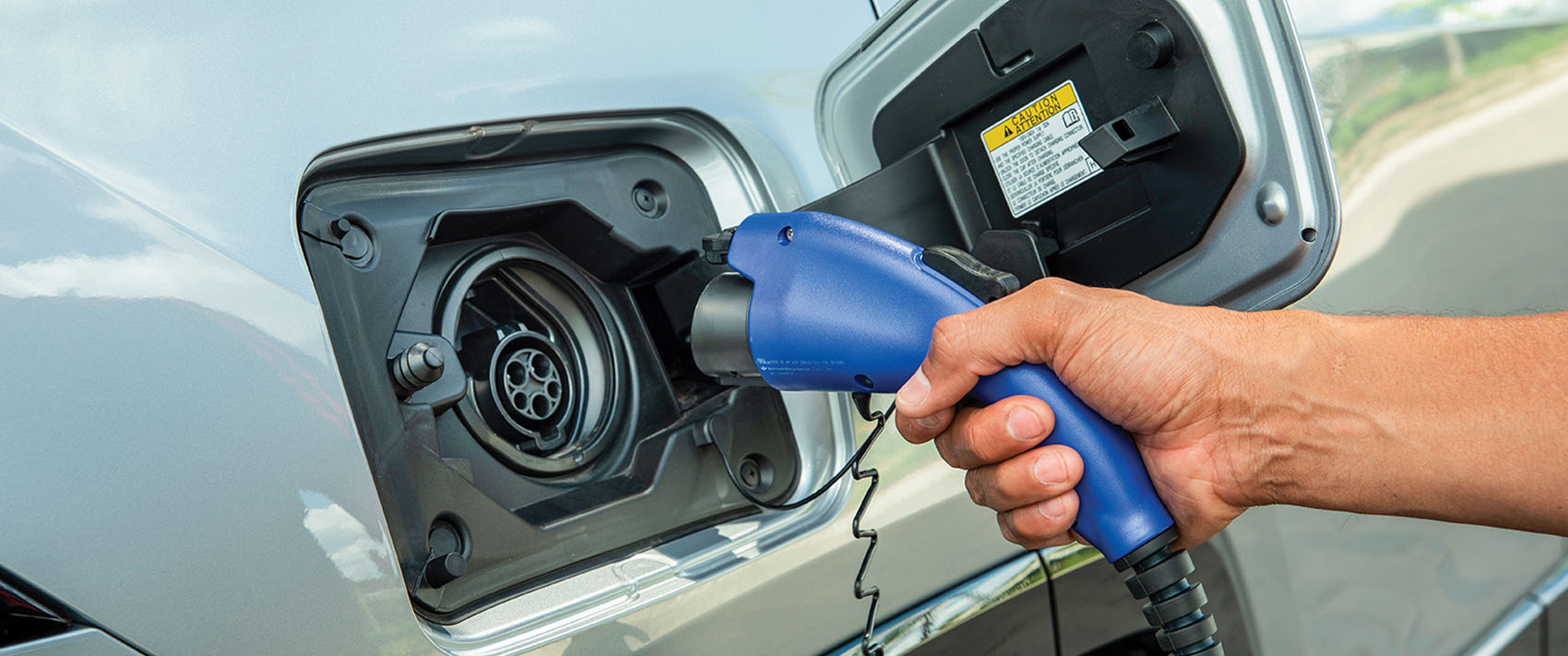 Public chargers are popping up in parking lots and communal spaces across North America. In BC alone, there are now more than 1,000 public charging stations, including the 240-volt Level 2 variety, which take a few hours to charge, plus fast chargers that can give a car 80 per cent of its maximum range in about 30 minutes. BC Hydro operates 70 fast-charging stations on provincial highways. This year, it's adding more in places like Prince George and Bella Coola. (See plugshare.com for a map.)
While public chargers are useful for longer trips, or if you're caught somewhere with a low charge, 99 per cent of vehicle charging still happens at home, Breuer says. And long trips in an EV still require planning. For instance: a battery with a 400-km range will achieve less when driving on steep mountain roads, accelerating constantly to pass or driving in cold weather with the heat blasting. So, to drive the 391 km from Vancouver to Kelowna in an EV this winter, you'd have to stop at least once for 30 to 45 minutes.
This may change. "Charging is becoming a lot faster," says Breuer. "When fast chargers first came out, they were 50 kW. Now they're coming out with chargers as fast as 375 kW."
Currently, there aren't any of these super-fast chargers in Canada, or cars that can use them. But it's only a matter of time, if the technology continues at its current pace. Experts predict that by 2030, nearly half of all vehicles sold in Canada will be electric. That means many of us will be making the switch, soon.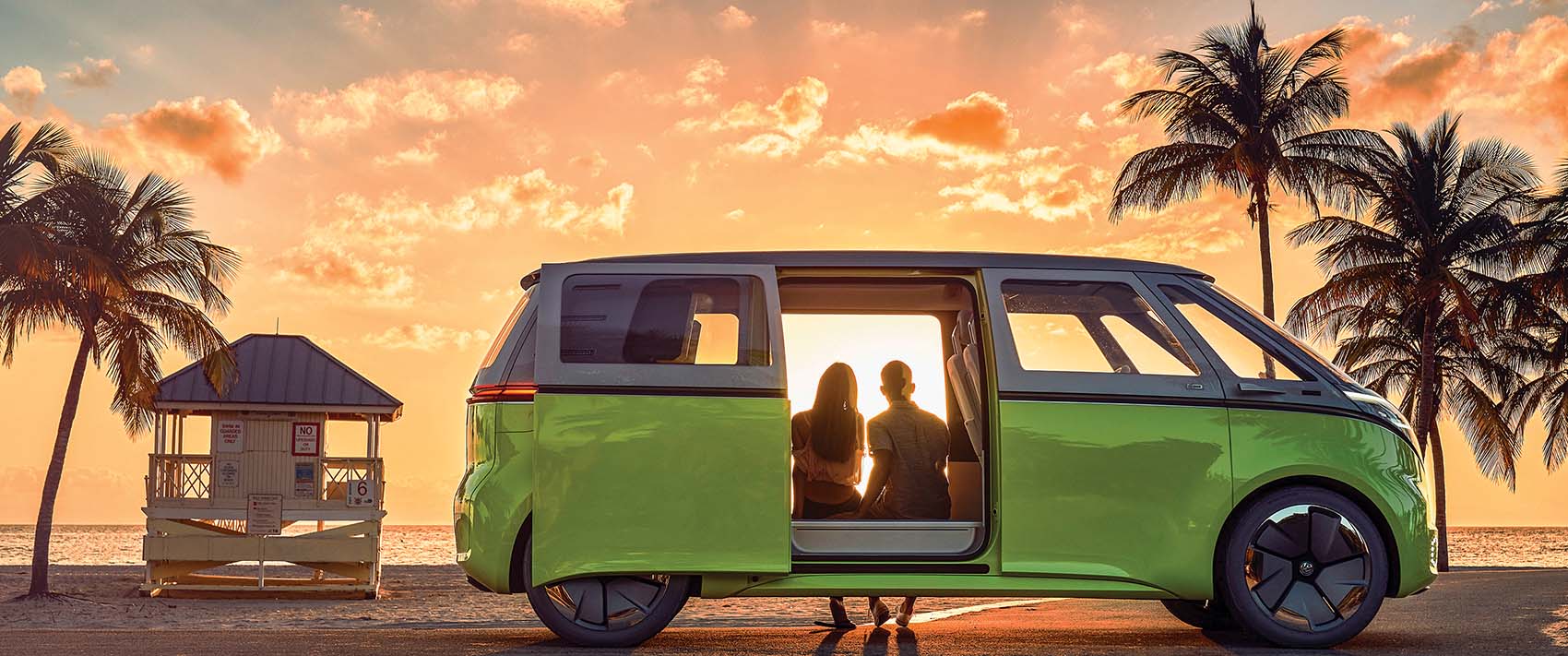 Five Models to Spark the Switch
By Dan Heyman | BCAA Magazine, Winter 2021
With options ranging from sedans and crossovers to full-size SUVs and even trucks, today's EV and hybrid buyers are spoilt for choice. Here are five 2021 models that might tempt BC drivers to make the switch:
TOYOTA RAV4 PRIME
Toyota's wildly popular plug-in hybrid crossover is a perfect choice for young, adventurous families. It can cruise up to 68 km on electric power; no other compact crossover available in Canada offers this much electric range for the price. And with 136.4 cubic feet of space inside, it sacrifices little to accommodate its battery.

Starting: $44,990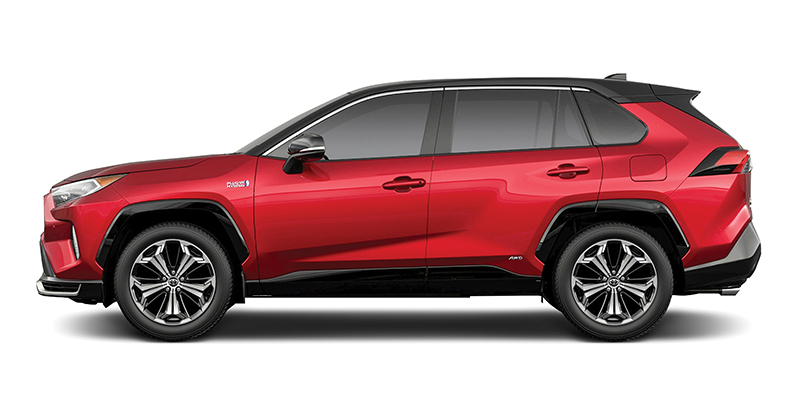 KIA SOUL EV
The fully electric version of Kia's popular boxy hatchback delivers up to 383 km of driving on a charge. The Soul targets younger buyers who want the efficiency and zero-emission status of an EV, but also funky styling and the practicality of a compact crossover.

Starting: $42,895
FORD EXPLORER HYBRID
A traditional hybrid, this full-size SUV uses a small electric motor to generate extra power and improve fuel economy. It's great for adventurists who want efficient motoring, but still need a third row and the ability to tow a boat or trailer – which the Explorer can do, thanks to its 2,540 kg tow rating.

Starting: $53,599
TESLA MODEL 3
Tesla's most affordable EV, refreshed last year, is still its most appealing. The Model 3 can easily serve a single-car household, with 423 to 568 km of range, covering everything from city driving to trips to the ski lodge. Over -the -air software updates help keep features in line with the competition.

Starting: $52,990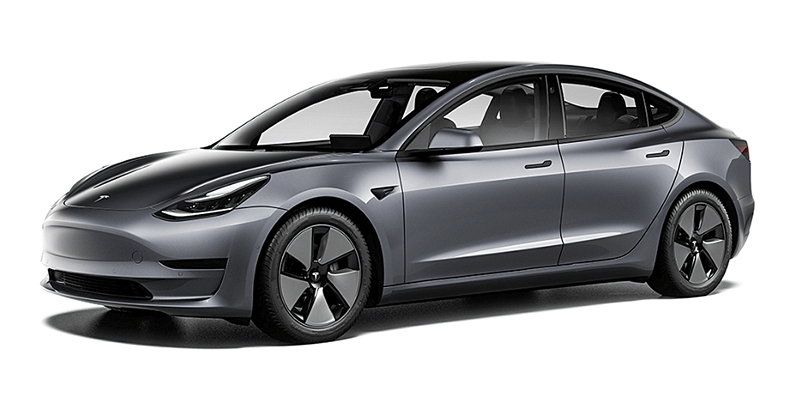 RIVIAN R1T
For the first time ever, electric pickups are becoming available to the masses. Now accepting Canadian pre-sales, Rivian's R1T delivers a 482-plus km range, up to 754 horsepower and a 4,990 kg towing capacity. With numbers like that, this newcomer should be able to handle the rigours of working life.

Starting: $98,140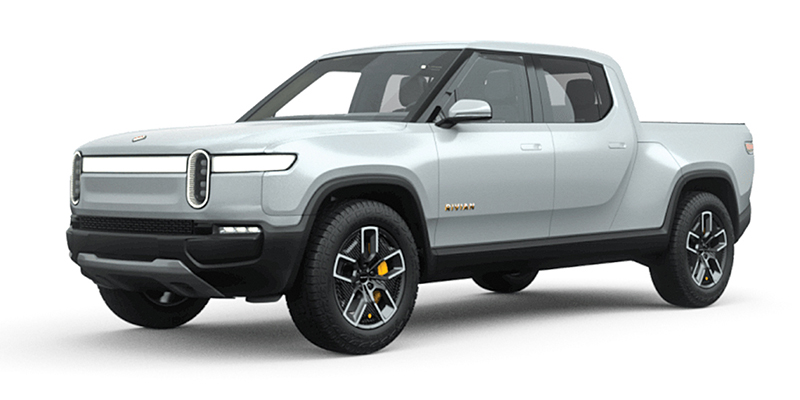 ---
Photo credits: Tesla, Plugshare, GMC, Ford, Volkswagen, Toyota Canada, Kia, Rivian
All Members are eligible to receive BCAA Magazine in printed format twice per year. If you would like to subscribe or make a change to your BCAA Magazine delivery preferences, please contact us via email at BCAAMagazine@bcaa.com.