One Million Members Strong
This summer, BCAA is set to reach a million Members – so what comes next?
by Eric Hopkins, CEO of BCAA
BCAA sure has come a long way since 11 Victoria-area residents founded a club for "autoists" back in 1906. It all started with a passion for a new way to move and connect.
With BCAA reaching a million Members, we're dreaming bigger. Our long-term goal is for every British Columbian to join us. It's lofty, but we want to be part of more people's lives. The more Members we have, the more we can build strong communities and move BC forward together.
As an organization, we describe our shared Purpose as: Empowering British Columbians to Move Forward. This flows through every aspect of our work. I recently sat down with BCAA's leadership team to talk about what this means. Read on for some highlights from our conversation.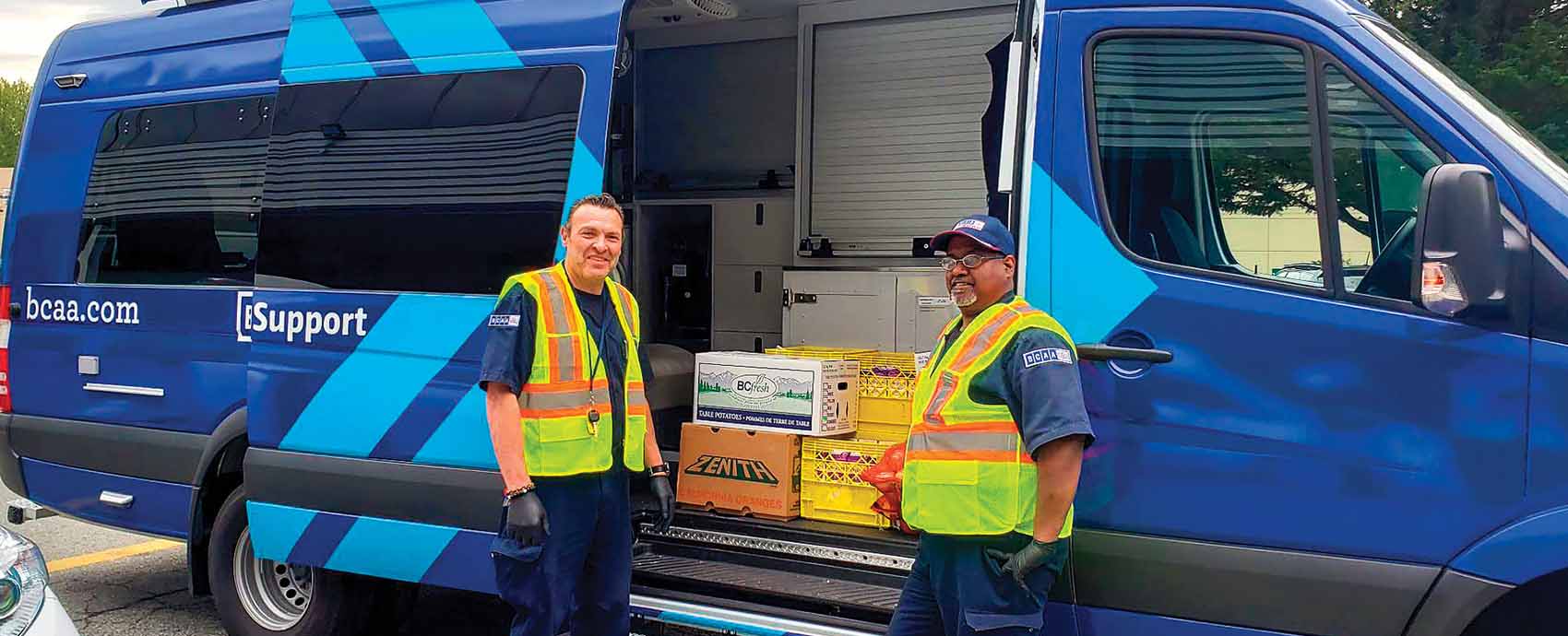 BCAA Roadside Assistance drivers helped deliver to BC food banks in the early days of the COVID-19 pandemic.
Purpose moves us forward
BRENT: I think what makes BCAA special is our strong values and beliefs. From our roots as a Membership organization, we've always had this sense of belonging to something bigger, to a group of passionate people who come together as a positive contributor to our province. It started with a shared desire to make roads safer and grew from there. Today, that core belief in safety and protection has broadened to encompass everything about life in BC. We have such a clear sense of Purpose, founded in safety, protection and supporting British Columbians through everyday life and extraordinary times.
GRANT: True, and our story as an "auto" club is evolving, with a wider definition of mobility. Today, mobility is however you get around, whether or not you own a car – whether you're getting to work or school, visiting family, getting groceries or enjoying our beautiful province. We'll always be here to save Members by the side of the road, but we need to consider how people will get around in more climate-friendly ways, too. In addition to car shares, electric vehicles and autonomous forms of transportation, micromobility options like electric-assist bikes are starting to become part of the transportation picture.
We're considering climate change in everything we do
NATHAN: Climate is especially critical for BCAA as an insurer. The effects of climate change were devastating in BC last year. Wildfires, heat domes, flooding, extreme cold – these are times when our insurance customers need us the most. Extreme climate events are no longer one-offs, but something we must be ready for every year. Protecting British Columbians means carefully managing our risk and finding creative ways to protect more people in more ways. That's why we're exploring gaps in coverage, as well as proactive new ways to help customers prevent damage, and more ways to help and support people when they need us. In extraordinary times, we have proved we can lean into our Purpose to do more.
We want to make life easier for Members
SALMAN: Putting Purpose at the heart of our business also means evolving how we operate. We want our Members and customers to connect with us faster and more easily, however they choose. Some people prefer to visit us in person, while others find it more convenient to talk on the phone or do business online – or a combination. Making it possible for people to access all of our services, our expert advice and everything else we have to offer is important. And just as important is their experience every time we connect.
KELLY: Exactly, and we're investing in the systems to achieve that. I remember in the early days of the pandemic, many organizations went into survival mode. But BCAA had already started to invest heavily in our technology and systems, and we knew we had to continue that work. Thanks to these improvements, we understand the people we serve better. Our ultimate goal is also to serve everyone faster, because, as we all know, waiting is frustrating, particularly when you need us the most.
THE BCAA LEADERSHIP TEAM
Eric Hopkins
CEO

Brent Cuthbertson
Chief Marketing Officer

Grant Stockwell
Chief Mobility Officer

Nathan LaFayette
Chief Insurance Officer

Salman Manki
Chief Legal & Member Experience Officer

Kelly Gilchrist
Chief Technology & Transformation Officer

Dawn Demery
Chief People Officer

Navida Suleman
Chief Financial Officer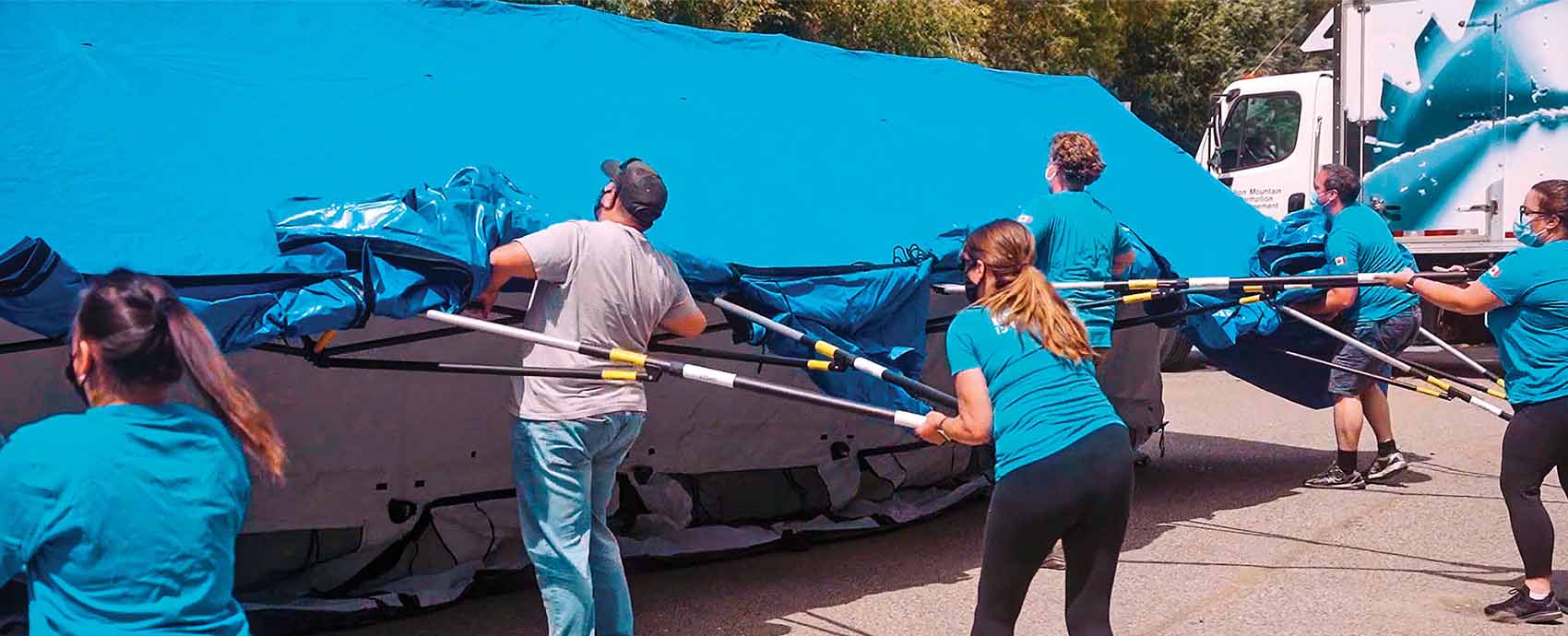 Last spring, BCAA transformed a fleet of its Mobile Response Units (MRUs), normally used for disaster relief, into mobile immunization clinics to help residents of Interior, Okanagan and Kootenays communities gain access to vaccines.
We're focused on people
DAWN: Our employees really do thrive on making things better for our Members and customers. They tell us over and over again how committed they are to our Purpose, and they truly want to make a difference in BC. We're proud to play a part in helping them do that; for instance, by creating a workplace that thrives on diversity, equity and inclusion, and is committed to Truth and Reconciliation with Indigenous Peoples; a workplace that grows careers, and supports our team's health and wellness. With the support of our people in the last two years, we have come together to lend Evo Car Share vehicles to healthcare workers, turned BCAA emergency community response units into mobile vaccine clinics, donated masks to those in need, supported Black, Indigenous and People of Colour (BIPOC) entrepreneurs and much more.
11 car enthusiasts founded BCAA in Victoria back in 1906.
It's an evolving journey
ERIC: We're truly on a journey, and I don't think any of us would say this is easy. We'll stub a few toes along the way. Sometimes our good intentions fail us, but we have to own it and learn. We might say, can we really afford to invest in those systems or make that change to insurance coverage? Should we wait for the world to be more stable? And the answer is maybe, but we need to move forward. And how we manage our finances is more important than ever.
NAVIDA: Our commitment to Purpose does add complexity to our finances, but it's so important. We're moving toward a triple-bottom-line reporting model, which means we set targets, measure our success and report based on our people, our planet and our prosperity. And by prosperity, I mean the kind that strengthens our entire province.
ERIC: I keep thinking back to those car enthusiasts in Victoria who started our club in 1906. Their Purpose was simple: to get together, talk about driving and their cars, and share tips to get the most out of motoring. Today, I imagine what we can build together, if we do this right: something that empowers all British Columbians to move forward. It's beyond ambitious but it's our future.
---
Photo credit: Getty