Here's your fall home maintenance guide for a happy home
10/3/2023
---
Fall is here and it's time to fix up your home before winter sets in. Follow our 10-step guide for must-do fall home repairs and maintenance tips.
1. Clean your gutters
Clear out your gutters before the leaves fall and clog them up. Your roof's drainage system protects your house by diverting thousands of litres of water away from your home's exterior and foundation walls to prevent nasty leaks. It's crucial you keep the system flowing smoothly. Here's how to clean your gutters, then cover them with mesh gutter guards to keep the leaves out.

2. Inspect your roof
A leaky roof can be an expensive hassle. Once the dripping starts, it can be tough and time-consuming to find the source of the problem. Best to stop any problems this fall before winter winds and ice transform the drips from an annoyance into a disaster.
Inspect your roof from top to bottom and use binoculars as needed. Check your ridge shingles for wind damage and cracks. Scan for damage to metal flashing in valleys and around your chimneys and vents. Search your whole roof for shingles that are missing, curled or damaged. Look inside your gutters for big clumps of granules, as this is a sign your roof is losing its coating which can lead to bigger problems.
3. Seal those leaks
Cold winds are the enemy to a comfortable winter. Gaps in your caulk and weatherstripping allow cold air to barge into your warm home. If you seal up your drafty house, you can save big on your heating bills.
Weather stripping is your most cost-effective way to lower your heating and cooling costs. Weather stripping stops drafts and keeps your home comfortable all year round (BCAA Members earn 2% in CAA Dollars™ when shopping online at RONA).
It does deteriorate over time, so inspect your weatherstripping to see how it's holding up. If you see a problem with your weatherstripping (gaps, cracking, peeling off), try closing your window or door on a piece of paper. If the paper slides out easily, your weatherstripping isn't doing its job.
4. Caulk the gaps
Check for missing or damaged caulk around windows, doors, entry points and holes for electrical wiring, phone and gas lines. If you see a gap, seal it with caulk (here's how to use a caulking gun). If those window drafts persist, you may want to get your windows replaced. Installing glass with multiple panes or spacers will typically solve these problems.
5. Protect your faucets from freezing
First, close any shut-off valves that serve your outdoor faucets. Then you want to open your faucets to drain the line (there might be a small cap on your faucet that you can loosen to help the draining). If you don't have shut-off valves and your faucets aren't 'freeze–proof' types, you can get styrofoam faucet covers at home improvement stores like Rona (earn 2% in CAA Dollars), or Walmart (earn 2% in CAA Dollars).
To freeze-proof your underground sprinklers, follow the manufacturer's instructions (you kept those, right?) for draining your system and protecting it from the ravages of winter.
6. Check your furnace
Once a year, hire a pro to inspect your heating system. You should also clean or replace your furnace filter. When your filter gets clogged up, it's harder to keep your home at a comfortable temperature, which then increases your hydro bills.
You can combat those expenses with simple monthly cleanings to keep your filters free of dust and debris. You can vacuum disposable filters once before replacing them. You can also vacuum foam filters, but you won't need to replace them unless they're damaged. If your furnace filter is metal or electrostatic, remove and wash it with a strong water spray.
7. Prepare your fireplace
Check your fireplace once a year for damage and hazards. For most of us, the best option is to get your chimney inspected by a professional chimney sweep. You can DIY by inspecting your flue for creosote which is a flammable by-product caused by burning wood. Do this inspection by shining a bright flashlight up your flue to look for any deposits that are about 1/8 inch (3-4 mm) thick.
Found some? You should get these deposits cleaned by a chimney pro, as too much creosote in your flue or chimney can cause a devastating fire. If you frequently use your fireplace or wood stove, inspect the flue after each cord of wood burned.
Check your chimney for damage or flue blockages. Make sure your flue cap (that's the screen covering the top of your chimney) is correctly in place. Birds like to nest at the top of unprotected flues, and a chimney cap can stop this from happening.
Inspect brick chimneys for any loose or broken joints. You also want to exercise the metal plate (a.k.a. damper) that opens and closes the flue just above the firebox. Open and close the damper to make sure it's working properly.
8. Keep your humidifier humming
You need a humidifier in the winter because your furnace pumps warm air around your home. That dry air has a low humidity level so it will absorb moisture from you and everything inside your home. This dry winter air is tough on your skin, lungs and even the wood in your home.
You and your home will feel much more comfortable if you keep your humidifier in top shape when it's running. First, inspect your humidifier plates or pads and if necessary, use a strong laundry detergent solution to clean them. Rinse them and use a wire brush or steel wool to scrape off mineral deposits. Here's how to clean your humidifier.
9. Fix your walkways
Damaged driveways, walkways and steps are a year-round hazard, but they get worse when the weather turns icy. Fix damaged walkways in the fall to prevent little cracks from becoming expensive headaches.
Watch for cracks over 1/8 inch (3-4 mm) wide, uneven sections and loose stair railings. Check for disintegrating asphalt or washed-out materials on any loose-fill paths. Most of these small jobs you can do yourself but save any major repairs for a professional.
10. Review your home safety once a year
Every year, clear away piles of stuff and any hazardous household chemicals. If you live in an area at risk of wildfire, Fall is a good time to plan ahead and create a FireSmart ™ property.
Many of the tips already mentioned are a great start, but even more can be found in the FireSmart Homeowner's Manual, or consider getting a free home assessment through FireSmart's Home Partners Program to receive unique, property specific recommendations for you to take that will reduce your home's risk to wildfire when the season rolls around next year.
Then do a top-to-bottom review of your home's safety features including testing your: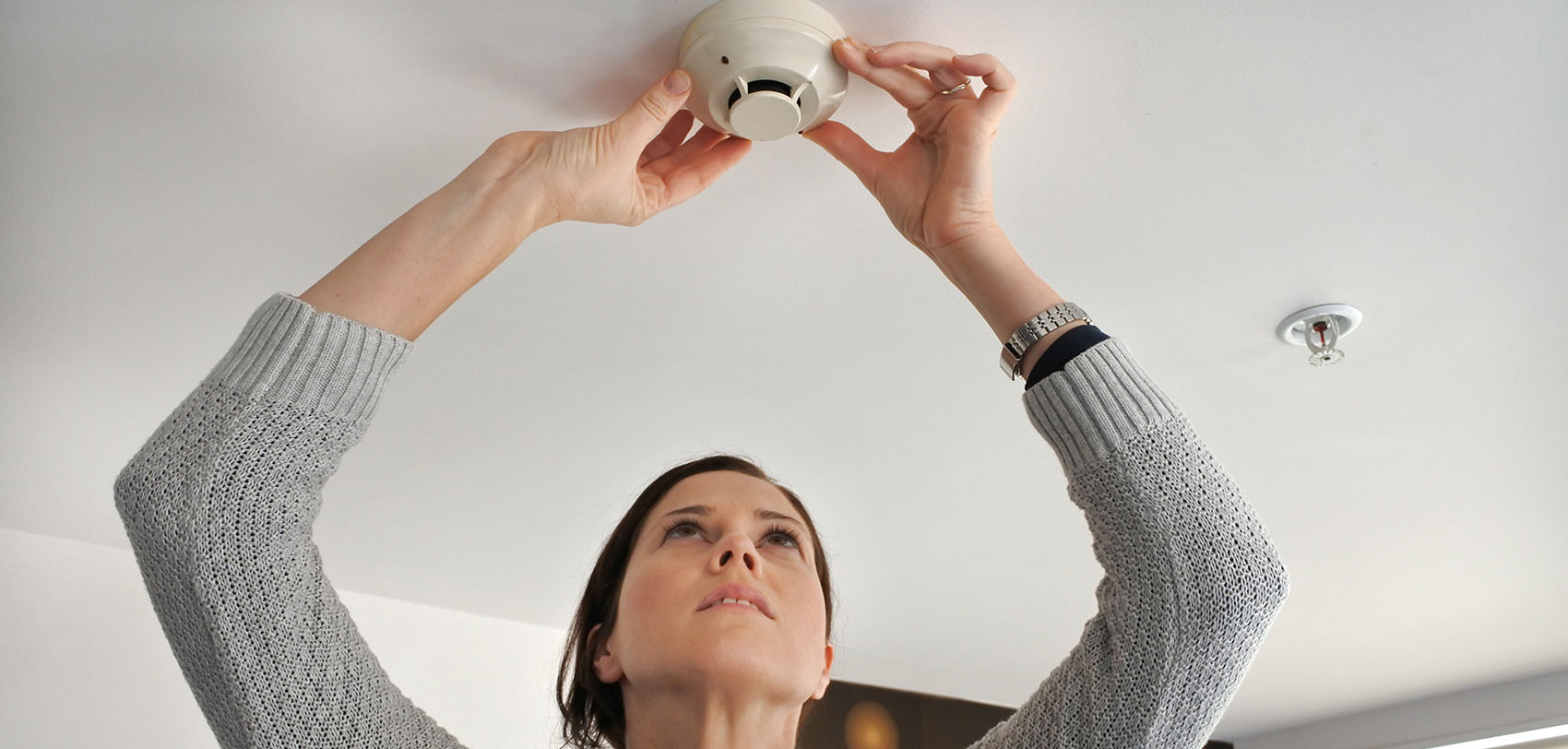 Fall is also a great time to add an Emergency Survival Kit to your home and all your vehicles. You can either create your own emergency kit or save 20% on a F.A.S.T. survival kit.
Need a helping hand? We're here for you all fall and winter

At BCAA, we know how to build a custom home insurance policy to protect your home and provide peace of mind. To get a quote today, visit bcaa.com/home.
Take comfort in knowing that BCAA Home Insurance paid out on 95% of claims for fire, water, weather and theft.** Visit bcaa.com/home to get a quote today on BCAA Home Insurance from BC's Most Trusted Brand for Insurance. BCAA Members save up to 20%†. Plus, you'll save 5% when you buy home insurance online.
Have a fantastic fall in your beautifully tidy and comfy home!

*Home Insurance is sold through B.C.A.A. Holdings Ltd. dba BCAA Insurance Agency, a licensed insurance agency, and underwritten by BCAA Insurance Corporation.
**From 2019 to 2020, BCAA paid out on average 95% of home insurance claims related to fire, water, weather and theft. Past performance is not a guarantee of future results. Home Insurance is sold through B.C.A.A. Holdings Ltd. dba BCAA Insurance Agency, a licensed insurance agency, and underwritten by BCAA Insurance Corporation.
† BCAA Member savings on insurance products are only available with Basic, Plus, and Premier Membership plans. For full details, please visit www.bcaa.com/plans