Sun's out, tools out! Here's your summer home maintenance checklist
7/21/2023
---
Summer is an excellent time for home maintenance. The days are long, the weather's great and you can enjoy the sun while improving your home. Summer maintenance is also incredibly forward-thinking as you can save yourself a surprise winter mishap. 
The best thing you can do is to get started. Here's our checklist of home maintenance tips to whip your place into perfect summer shape. First, let's start: 
Outdoors
Water your plants and foliage 
Make sure your foliage gets plenty of water. Many plants need hydration three times a week, but make sure to check if your greenery has specific care instructions. Plants like a good soaking in the early morning or at night so they won't get scorched by the hot summer sun.  

Conserve water 
In the summer, we use more water for cleaning our decks, washing cars and watering lawns—and all these things could use recycled rainwater or greywater instead of using clean drinking water.  
Here's one great way to conserve water for your garden: add rain barrels that collect the rainwater run-off from your roof and gutters. These rain barrels prevent water from entering storm drains (which reduces the risk of flooding) and stops water from seeping into your foundation. Rain barrels are great for watering your garden and washing your vehicles. Collection of rainwater is unrestricted in BC, so fill your boots (or barrels!)
Spruce up the balcony of your condo or apartment
To properly enjoy some time chilling on your balcony this summer, a few simple tasks can get it looking sparkly and new. Get rid of weeds growing in cracks by pouring on baking soda, which overloads them with salt, dries them out and makes it easier to pull the roots out. Spraying weeds with vinegar also works to draw the moisture out of the roots and leaves them dry and withered within 24 hours, ready for removal.
Next, get your balcony shining. The best way to start is to sweep the dirt into the middle of your floor—that avoids it getting stuck around the edges—then use a dustpan to clean it up. Get rid of the grime with a mop and a bucket full of warm water mixed with multi-surface cleaner. Either that or take the easy way out and get yourself a steam mop or steam cleaner.
Check your sprinkler system
If your sprinklers have been out of action for a while, manually turn them on one at a time and check the heads are upright. Hose out the valves or clear them with a brush, replace any leaky valves and check that your timers are working.
Adjust the valve flow to make sure the spray is wide enough, and prune back any foliage that blocks the spray. If you see any pooling water, low pressure or leaks, it could mean your underground pipes are cracked. If that's the case, call a plumber.
Lawn
The grass seems to be growing faster than ever this year. Before you mow, set your mower blade on the highest setting—you don't want to cut the grass too short and expose your lawn to weeds and scorched-earth drought. Protect your ear drums by wearing earplugs or noise-cancelling headphones - get them from The Source and BCAA Members can save up to 20%.

Gardening
Weed your garden once a week. Deadhead any flowers that are past their bloom. Want to save your knees? Get gardening knee pads (we especially like the ones with memory foam) and here's a detailed watering guide for all your vegetables. Getting overwhelmed by all the work? Consider hiring a landscaper if you can't do it all.
Combat mould
After a wet and rainy spring, it's time to search for mould. That musty smell in your basement or attic is a sign of moisture and/or mould digesting. To fix it, it's crucial that you find the source of the moisture. It could be a crack in the foundation, a backed up drain, a leaking pipe, or a leaky roof (which can be really costly, especially if you leave it until winter). If you don't find and fix the source, that mould will continue to grow and damage your house.
If you live in a moist area (like the coast or Vancouver Island), consider getting a humidifier to prevent mould and bacteria from taking over your home. Here are humidifier recommendations for your home, any one of which can be used to suck the moisture out of your bathroom after a shower.
Exterior repairs
If you're planning to paint your house or fix your porch or deck, summer's a great time to get this done. Ideally, you've booked your contractors months in advance as they often get slammed in the summer.
Take advantage of our BCAA Members offer and save 25% on Cloverdale Paint and 10% off brushes, rollers and other essentials. You can also save 5% and earn 5% in CAA Dollars® when you book a residential painting project with Certa Pro Painters.
Look for loose or rotting siding
Give your whole exterior a good once-over. See any siding that needs fixing or replacing? Summer's the perfect time to make it look almost-new again.
Check your deck and sidings
Power wash your deck, siding and bricks to blast away the dirt, dust, tree sap, moss, bugs and bird droppings.

Wash your windows inside and out
Clean your windows and you'll be amazed at how much more light streams in.
Patch your patio and driveway
Is your driveway cracking up at your jokes? You can repair small holes and cracks with a cement repair product. For deeper cracks or sink holes, best to hire a pro as there could be a more serious problem that needs addressing. Check out your patio space, too. If your patio is concrete, it could need sealing. If it's not concrete, watch for damaged or missing bricks or stones. Those are safety hazards that you want to fix before somebody trips over them.
Light it up
Light up your yard and patio for some magical summer eves. Here are 10 lovely outdoor lighting ideas for your backyard & patio including low voltage walkway lights, beautiful faux gas lights and mood deck lighting. If you've already got string lights, replace any dead bulbs and make sure it's evenly strung on solid staples or hooks.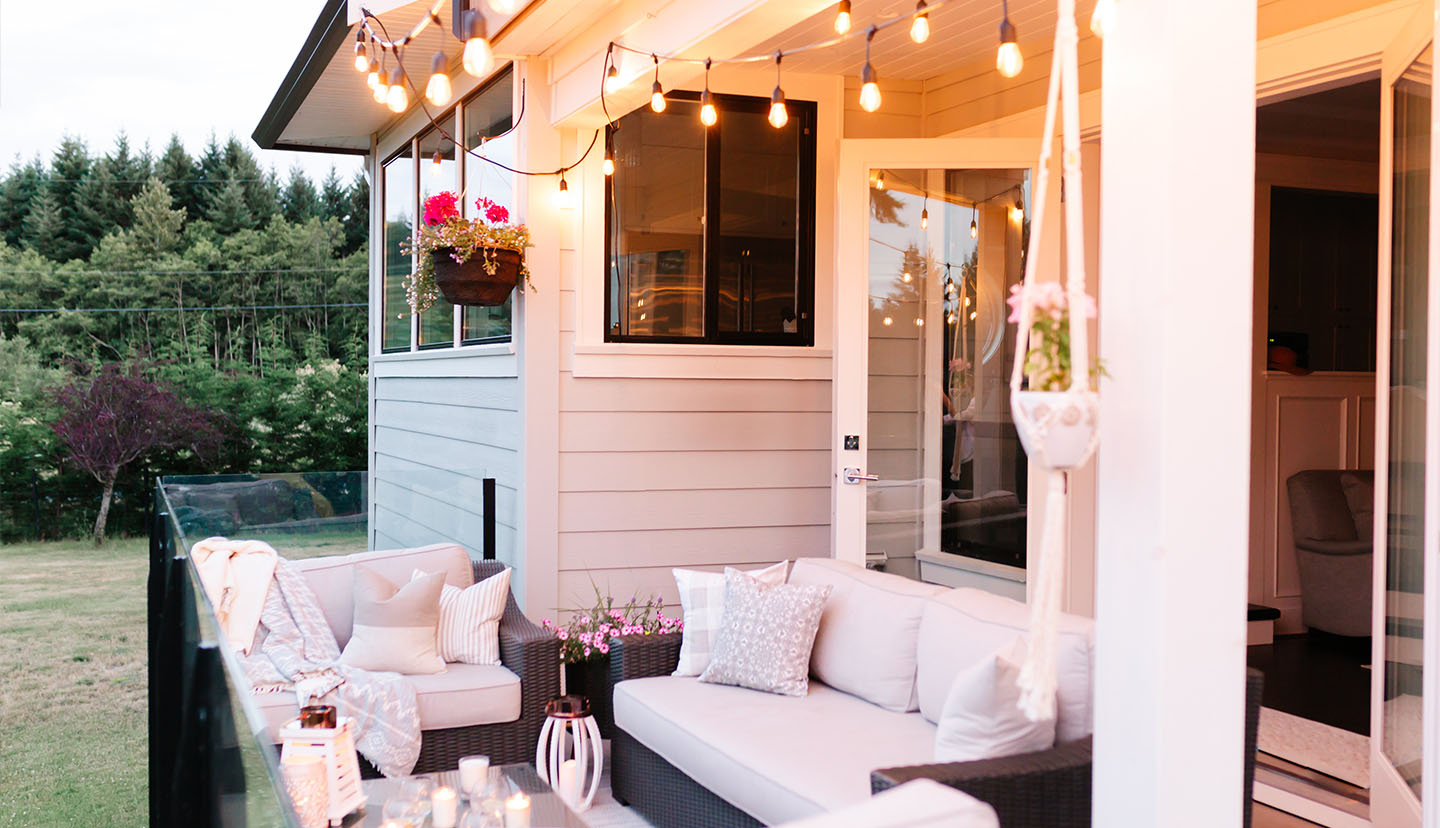 Indoors
Keeping cool
Clean the dust off your fan blades by attaching a dryer sheet to a paint roller so you can easily reach it and dust away. Then reverse the direction of your ceiling fans to go counterclockwise. This will push the air down to create a nice summer breeze.
AC has fast become a summer must-have in British Columbia. Whether you have central AC or a window unit, you should clean your AC filter once a month—especially during the summer when you use AC a lot. Try Rona for your AC needs and earn 2% in CAA Dollars® as a BCAA Member.

Air purifying
Given the rise in BC wildfires these past few years, our air quality is a rising concern. Keep your indoor air pure and healthy by getting an air purifier or a combination air purifier and humidifier.
Beat extreme heat
BC summers have been heating up all over, so best to prep your home before the scorching hot weather arrives. Check the weather stripping around your windows and doors to keep your cool air in. Here's how to weatherize, patch, and caulk your doors and windows.
Heat waves really strain the power grid which can cause brownouts and blackouts, leaving homeowners without power for hours. Same goes for flooding, which has become a growing concern in British Columbia for years. To ensure you're ready for any disaster, get an emergency kit for your home and vehicles that includes:
Flashlights
Bottled water
Canned food
Medicines
Battery powered radio
First aid kit
Emergency preparedness experts recommend you pack everything you'll need to survive for at least 72 hours (three days). Here's info on what should be in your emergency kit and how to save 20% on a F.A.S.T. emergency kit with your BCAA Membership.
Bugs, mice, and other invaders
You may love your home, but so do pests like termites, ants and mice. Don't make it easy for them to crash your home. Check the exterior of your home for entry points like holes or cracks around doors, window frames and vents, tears in door and window screens and cracks around doorsteps and windows.
If the crack in your foundation is smaller than a dime, you can use a concrete crack injection repair kit like SikaFix. You can handle some invasions (like ants) with an eco-friendly remedy like diatomaceous earth. A way to prevent mice is by sealing up holes by stuffing them with steel wool and caulking around it to keep it in place.
For more on bugs and insect control, check out the Government of BC's home and garden pest management guide.
Need a helping hand? We're here for you.
At BCAA, we know how to build a custom home insurance policy to protect your home and provide peace of mind. BCAA Home Insurance paid out on 95% of claims for fire, water, weather and theft.* BCAA Members save up to 20%†. Plus, you'll save 5% when you buy home insurance online. Visit bcaa.com/home to get a quote today on BCAA Home Insurance from BC's Most Trusted Brand for Insurance**.
Have a happy summer in your beautiful home!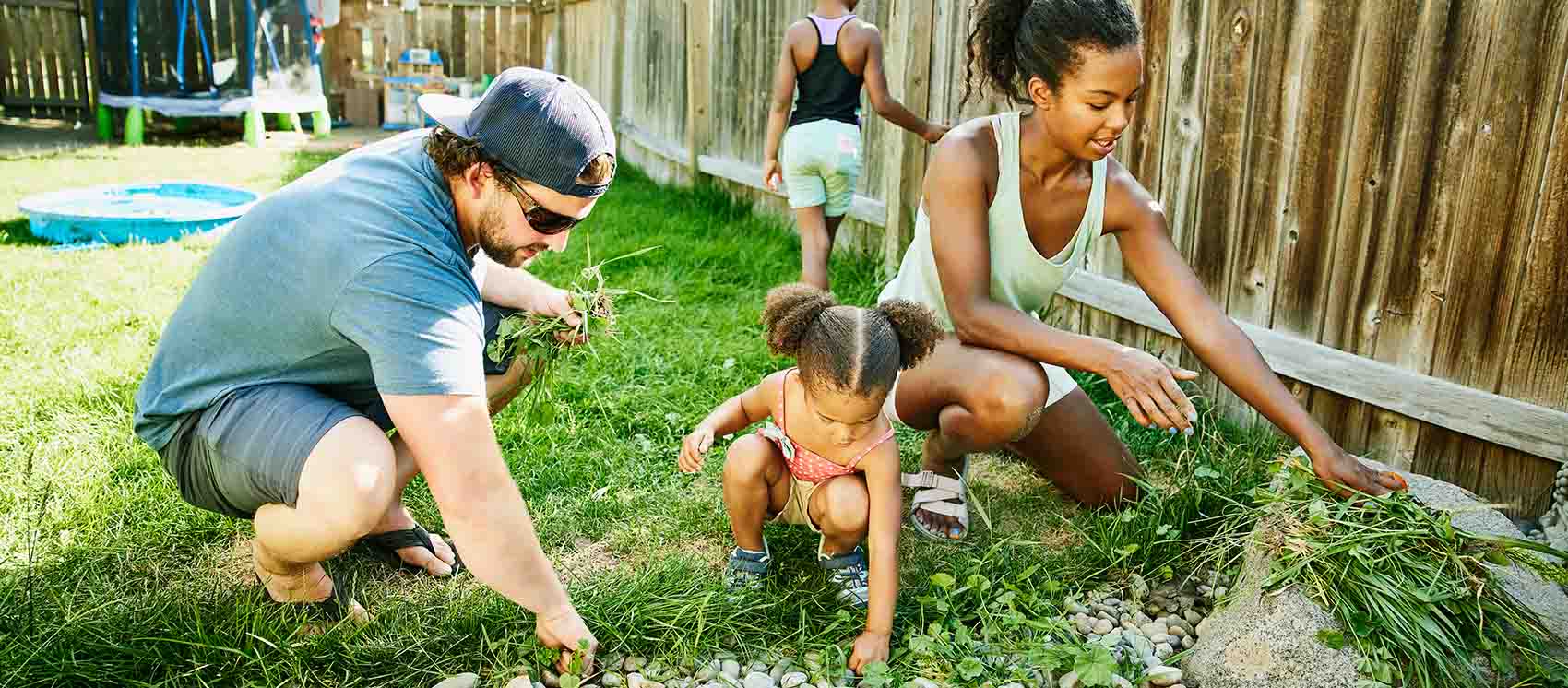 Home Insurance is sold through B.C.A.A. Holdings Ltd. dba BCAA Insurance Agency, a licensed insurance agency, and underwritten by BCAA Insurance Corporation.
* From 2019 to 2020, BCAA paid out on average 95% of home insurance claims related to fire, water, weather and theft. Past performance is not a guarantee of future results. Home Insurance is sold through B.C.A.A. Holdings Ltd. dba BCAA Insurance Agency, a licensed insurance agency, and underwritten by BCAA Insurance Corporation. BCAA, in association with CAA, was ranked the #1 Most Trusted Insurance Brand in Canada by the 2023 Gustavson Brand Trust Index.
** BCAA, in association with CAA, was ranked the #1 Most Trusted Insurance Brand in Canada by the 2023 Gustavson Brand Trust Index.
† BCAA Member savings on insurance products are only available with Basic, Plus, or Premier Membership plans. For full details, please visit bcaa.com/plans.