Protect your pet in the BC rain and snow
11/7/2022
---
Here in BC and the wet coast, you can always expect a lot of winter rain and occasional snow. As the cold winter rain chases most British Columbians indoors (except for dog-walkers and diehard joggers), our soggy streets, yards and parks not only make for a lot of soaking wet pet paws, but also limited driving visibility.
If you're facing months of dog walking in downpours, you'll want to be extra careful on those dark winter days and evenings. Here are six helpful tips for walking your pooch in the BC rain and snow.
1. Wear bright, reflective colours
Winter nights feel even darker in the pouring rain or blinding snow, making it harder to see and be seen. If your rain jacket looks dark indoors, imagine how dark it'll look on a dim winter night.
Driver visibility is always lower in the rain and snow, and humans are more likely to be spotted before their dogs. Wear a reflective vest or reflective gear with colours that stand out in the darkness. You can also get a reflective vest for your dog and a bright LED dog collar to make them visible, safe, and seen.

2. Check the forecast
It's never a bad idea to know what you're getting into when you go outside. Is there a severe storm coming your way? Worse still, thunderstorms often frighten dogs plus there's the very tiny risk of getting zapped by lightning.
As for rain alone, it depends on how heavy the downpour. If the rainfall is so heavy you can't see beyond your yard (and your pet really, really doesn't want to go outside), you can wait things out or let your pooch lift a leg on the nearest bush.
Your dog's age and size are factors, too. Older dogs and small puppies often find it harder to get through puddles and navigate slippery hills. Check the skies before you pull on your coats. Here are the best weather apps for Android and iOS phones & devices – and there's even a Canadian weather app called WeatherCAN.
3. Get rain gear for you and your pooch
Doggo boots and raincoats might seem a little silly at first glance, as if you're dressing up your dog for Halloween. You can put that feeling to rest because pet rain gear is a great west coast investment. Nice-fitting raincoats and boots keep your furry friend dry and comfortable on the coldest rainy evenings. They might also save you the hassle of towelling off your dog after your walk. Dog raincoats and boots cut down the smell of soaking wet dog fur, plus they mean less muddy floors and carpets.
Just as you want to choose the right raincoat for yourself, be sure to choose a size of raincoat that's meant for your dog's breed. And if your pooch will wear dog boots (which is never a guarantee), get boots that are snug but not too tight on their paws, and have rubberized, non-slip bottoms. Here is a list of some of the best dog rain boots on the market, as well as good traction cleats for you to wear in the snow and ice.
4. Don't drink water off the ground
Let's face it, dogs eat and drink pretty much anything. And yet as tasty as that slush puddle surely looks, never let your dog drink off the ground. Slush and rainwater are full of dirt and bacteria and, especially in urban areas, may contain harmful chemicals from road salt or de-icer.
To quench your pet's thirst, bring a water bottle and a portable dog bowl, just as you would for summer walks.
5. Keep it short
When winter turns brutal, it's probably best to turn your long walk into a shortie. Less time out in the pounding rain or whiteout snowstorm means less risks, hassles and shivering for you both.
If it's raining all day every day (like it loves to do in January), and you're concerned with your dog being stuck inside all day, ditch the long walk and take them on a series of short walks instead. Give yourself plenty of time to dry off in between sessions.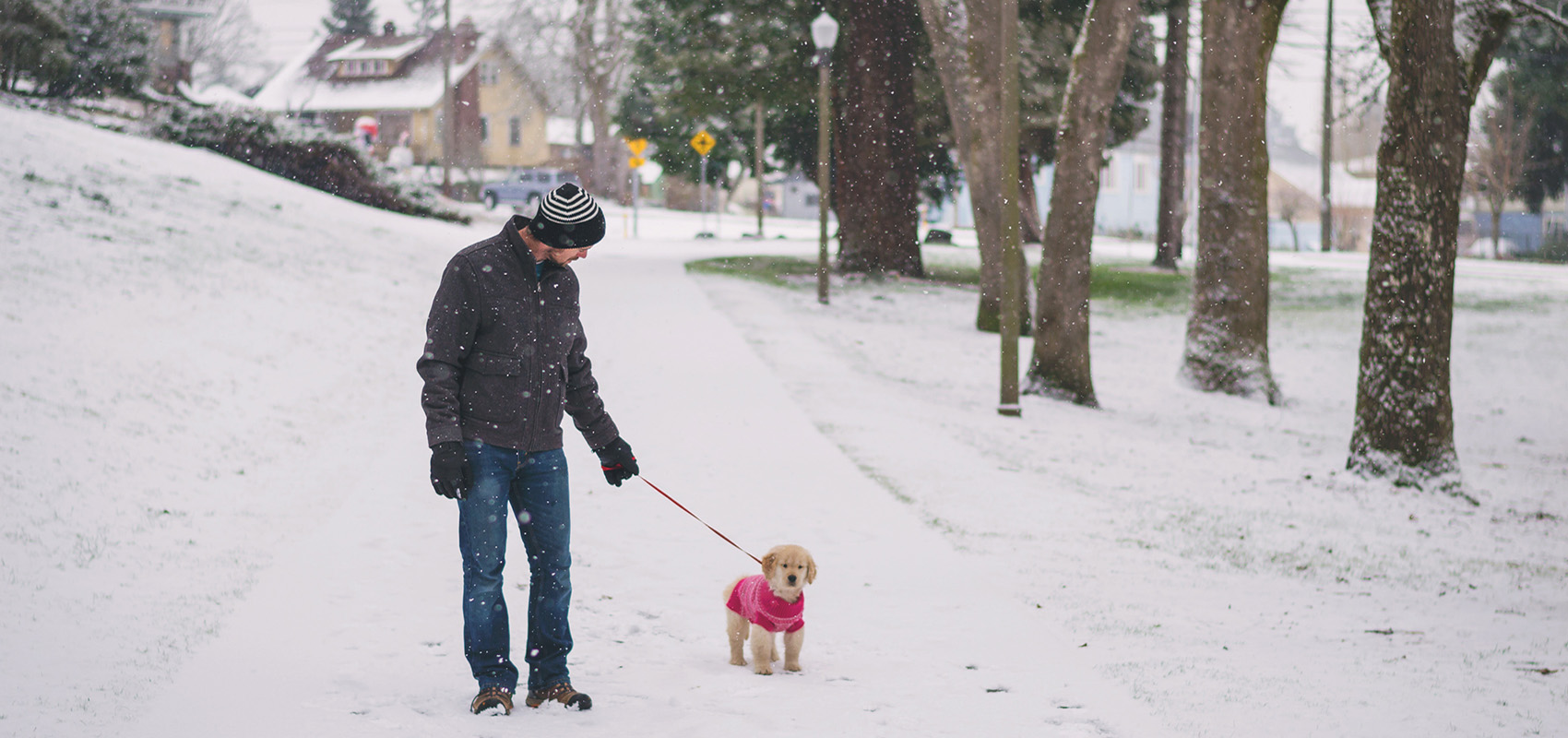 6. Paws for protection
Get pet insurance to protect your furry friend from the paws up.
If you're a BCAA Member, you'll save 12% with BCAA's pet insurance provider
,
Pets Plus Us.
Learn more about BCAA's pet insurance partner Pets Plus Us and get an online quote today.
*CAA Members receive a preferred rate of 12% off. Non-members receive a preferred rate of 7% off

All pet insurance plans have limitations and exclusions. Specific products, features, rates, and discounts may vary by province and territory, eligibility, and are subject to change. Medical Conditions that are noted, symptomatic or diagnosed prior to enrollment, or during a waiting period are pre-existing to Coverage and not eligible for reimbursement. Waiting periods, annual deductible, co-insurance, benefit limits and exclusions may apply. This advertisement is an outline only; policy terms and conditions 'User Guide' will prevail. For all terms and conditions visit: https://www.petsplusus.com/service-claims/brochures-guides

© 2022 All rights reserved. Pets Plus Us Pet Insurance policies are underwritten by Northbridge General Insurance Corporation, distributed by PTZ Insurance Services Ltd. & Société d'Assurances Collectives (Sodaco) Inc. in Quebec. Sodaco is registered with Autorité des marches financiers as a property and casualty insurer (Reg#603622) https://lautorite.qc.ca/en/general-public/registers/register-insurers-deposit-institutions-and-trust-companies Pets Plus Us Pet Insurance is available in all provinces and territories. Pets Plus Us®, Pets Plus Us & Design and related words and logos are trademarks and the property of PTZ Insurance Services Ltd.

BCAA trademarks are owned by, and use is authorized by, the Canadian Automobile Association. Pet insurance is sold and administered (including with respect to claims) by PTZ Insurance Services Ltd. (PTZ), a licensed insurance agency and is underwritten by Northbridge General Insurance Corporation (Northbridge). The insurance transaction is between the customer and Northbridge. B.C.A.A. Holdings Ltd., dba BCAA Insurance Agency, receives commissions from PTZ for referrals of potential customers for pet insurance. PTZ receives fees and commissions from Northbridge for sales and administration of pet insurance.