How to adopt a cat into your loving home
Want to make your home the purr-fect place? Adopt a furry friend! When you adopt a cat, your home automatically becomes warmer and happier and healthier. Studies have shown that pet owners have better psychological health than people who don't. Very often, cat owners feel more happy and confident, are less nervous, and they're better able to sleep, focus, and face problems in their lives. Simply put, cats are the greatest, when they're not completely ignoring your existence :)
How to prepare yourself to be a cat parent
Adopting a cat, of course, is a huge decision and we know you want to be a great pet parent. Cats are a big life commitment that we should never take lightly. Too many kittens get adopted then given up when the cat becomes an adult. You must really be ready for the responsibility of caring for another life and turning your home into a cat-friendly environment.
Before you bring home your new adopted cat, here's what to look for when you visit them for the first time, plus tips on how to prepare yourself and your home to welcome your new best friend.
Adopting a cat in BC
There are so many lovely cats that need a great home like yours. You can see the BC SPCA's list of adoptable animals here, apply to adopt online, and book an in-person shelter appointment to find your perfect match. But well before you visit a shelter, you should get yourself ready by reading their pre-adoption tips.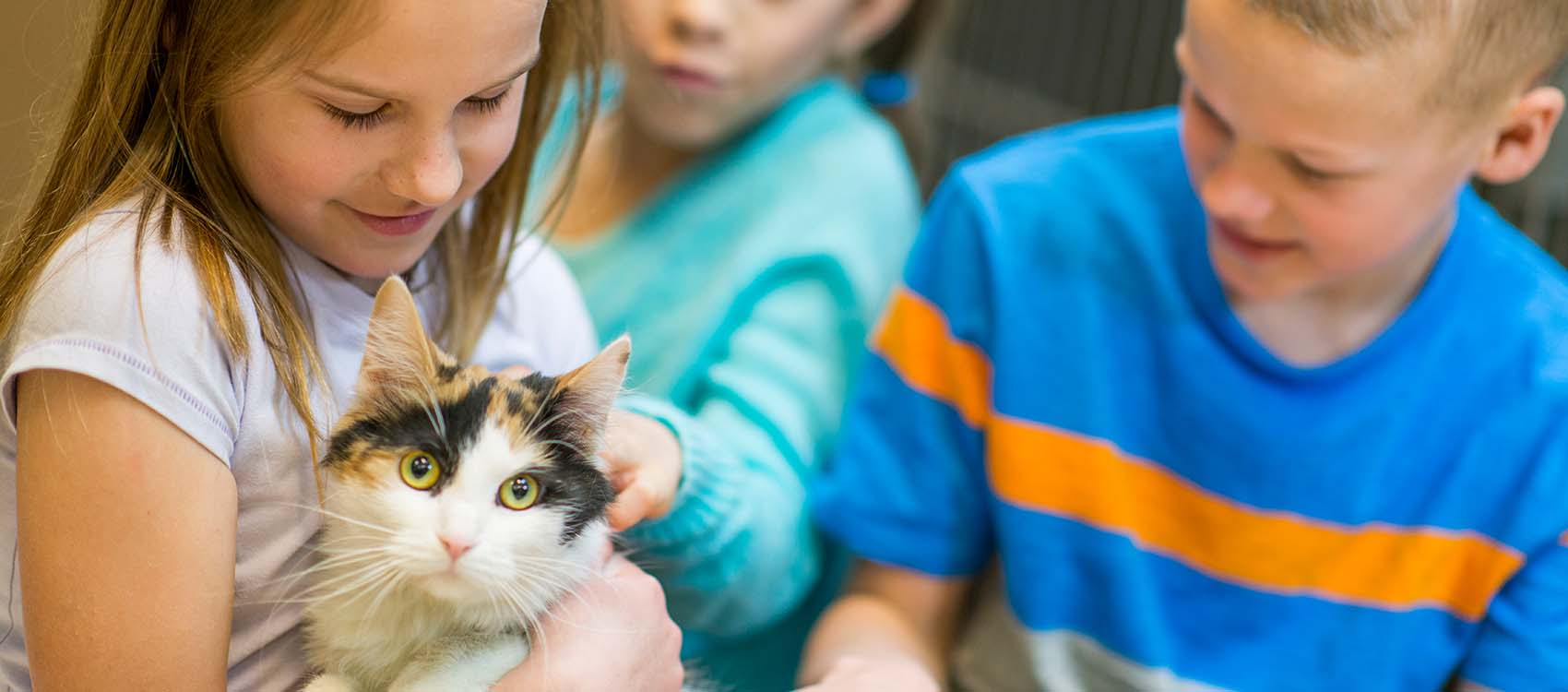 Shelter cats can make wonderful friends
You may have heard that shelter animals can come with physical/behavioural problems. Most of the time this is simply not true. Animals end up in shelters because their people lose their job or have to move homes or need to take care of big human/family challenges. None of these are a reflection on the cats who want a warm and loving home.
Be selective about the shelter you adopt from
It's a great idea to visit pet shelters in person. Meet a number of cats. If you see an animal that doesn't look healthy, ask questions. Talk with shelter staff to find out about the animals' health and behaviours. See if you can get behaviour assessments and a medical history for your prospective cat, so you know what you're in for as you search for the perfect match.
Understand your goals before you visit a shelter
Adopting can become love at first sight. Before your eyes meet a cute cat and you think you've got the perfect match, make sure you've thought about what you and your partner/family need from a pet. Before you adopt a pet, ask yourself these questions. Do you have small kids? Are you frequently away from home or travelling? Do you already have other pets that may love or be strange around a new cat? Are you prepared to be the king/queen of emptying their litter box? Give some thought to each question so you'll be ready to be a cat mom or dad, and can think about the type of cat (and type of personality) that would be best for you and your family.
Maybe think about adopting multiple cats
If one cat can make your home happier, imagine how happy two cats will make you. The nice thing about two cats is they can be instant friends for each other. Cats can give each other exercise, social interaction, and mental stimulation that their human owners can't duplicate. Assuming you're out of the house for work or school during the day, two cats will be valuable companions. Of course, a single cat is already a big commitment and two cats means an even bigger responsibility that you'll need to be sure you're ready for.
How to prep and cat-proof your home
Prepare your cat for success
Moving to a new home can be stressful for anyone, let alone cats who can't articulate their feelings like humans can. So it's best to help their transition by giving them a dedicated spot to relax and appreciate their new home. Set up a spare room or give them a dedicated corner that has their litter box, water, food, and some toys.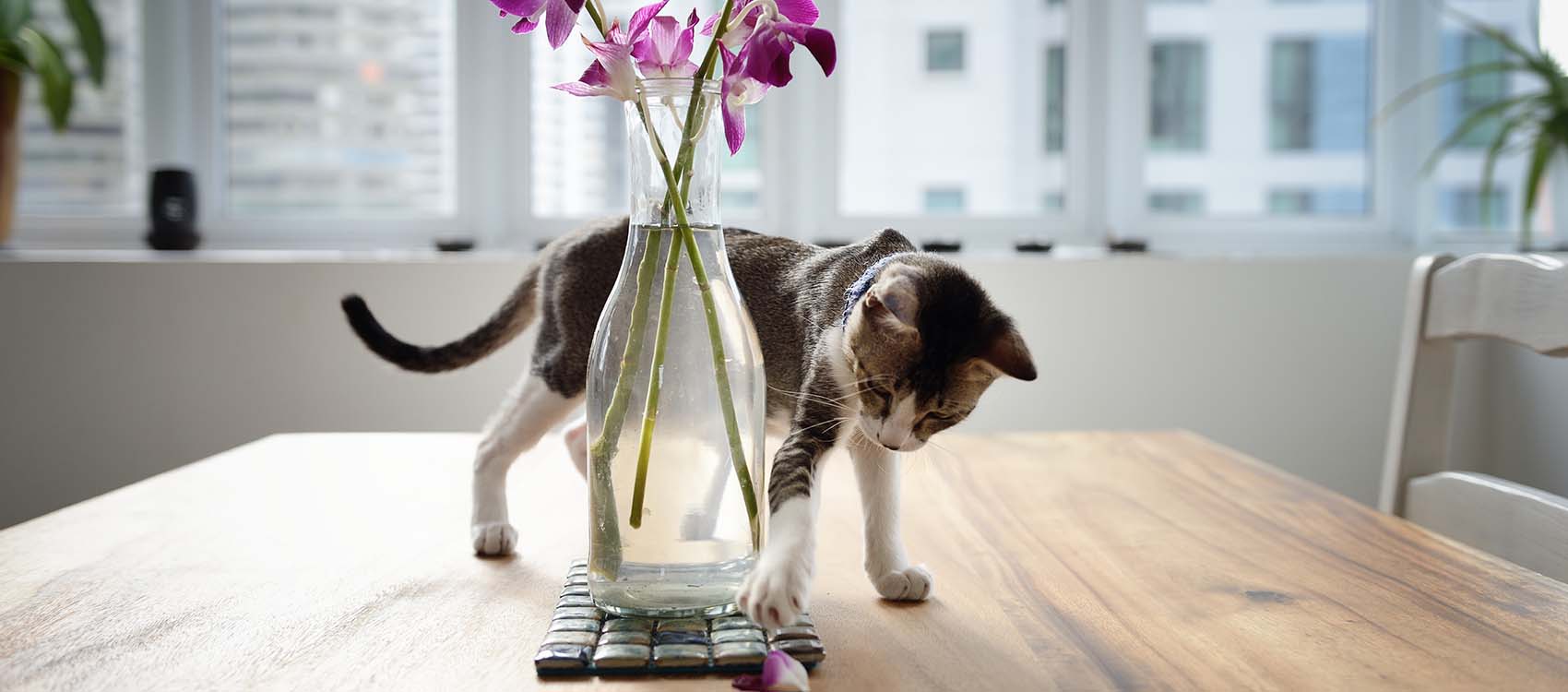 Cat-proof your home for safety
Put or give away any of your breakables or small valuables — cats love to swat things off ledges. Watch for hazards like choking, strangulation, electrocution, or suffocation. Keep your window blinds cords short, cut through cord loops, and unplug or cover up your electrical cords and wires. Banish / give away plants that are poisonous for cats. Make sure you get a scratching post and a cat tree for climbing—you don't want your kitten to climb on top of your kitchen cabinets.
Some more cat-safety tips:
Don't leave human foods and medications where cats can get into them.
Latch cupboards and kitchen/bathroom bins shut to keep your cat away from garbage, fertilizers, pesticides, antifreeze, and pest traps.
Always close your appliance doors.
Cats sure like to sleep inside baskets, buckets, bags, and cardboard boxes. Keep lids on all your budgets to keep your cat from climbing inside. And never leave open plastic bags where your cat could get trapped and suffocate.
Check out Purina's tips for cat-proofing your home which recommends you keep your cat's litter box as clean as possible to avoid transmitting toxoplasmosis disease.
Cats like to climb so watch the kinds of curtains you hang. Your cat's claws can get snagged in a loose weave and make them injure their muscles as they try to free themself. For maximum safety, use vertical blinds.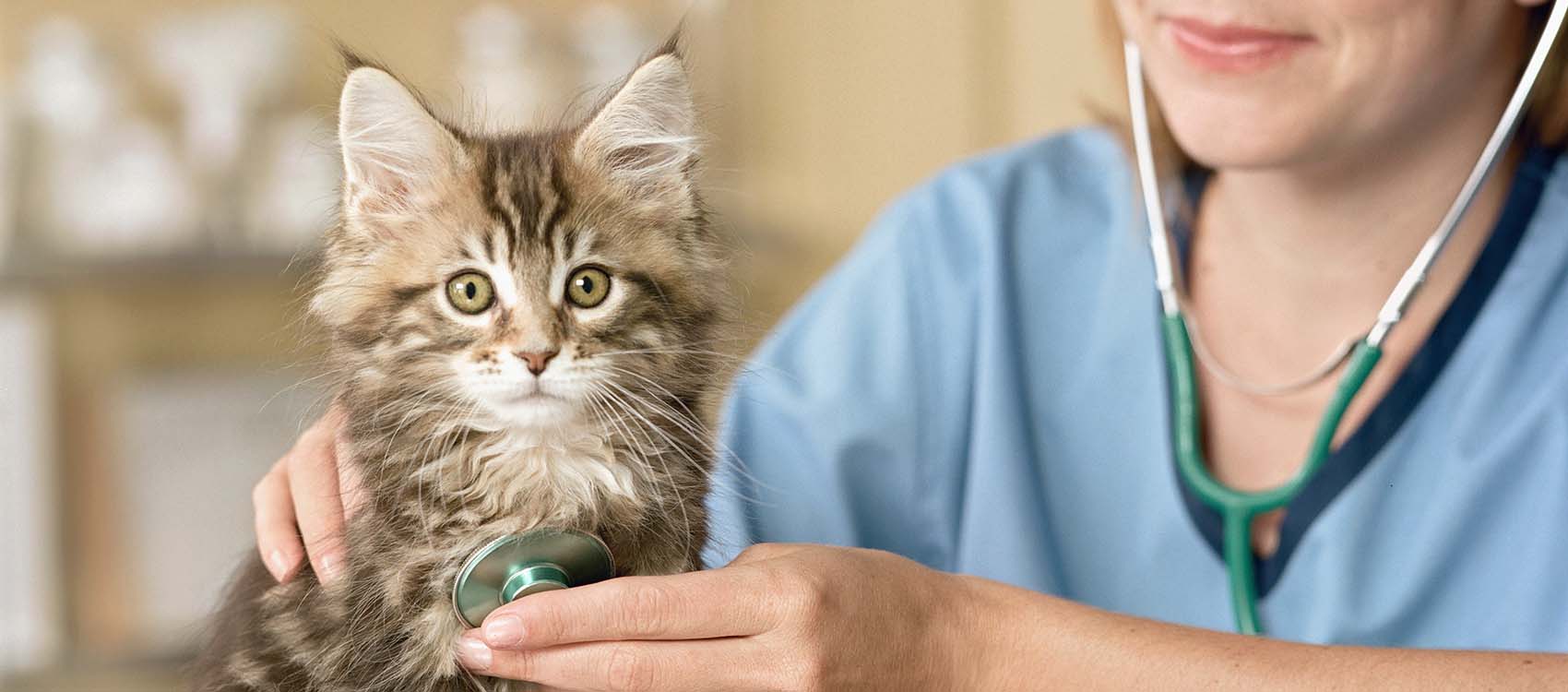 Vet your new vet
Before you bring any pet home, be sure to line up a veterinarian. The BC SPCA may already have a relationship with a local vet or be able to give you a recommendation. It's a good idea to bring your cat to a vet for an overall check-up within the first few days of your adoption. It's a great idea to take your new cat's medical records that were given to you by the shelter.
Bonding with your new cat
You'll want to bond with your adopted cat. Just be sure to adjust your bonding to their life stage. When you bond with kittens, you want to hold them up and let them look at your face and eyes. Make as much visual and tactile contact with them as you can. This way they'll grow up understanding that's how they should interact with humans.
By contrast, adult cats need their own space. If you adopt a cat over four months old, let them make their own choices. Allow the cat to come to you for affection. When they show that they want to interact with you, your bond will be that much stronger.
Be patient
We encourage you to be patient with your new cat(s). It will take them time to figure out their new home and family. Have patience as they learn. You'll be rewarded with a warm relationship for years.
Protect your cat with a microchip and a GPS tracker
More than one million pets go missing every year in Canada which is stressful for you, your family, and your cat. First step: register your pet with the BC Pet Registry via a microchip/tattoo (your vet can do this for you). It's the best way to identify your cat if it ends up in a shelter.
Secondly, get a wearable GPS tracker that you attach to your pet's collar. A GPS tracker lets you locate your four-legged friends in a web browser or your smartphone. Here are the 12 best GPS trackers for cats.
Insure your purry friend
Adopted cats quickly become cherished family members and BCAA is committed to helping protect your pet's health and well-being. Get peace of mind that your cat is covered with pet insurance, offered through BCAA's partnership with Pets Plus Us.
We're committed to offering expert advice and best-in-class protection for your pet. Learn more about BCAA's new pet insurance partner Pets Plus Us and get an online quote today.
BCAA Members automatically save 12%. Here's how to sign up today.
*CAA Members receive a preferred rate of 12% off. Non-members receive a preferred rate of 7% off.
All pet insurance plans have limitations and exclusions. Specific products, features, rates, and discounts may vary by province and territory, eligibility, and are subject to change. Medical Conditions that are noted, symptomatic or diagnosed prior to enrollment, or during a waiting period are pre-existing to Coverage and not eligible for reimbursement. Waiting periods, annual deductible, co-insurance, benefit limits and exclusions may apply. This advertisement is an outline only; policy terms and conditions 'User Guide' will prevail. For all terms and conditions visit: https://www.petsplusus.com/service-claims/brochures-guides.
© 2022 All rights reserved. Pets Plus Us Pet Insurance policies are underwritten by Northbridge General Insurance Corporation, distributed by PTZ Insurance Services Ltd. & Société d'Assurances Collectives (Sodaco) Inc. in Quebec. Sodaco is registered with Autorité des marches financiers as a property and casualty insurer (Reg#603622) https://lautorite.qc.ca/en/general-public/registers/register-insurers-deposit-institutions-and-trust-companies Pets Plus Us Pet Insurance is available in all provinces and territories. Pets Plus Us®, Pets Plus Us & Design and related words and logos are trademarks and the property of PTZ Insurance Services Ltd.
BCAA trademarks are owned by, and use is authorized by, the Canadian Automobile Association. Pet insurance is sold and administered (including with respect to claims) by PTZ Insurance Services Ltd. (PTZ), a licensed insurance agency and is underwritten by Northbridge General Insurance Corporation (Northbridge). The insurance transaction is between the customer and Northbridge. B.C.A.A. Holdings Ltd., dba BCAA Insurance Agency, receives commissions from PTZ for referrals of potential customers for pet insurance. PTZ receives fees and commissions from Northbridge for sales and administration of pet insurance.