Aerial view of Haida Gwaii coastline by Destination BC/Owen Perry
Canadian destinations to add to your travel bucket list
There are so many attractive travel destinations around the world, but sometimes it's easy to forget how great we have it here in Canada. We've got incredible forests, beaches, snow-capped mountains, over 8,500 rivers and an incredible 879,800 lakes – that's more lakes than all the other countries combined. This country truly has it all.
The Great Canadian Bucket List was created by travel columnist Robin Esrock. Based out of Vancouver, Robin has travelled to 110+ countries on seven continents, and he loves to support local tourism. With so many dreamy destinations, amazing adventures and an abundance of spectacular scenery on the list, where will you go first?

Pictured: Rocky Mountaineer train in Morant's Curve by Rocky Mountaineer
The Rockies
Ride The Rocky Mountaineer
What you do: Take the train from Vancouver to Jasper.
One of the world's great train trips, The Rocky Mountaineer runs 1,000 km through seven mountain ranges and showcases the spectacular Rocky Mountains in all their glory. Guests are seated in two-level glass-domed cars so you can enjoy the panoramic views while guides point out wildlife as you roll.
Walk on air at the Columbia Icefield Skywalk
What you do: Walk on glass over a glacier.
This Grand Canyon-inspired glass observation deck stretches 35 metres from the cliff face and 300 metres above the stunning Sunwapta Valley in Alberta's Jasper National Park. Book your Skywalk between May and October each year.


Pictured: Athabasca Sand Dunes Provincial Park by Tourism Saskatchewan/Saskatchewanderer
Prairies
Float on Little Manitou Lake
What you do: Float on Canada's Dead Sea.
About 116 km southeast of Saskatoon, Little Manitou, located near Watrous, has a mineral density three times saltier than the ocean. The salt lets you effortlessly float on your back.
Play on massive sand dunes
What you do: Fly to remote sand dunes.
The Athabasca sand dunes make up Canada's largest active sand surface and are one of the world's most northerly major sand dunes. Stretching 100 km along the shores of Lake Athabasca on the Alberta-Saskatchewan border, it contains no communities, services, roads or facilities. The dunes reach 30 metres high and 1500 metres long and are part of a fragile ecosystem. Access is only by boat or floatplane, with camping allowed in designated areas.
Central Canada: Ontario & Quebec
Lean off the CN Tower
What you do: Lean off a really high building (safely).
EdgeWalk is CN Tower's most thrilling attraction and the first of its kind in North America. It is the world's highest, full circle, hands-free walk on a 1.5-metre wide ledge around the tower's top pod, a whopping 356 metres (116 storeys) above the cement below. Oh, and they strap you to the building, so you'll be fiiiiiine.

Eat croissants in Quebec City
What you do: Eat croissants while exploring Quebec City.
Enjoy this beautiful old city's cafes, shops, restaurants and the Basilique Notre-Dame-de-Québec, designated as a UNESCO World Heritage Site. Walk along the old stone ramparts or shop in North America's oldest shopping district, the pedestrian-only Quartier Petit Champlain. Here are some tips on where to find the best croissants in Quebec City.
Maritimes
Kayak the rocks at Hopewell Rocks Provincial Park
What you do: Paddle past towering, underwater hoodoos
This must-do News Brunswick adventure offers the highest tidal paddling experience on Earth. You'll float on tides as high as a 5-storey building and paddle to the Hopewell Rocks, the giant, otherworldly 'flowerpot' rock formations.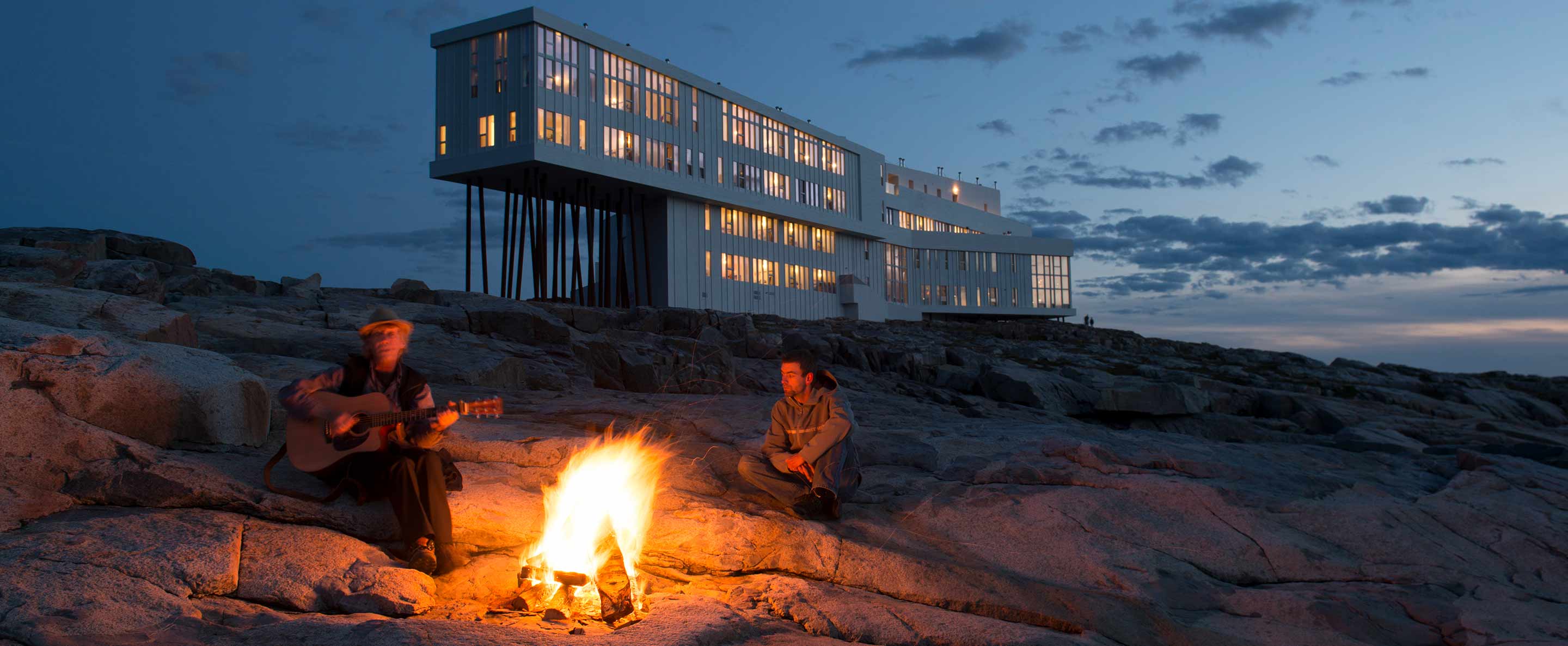 Pictured: Fogo Island Bonfire by Alex Fradkin
Enjoy a rocky beach fire on Fogo Island
What you do: Gather around a fire on a remote island.
Fogo Island is both an island and a tranquil town off the northeast coast of Newfoundland. Visit the Fogo Island Inn, a strikingly designed modern hotel perched on a rock face that's seemingly at the very end of Earth itself. Walk by brightly coloured clapboard houses, sea-cliff footpaths, lush forest and a lovely, windswept coastline.
Northern Canada
Paddle the mighty Yukon
What you do: Canoe or kayak on the Yukon River.
For a truly classic northern adventure, take a guided canoe or kayak trip on the incredible Yukon River. You'll enjoy long, relaxed days of summer paddling and eating by your campfire under the midnight sun. You'll see wildlife, jaw-dropping mountain vistas and have a wilderness experience you'll never forget.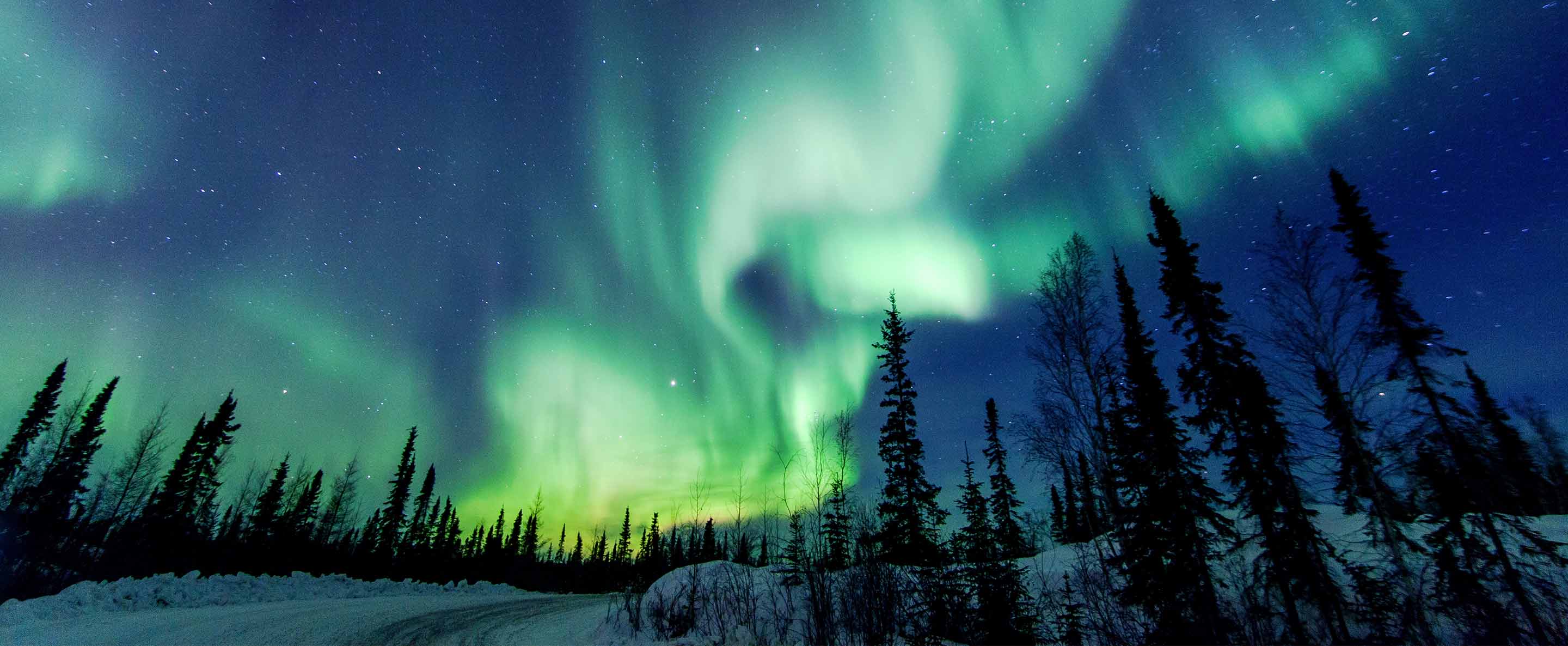 Marvel at the Northern Lights
What you do: Gaze at the incredible light show in the sky.
All around the world, one of the best places to see the Northern Lights is in Yellowknife, Northwest Territories. The city lies under a halo-like ring called the aurora oval, which features green, red and blue lights dancing across the crisp and clear northern sky. The best times to see the lights are mid-November to mid-April.
And if you're travelling closer to home...
BC / West Coast
Run or walk barefoot on a Tofino beach
What you do: Kick your shoes off and beach it up.
In Tofino, every day is a beach day. Surf, hike, jog or chill along kilometres of nationally protected beaches in Pacific Rim National Park Reserve. Long Beach alone is 16 km long. Tofino accommodations are usually packed all summer, so you might want to stay in nearby Ucluelet or wait till just after Labour Day weekend. To visit the beaches here, you'll need to purchase a pass to the park.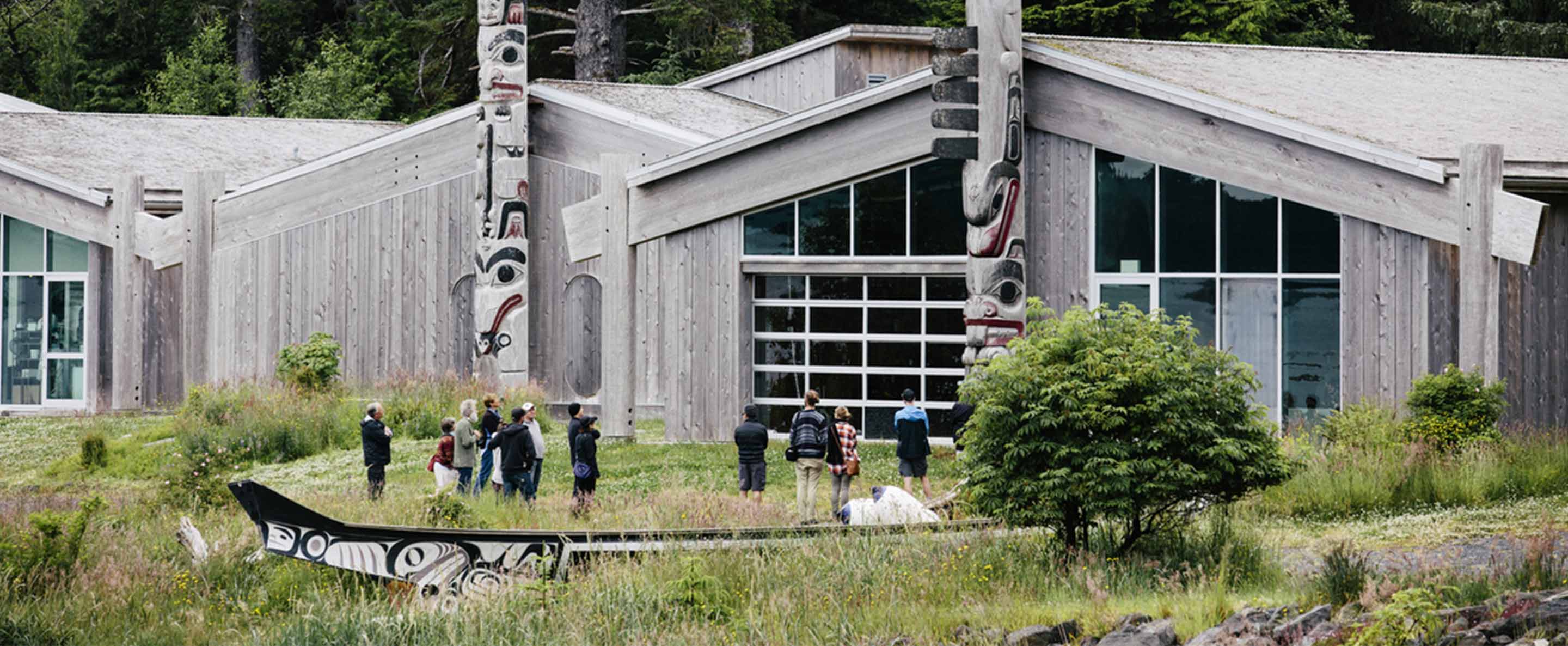 Pictured: Haida Heritage Centre by Destination BC/Grant Harder
Experience Haida Gwaii
What you do: Travel back in time with a boat tour of Canada's Galapagos Islands.
One of the world's great wilderness treasures, the Haida Gwaii islands are incredibly beautiful, remote and rugged. Haida Gwaii is an archipelago of 150 islands on BC's northern Pacific coast on the western edge of the continental shelf. You'll see ancient carved totem poles and longhouses. Arrive by floatplane and come to relax, kayak, fish (you'll need a licence before you come) and eat delicious seafood.
Plus, you'll find even more local BC adventures including three epic road trips here.
Final Tip:
It's important to protect your trip (and health) with travel insurance, even for trips within Canada. While there are interprovincial agreements in place to provide healthcare for Canadians outside of their home province, the agreements may not cover all medical costs. Your provincial healthcare coverage (MSP in BC) will only cover services performed in a hospital or by a doctor. So, in an emergency, you could be on the hook for expenses like ambulance transportation, prescriptions and medical appliances you require. Travel insurance can also help you if you're out of province and need to get home unexpectedly. BCAA Travel Insurance offers comprehensive protection from trip cancellation fees, lost baggage and emergency medical expenses. With savings of 10% for BCAA Members.* FREE coverage for kids on Family Plans** and 24/7 virtual care, you can enjoy your Canadian adventures to the fullest. Learn more and get a fast online quote today at bcaa.com/travel.
If a Canadian road trip is your travel of choice, don't forget your BCAA Membership to keep your vehicle moving and earn you savings along the way. Download the BCAA Mobile App for faster access to roadside assistance and to search for reward partners nearby. Not a BCAA Member yet? Join today!
Have a great Bucket List trip, stay safe, and share your pics with us on Facebook, X and Instagram using #TravelwithBCAA!

You can find all of Robin Esrock's travel books, blogs and adventures at canadianbucketlist.com.
*BCAA Member savings on insurance products are only available with Basic, Plus, or Premier Membership plans. For full details, please visit bcaa.com/plans.
**Applicable to dependent children are free on family Travel Emergency Medical Insurance policies with two paying adults. Adults must be age 59 or younger. Policy terms and conditions apply.