BCAA will get you out of any "jam"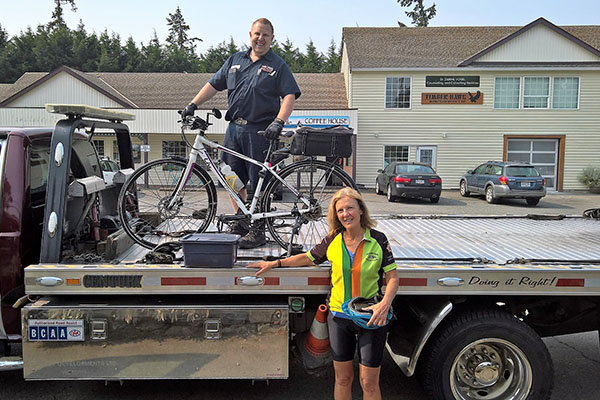 I cycle with a group of fit older women, most of us in our 60s and 70s. We are all members of the Victoria Grandmothers for Africa, a group that raises money for African community groups through cycling tours. A small number are whizzes at changing a tire. The rest call their husbands when they get a flat. I, on the other hand, call BCAA.
I've been rescued three times. The first two were for flat tires. Flat No. 1 happened on West Saanich Road in the middle of a training ride, so the rest of the Grandmothers left me eating an ice cream at Sassy's Family Restaurant while waiting for the tow truck. Flat No. 2 happened about a year later, just before a coffee stop - so a large group of friends witnessed the grand exit, and my extra-small bike on a long-bed tow truck.
The third time was recently, during COVID, just a few kilometers into a ride with a friend. My chain was jammed and wouldn't budge. The BCAA driver explained the COVID protocols we had to follow, then asked if I wanted him to try to unjam the chain with a screwdriver. I quickly said "yes" to this kind offer. He studied the position of my chain, banged it once with a flathead screwdriver and out it popped! I was so grateful, and able to continue my ride. A sincere thank you to BCAA for always being there when I need you!
Lauren W.
Share your #BCAASavestheDay story and you could win a $50 eGift Card to one of our Rewards Partners. To submit, tag your story on social media with #BCAASavestheDay or email us at bcaasavestheday@bcaa.com.