Christen Y.
Miles away (577 to be exact)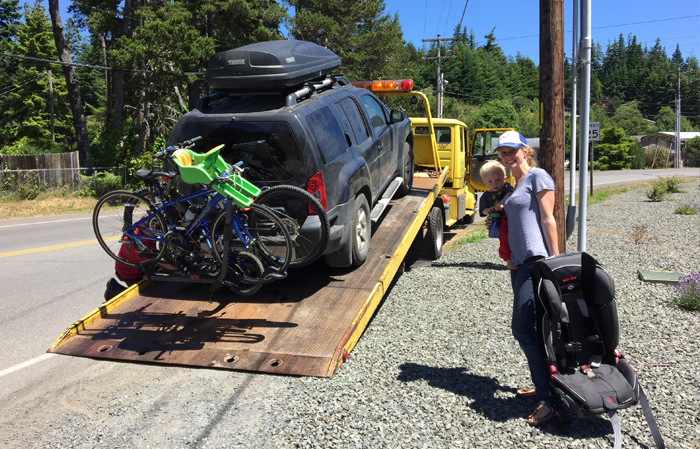 Here is our little BCAA saves the day story. We took a family road trip from Squamish BC Canada down to San Diego to Legoland… and back home in our new (to us) 2010 Nissan Xterra.
We camped our way all the way down the coast listening to audio books along the way with our 11 month old and 3 year old. While sleeping in a tent with 2 kids under the age of four can be challenging, we were having a fantastic trip exploring all the highlights along the way and back again. Our Nissan Xterra, or Truck Car as the kids called it, was our home, loaded to the brim with our kitchen, shelter, and family. We were due to be home in two days and were enjoying the amazing beauty of the Oregon coast when we noticed the bad smell coming from our Car Truck.
We pulled over at a quirky local coffee shop to assess the burning smell. We chalked it up to a sticky hand brake and went on our way… for about 15km at which point we started to lose power. Slowing, not by choice, to a stop at a very small town called Lakeside. As far as I could tell Lakeside consisted of a few very lovely residents and a dollar store. 2 of these very lovely residents pulled over to take a look and told us our clutch was most likely gone and that the nearest garage was 17 miles away in Coos Bay. They looked at us dismayed as our two kids alternated between playing in the car and bringing out the contents of our home item by item. They said "you're going to need a coffee" and headed home to make us a latte to enjoy while we waited for our BCAA tow to Coos Bay.
Then came the all-star tow truck driver that BCAA dispatched from North Bend Towing. He helped us load our 2 kids complete with car seats, snacks and blankets into the cab of his truck*. Then winched our loaded Car Truck up onto his deck. The kids passed out on the 25 min journey to Coo's Bay Toyota where we would spend the next week getting to know the neighborhood.
Turns out the Car Truck has a toasted clutch, and a broken leaf spring along with a hand break that had gotten covered in grease from some bearings which were also toast… Needless to say we were certainly happy to have had BCAA to help get us off the side of the road!
Thanks for taking the time to read our story.
Christen Y. (BCAA Member since 2017)
*Note: Not all BCAA or Contract Tow Trucks are guaranteed to have car seats available and often can only transport 1 passenger in the truck. In these situations a cab is called to transport the other passengers.