Dirk and Eelke
Somewhere in the Middle of Nowhere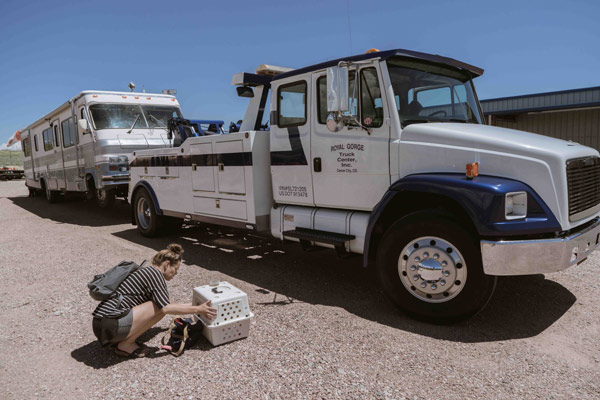 My girlfriend Eelke and I have been traveling with our motorhome through the US for a couple of months and we have seen quite a few nice things along the road. Our trip took us from Vancouver to Washington, Oregon, Idaho, Montana, Wyoming, Utah, Nevada, Arizona, New Mexico, Colorado and back to Canada through Wyoming and Montana. Our motorhome is an old unit from 1987, which we renovated on the inside. The outside still looks old though 😉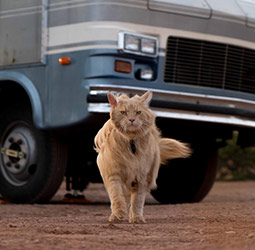 Anyways, so we were just passing through the Rocky Mountains, heading for Denver. The engine started miss-firing which caused the exhaust system (we had headers on our F460 engine) to get a big hole blown into it due to fuel being pumped through the cylinder into the hot exhaust. It was pretty bad…. But we managed to pull into the next Walmart to examine and discuss our next steps. On that very parking lot we found a kitten that hid itself under our motorhome. He now is a part of our family … anyways, getting side tracked here. We called in BCAA to get us towed to the next shop that was able to repair our exhaust system. We found out that all of this headache was caused by faulty wiring to the ignition coil, which caused the engine to not ignite every once in a while.
We ended up getting ourselves towed for 50 miles or so to Colorado springs, which was awesome.
A few weeks later back in Canada we had issues with our transmission and BCAA saved the day for us by reimbursing us for our hotel expenses (premier benefits!) while we waited for the transmission to be redone. As well, BCAA also sent someone in to change our tires for us while being stranded somewhere in the middle of nowhere in Montana.
All in all, we are very glad we chose to be a BCAA Member and I recommend BCAA to everyone, especially if you drive an older RV like us!
All the best,
Dirk and Eelke
www.instagram.com/living.tiny