BCAA Play Here: Finalist play spaces announced and ready for British Columbians' votes
$300,000 worth of revitalized community play spaces to be awarded. Three play spaces with the most votes each receive a revitalization worth up to $100,000
May 23, 2017
---
Burnaby, B.C., May 23, 2017 - BCAA reveals the ten finalist play spaces in this year's BCAA Play Here initiative, a community investment program to benefit kids in B.C. by providing up to $300,000 to rejuvenate three B.C. play spaces in need. New this year, BCAA increases the number of finalists to 10 and adds more winners to give more communities the opportunity to receive a play space revitalization.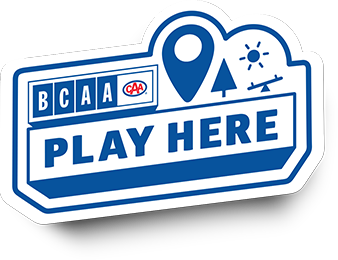 "The quality of nominations were outstanding with compelling videos and photos showing play spaces from across B.C. that are in need," says Shawn Pettipas, BCAA's Senior Manager of Community Impact. "The images and stories shared by kids and community members make it clear—there's a need for better places for kids to play, and improving them will make a difference in their community. We encourage communities to come together and vote to choose the winning play spaces."
Narrowed by a judging panel from hundreds of nominations, this year's finalists are:
Bouchie Lake Elementary School, Quesnel
Chase Skate Park, Chase
Devonian Playground, Elkford
Eric J. Dunn School, Port Alberni
Galiano Community School, Galiano Island
Mackenzie Community Playspace, Mackenzie
Marion Schilling Elementary School, Kamloops
McKay Street Park, Prince Rupert
Sahtlam Park, Lake Cowichan
W.E. Kinvig Elementary, Surrey
Giving children better places to play builds on BCAA's commitment to protect children throughout British Columbia.
"Play Here is one of the largest community investments in BCAA's history and we're excited to increase our total contribution to $300,000 this year so that more communities can receive a revitalized play space," says Shom Sen, BCAA President & CEO. "We congratulate all the finalists and thank communities for sharing their stories with us."
British Columbians can vote online for their favourite play space at www.BCAAplayhere.com which also includes details about each finalist. The three finalists with the most votes will be awarded with a play space revitalization worth up to $100,000 each, provided and delivered by BCAA. Voting closes June 18, 2017 and the winner will be announced June 23, 2017.
-30-
Media enquiries:
Niela Melanio
BCAA Communication Specialist
Office: 604-268-5342
Cell: 778-228-8859
niela.melanio@bcaa.com
About BCAA
The most trusted organization in British Columbia by its Members, BCAA serves 1 in 3 B.C. households with industry-leading products including home, auto and travel insurance, roadside assistance, Evo Car Share and full auto service at BCAA's Auto Service Centres. For the past five years, BCAA has ranked Highest in Customer Satisfaction among Home Insurers in Western Canada by J.D. Power. BCAA also has a long history focused on keeping kids safe on the road and at play through its various community programs..
About BCAA's Community Impact Programs
Part of BCAA's mandate is to protect kids throughout British Columbia. We do this by:
Keeping children safer in school zones, with student School Safety Patrollers across the province.
Distributing thousands of reflective armbands around Halloween to make kids more visible to drivers.
Providing Members with 'Slow Down, Kids Playing' signs to encourage safer driving in residential areas.
Providing better places to play for children across B.C. through BCAA Play Here which, in its first year, provided $260,000 to revitalize kids' play spaces across B.C.\
Donating thousands of new child car seats over the last four years to reach families in need.
Educating thousands of people a year across B.C. on the proper use and installation of child car seats.