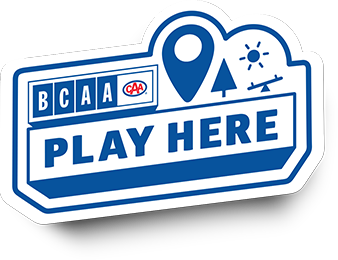 Announcing design plans of winners of BCAA Play Here $100,000 playground revitalizations
August 28, 2017
---
Burnaby, B.C., August 28, 2017 - Children and families in Kamloops, Bouchie Lake near Quesnel and on Galiano Island can finally start to see their dream play spaces take shape after winning $100,000 play space revitalizations from BCAA. Through its community investment initiative, BCAA Play Here, the organization improves play spaces across the province to protect B.C. kids and give them better places to play and learn. After working closely with each community, its leaders, families and children, BCAA reveals playground design plans for three of the four winning projects (plans for McKay Street Park in Prince Rupert are still being finalized).
"BCAA recognizes that play spaces aren't just for kids, they're for entire communities to enjoy and a place to bring people together," says Shawn Pettipas, BCAA's director of Community Engagement. "Through BCAA Play Here, our focus is to keep kids safe in our communities but also provide play space revitalizations that will have the most positive impact for everyone in the community."
The four winning play spaces were among hundreds of nominations from across the province to make it as top 10 finalists. British Columbians cast over 425,000 votes to decide which of the finalists would receive $100,000 play space revitalizations.
Each play space will receive a playground using the newest in design qualities and customized to suit the characteristics of each area with aesthetics that will complement the surrounding environments. The playgrounds will include extraordinary features geared towards imaginative and inclusive play and accessibility.
"We're excited to be bringing vibrant new playgrounds to each community that can serve as community hubs for children and families to spend time together," says Pettipas. "We're happy to reveal design plans to show the winning communities how their new play spaces are coming to life."
-30-
About BCAA
The most trusted organization in British Columbia by its Members, BCAA serves 1 in 3 B.C. households with industry-leading products including home, auto and travel insurance, roadside assistance, Evo Car Share and full auto service at BCAA's Auto Service Centres. BCAA has a long history focused on keeping kids safe on the road and at play through safety programs such as its School Safety Patrol, Community Child Car Seat and most recently, BCAA Play Here which, in its first year, provided $260,000 to revitalize kids' play spaces in B.C.
For further information or to interview Shawn Pettipas on this topic, please contact:
Niela Melanio
BCAA Communication Specialist
Office: 604-268-5342
Cell: 778-228-8859
niela.melanio@bcaa.com