Survey: neighbourhood speeding & bad driving during pandemic puts playing kids at risk
BCAA offers free "Slow Down Kids Playing" signs to encourage careful driving as kids play away from playgrounds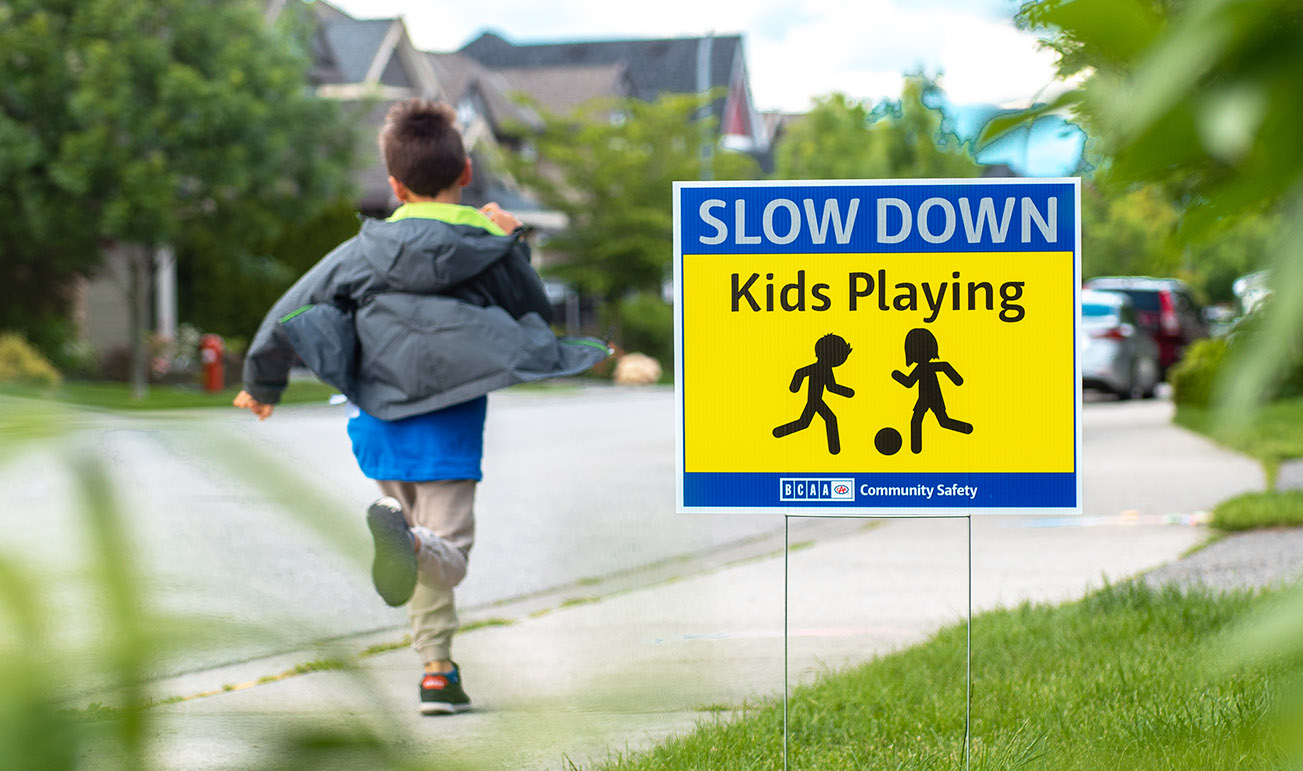 Burnaby, B.C., May 26, 2020 - With many schools, parks and playgrounds closed or restricted over the last while due to COVID-19, a new BCAA survey reveals increased traffic and poor driving behaviours are putting kids playing outside at risk.
The BCAA survey conducted by Insights West, reveals that 52% of British Columbians are seeing more kids playing outside in different places, including driveways, alleys and laneways. Bike riding is up, with 56% noting more kids riding around residential streets.
British Columbians are also noticing changes in driving since COVID-19 restrictions started, with 49% witnessing excessive speeding and 45% seeing increased speeds in residential areas. Drivers are also not following the rules of the road. In fact, 43% said they'd seen drivers not obeying stop signs in school zones, many of which are in residential areas where kids play.
Now that restrictions are starting to ease, 64% said they're noticing more traffic overall; with 46% noticing this specifically in residential areas.
Shawn Pettipas, BCAA's Director of Community Engagement, says he shares the same concern as 52% of British Columbians: that a child will get hurt. "We've heard challenges around where kids can play safely, and I've definitely noticed more kids playing around my own neighbourhood," he says. "Speeding cars, increasing traffic and more kids playing close to home at all times of the day could be a recipe for disaster," Shawn continues.
Pettipas implores drivers to slow down and drive safely and be aware that kids are playing close to home and can dart out from anywhere at anytime. BCAA's tips for parents include talking to their kids about not playing on or near the road, supervising bike riding and encouraging kids to wear bright clothing and to always watch for cars. Find more tips on the BCAA blog.
To help remind drivers of the risks, BCAA is offering free Slow Down Kids Playing reflective lawn signs to British Columbians. Anyone interested in a sign can order one through bcaa.com/communitysafety, one per household, while stocks last.
-30 -
About the BCAA Insights West survey
Results based on an online study conducted from May 13 to 17, 2020 among a representative sample of 824 adults in British Columbia, including 204 who are parents of a child 17 years of age or younger. The margin of error for this data —which measures sample variability—is +/- 3.4 percentage points for the total sample and +/-6.9 percentage points for the subsample of parents, 19 times out of 20. Discrepancies between totals are due to rounding.
About BCAA
The most trusted organization in British Columbia by its Members, BCAA serves 1 in 3 B.C. households with industry-leading products including home, car and travel insurance, roadside assistance, Evo Car Share and full automotive services at BCAA's Auto Service Centres. BCAA has a long history focused on keeping kids safe on the road and at play through community programs such as its School Safety Patrol, Child Passenger Safety and BCAA Play Here. Please visit bcaa.com.
For further information or to set up an interview, please contact:
Sara Holland
BCAA Senior Communication Manager
Sara.holland@bcaa.com, cell: 778.874.4046