Coasting South
by Barb Sligl
Rocky formations dashed by crashing waves, glistening forms of sea lions on barren beaches and green fringes of trees reaching impossibly high above it all: on the American west coast, these supernatural elements meet human engineering in the form of curving asphalt, precipitous steel-strut bridges and coastal towns perched on cliffs. It's a wild land- and seascape hugged by a storied route: the Pacific Coast Highway.
The road begins as US Highway 101 in Washington State, with a big westward sweep on the Olympic Peninsula, before skirting Oregon's shores and crossing into coastal California, where it becomes part of State Route 1. All in, the Pacific Coast Highway (PCH) stretches roughly 2,500 kilometres from the Canadian border to San Diego. But tracing it from the northern tip to the Golden City of San Francisco is journey aplenty. So skip the fast-flowing Interstate and take the long road, allowing plenty of time to slow down, breathe and explore along the way.
Wild Washington
The Olympic Peninsula is a thumbprint of land jutting away from the Seattle metropolis. Here in the rain shadow between Vancouver Island and the whitecapped Olympic Mountains, it's dry enough for lavender to grow. In Sequim, stop in at any of 14 fragrant local farms, take in the purple-fringed fields and shop for aromatherapy, bath and kitchen goodies (the local lavender festival runs July 20–22).
Just offshore, the Strait of Juan de Fuca teems with marine life. Coastal areas here are protected as part of the Dungeness Wildlife Refuge. Hike the 10.9-km-long Dungeness Spit to look for orcas and seals, and snap photos of the circa 1857 lighthouse. Then indulge in some fresh seafood at local favourite Dockside Grill. Or try Nourish, for local, organic and gluten-free fare in a farm setting.
Make it a longer seaside sojourn with an overnight at Dungeness Bay Cottages or Juan de Fuca Cottages. Or, camp in one of many forest-swathed sites in nearby Olympic National Park. Hoh Campground offers 78 spots tucked into the old growth of the Hoh Rain Forest, on the west side of the 3,734 sq km park, where the lush green canopy is thanks to more than four metres of annual rainfall. Hike the Hall of Mosses loop (easy for the whole family at 1 km), to marvel at moss-draped trees in variations of hue, from emerald to chartreuse.
From here, Hwy. 101 turns south, bypassing Cape Flattery, the northernmost point in the contiguous US, before passing through Forks, of Twilight fame, and Aberdeen, hometown of late Nirvana front man Kurt Cobain. Carrying on south, it runs alongside marshy Willapa National Wildlife Refuge, where visitors can hike, boat, camp or bird-watch for endangered species, such as the Western snowy plover.
Take a break in the city of Long Beach, where an iconic – and incorrect – arched sign proclaims this to be world's longest beach (it's not, but at some 45 km, it's the longest on the US west coast). Check out the rustic 800-metre boardwalk, visit the World Kite Museum or gape at oddities in Marsh's Free Museum, like a half-man-half-alligator mummy.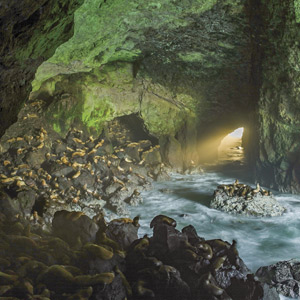 MEMBERS SAVE
Need medical attention while you're on the road? BCAA Travel Insurance covers visits to doctors' offices, so you don't need to spend time in a hospital emergency room during your vacation. Plus, Members save 10% and Kids Go Free.
The Big Oh: Oregon
The wide mouth of the Columbia River forms a natural border between Oregon and Washington. Reach the other side via the six-and-a-half-kilometre Astoria-Megler Bridge, the longest continuous truss bridge in North America. American explorers Lewis and Clark ended the westward portion of their legendary journey here, in 1805. Visit the nearby Lewis and Clark National Historical Park to learn more and see a replica of Fort Clatsop, where they hunkered down to wait out winter.
While only some of the coast along the Washington and California sections of the PCH is public domain, all of Oregon's coast is. Oregon Highway 101 nudges right up to "the People's Coast," as it's known, keeping its fantastical rock formations and windswept beaches within view along nearly all 584 km.
Your next destination should be Cannon Beach, a seaside culture hub packed with cozy galleries, theatres, cafés and artisan shops. It's also home to one of the region's most photographed landmarks: 72-metre-high Haystack Rock, the most accessible of the many basalt monoliths, or sea stacks, along the coast. After stretching your legs on the wide sand beach to burn pent-up energy, park the car and head to the pub at Pelican Brewing (no driving if you're drinking) to watch the sunset while sampling burgers and flights of craft beer (the Tsunami Stout is made with local Willamette hops). Then retire to one of many charming, oceanfront inns, like the homey Wayside or plush Stephanie.
About an hour south of Cannon Beach is Tillamook, famed for its cheese. Pull off the highway for a tour and taste at the factory (try the Colby Jack and sharp cheddars) and then hit the café for your pick of seven grilled cheese sandwiches, cheeseburgers or Mac & Cheese. Finish with world-famous scoops from the ice cream counter, served in griddle-made waffle cones.
From Tillamook, it's a roughly 175-km drive along the water, passing tiny coastal towns, dramatic headlands and pretty promontories, to reach another must-see: the surreal Sea Lion Caves. Here, an elevator descends 63 metres into the country's largest sea cave, where you can see sea lions – often by the barking hundreds – basking on the rocks.
The nearby town of Florence is home to Siuslaw River Bridge, a 1930s feat of engineering called a bascule (a type of drawbridge). Admire it while sipping single-origin coffee from the patio of local fave River Roasters. Florence also marks the top of a 68-km stretch of seaside sand dunes, in Oregon Dunes National Recreation Area. Explore the dunes (some of which reach heights of 150 metres) on foot or rent an ATV, sand board or dune buggy from one of the local outfitters. Group buggy tours are available, too.
Before you head for the state line, make a pit stop in Bandon, known for its cranberry farms, quaint Old Town, wild beaches and more sea stacks. Among these is Face Rock, which, according to Nah-So-Mah native legend, is a maiden turned to stone, gazing up at the sky and surrounded by her retinue of animals.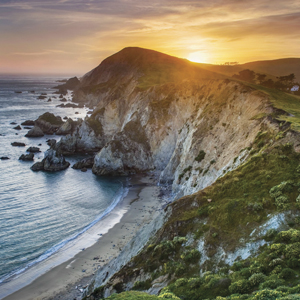 MEMBER BENEFIT
BCAA's online TripTik® planner lets you print, save and email high-quality custom maps that include up-to-date route and delay info, gas prices and details about hotels, restaurants and attractions along the way.
Tip!
If you're tasting wine, plan for a stopover and don't drive. Or, let the passengers taste – and buy a bottle the driver can sample at the hotel.

Colossal California
Crossing into California, Hwy. 101 winds through a Shangri-La of cliffs and massive, ancient redwoods. One of the most beautiful stretches of road in the country is the 50-km Avenue of the Giants, which runs parallel to the main route, through Humboldt Redwoods State Park. Pick up a map at the visitor's centre and allow plenty of time to explore pullouts and points of interest – like Founders Grove, where a 0.8-km walking loop leads to Founder's Tree, a 105-metre-tall behemoth with a trunk that's 12 metres in circumference. Also take a selfie at the Chandelier Tree, which at 96 metres high, 21 metres around and about 2,000 years of age, is one of the biggest and most famous of the giants. You can even drive through it (for a fee – Drive-Thru Tree Park is a privately owned grove) if your vehicle fits in the 1.8-metre-wide opening.
Back on the road, take Route 1 to hug the coast, passing kilometre after kilometre of rugged beaches, rocky headlands and charmingly remote seaside communities such as Westport and Fort Bragg. This is Mendocino County, leading to a village of the same name.
Just before Westport, stop in at the country's westernmost winery, Pacific Star. Admire the bluff-top view of crashing surf and sample the signature house blend, It's My Fault (red or white; adult passengers only). Or, families can skip the winery and continue to Fort Bragg, making a quick stop for "gem" hunting at Glass Beach, named for its colourful sea-glass pebbles (illegal to remove, so leave them on the beach), before hopping aboard the Skunk Train. This 1885 heritage logging train makes an hour-long round trip, chugging along bridges and meadows, and zigzagging through the redwood-thick Noyo River Canyon.
Mendocino Village is made for strolling, its sleepy streets lined with pastel-painted saltbox cottages, rose gardens, picket fences, twisting Cypress trees, antique wooden water towers and adorable artisan boutiques selling everything from pottery and redwood-burl furniture to custom shoes. For a meal with an ocean view, sample locally sourced comfort food like Pacific Cod Chowder at Flow Restaurant & Lounge. Or, soak up village ambiance at community gathering spot Frankie's, known for its organic-flour and gluten-free pizza, as well as ice cream. Flavours range from exotic, like mushroom (made with locally harvested candy cap mushrooms) to kid-pleasing, like vanilla chocolate chip.
To wrap up the tour, approach the Golden City, San Francisco, through Point Reyes National Seashore and along the spectacular Gulf of the Farallones. Another body of water soon appears: San Francisco Bay, spanned by that most famous of bridges: signature red, nearly 3 km long and built in the 1930s. It's said to be one of the most photographed things on the planet. Document it like so many before and take a group photo from Golden Gate Bridge Vista Point, a fitting souvenir of a road trip down this mythic highway.
Photo Credits: Alan Majcrowicz, Getty Images, Greg Vaughn Photography, Gregor Halenda, iStock, Justin Baille
MEMBERS SAVE
Before you embark on any road trip, take your vehicle for a 98-point safety inspection at your local BCAA Auto Service Centre. Members get a FREE car wash with every service.
Tip!
California had a gruelling wildfire season last year, with 9,133 fires destroying 5,053 sq km. Check for fire updates before you go.
Find more great articles and useful tips on the BCAA Blog or have them sent directly to your inbox by signing up for Member Rewards emails at the bottom of the Ways to Save page, or check out the latest issue of BCAA Magazine.