Homes that Face Forward
The homes we live in can be a big opportunity to make a difference – for ourselves, our communities and the environment. This could mean building more sustainably, preserving a heritage home with a modern space-saving renovation or even upcycling materials into a new build. Read on to see how eight aspirational BC homes cleverly bring forward-thinking visions to reality, whether they're connecting to nature, rethinking small-space living, integrating modern architecture into a long-standing community, maximizing a forgotten bit of land or drastically reducing energy consumption.

By Barb Sligl | BCAA Magazine, Winter 2021
Made for play in East Van
When a young family of four approached him to build a new home that felt modern, yet still fit in with the 1940s to '80s homes of their East Vancouver neighbourhood, architect Clinton Cuddington saw a chance to create a "new- generation Vancouver Special." When they asked for a design guided by play and whimsy, he and his team at Measured Architecture delivered that, too. The result is a modern spin on the classic Vancouver split-level, with a uniquely rough-and-tumble finish.
The family's goal was for no room or material to be too fragile or off-limits to the kids, says Cuddington. Inside, that manifests in down-to-earth elements, like exposed structural beams, concrete flooring and cabinetry made out of construction-grade plywood. Outside, half of the home is clad in cheerfully off-kilter cedar shakes in varied tones, left untreated to weather naturally. The other is simple tongue-and-groove cedar siding.
Many of the materials from an old house on the site were recycled into the new home, such as concrete repurposed for the stoop. Fir planks from the old framing were used as beams, or milled into planter beds, a table for the dining room and desk for the study.
It was about respecting the past while distilling it into something fresh – with flourish, says Cuddington.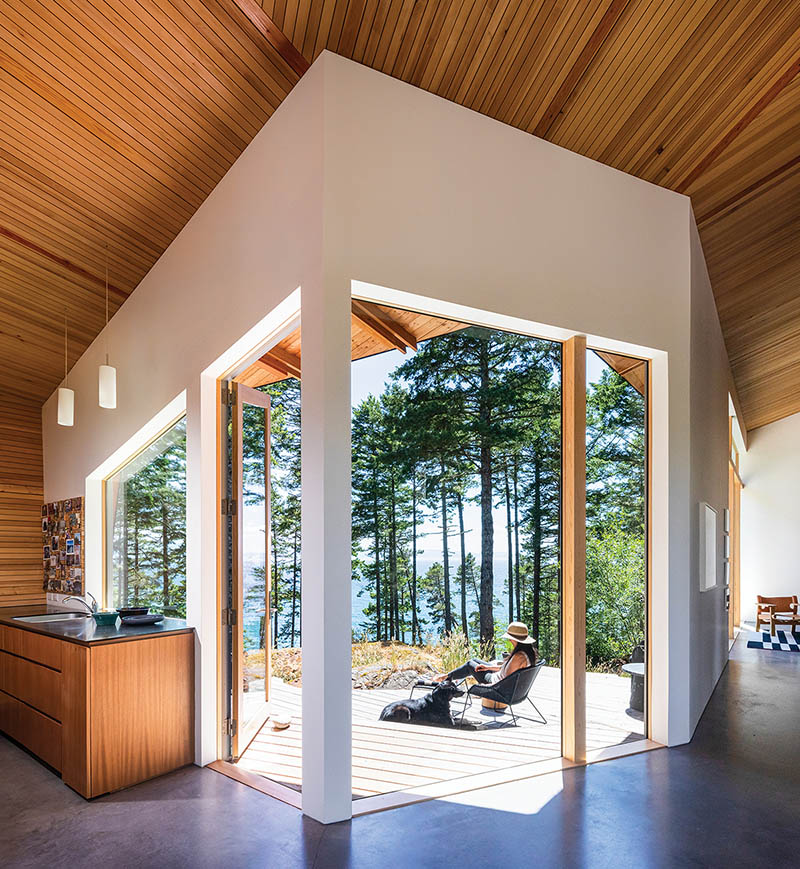 A deep connection to nature in Sooke
Back in 2014, Javier Campos ran into the owner of a home he'd eventually design on Vancouver Island. They were both out walking their dogs, and she told him about her dream house: a quiet hideaway in nature where she could live peacefully with her four-legged companion. When she finally found a wooded plot of land on the coast, near Sooke, she got in touch.
He and his team camped overnight on the property, which led them to set her new house on a knoll surrounded by Douglas fir, Sitka spruce and cedars, where water views filter through forest. "The idea was to integrate the house into the forest," says Campos. Black metal panels blend into the forest's dark embrace, while angled cedar siding evokes tree branches. Left untreated, it will turn grey over time and blend further.
Inside the home, each room has a different view of the trees, and design elements emulate the forms of the forest. A central concrete column resembling a tree trunk rises to ceiling beams that branch into angled slats of hemlock, like a coniferous canopy. "When you move through the house you get a different take on the forest," says Campos.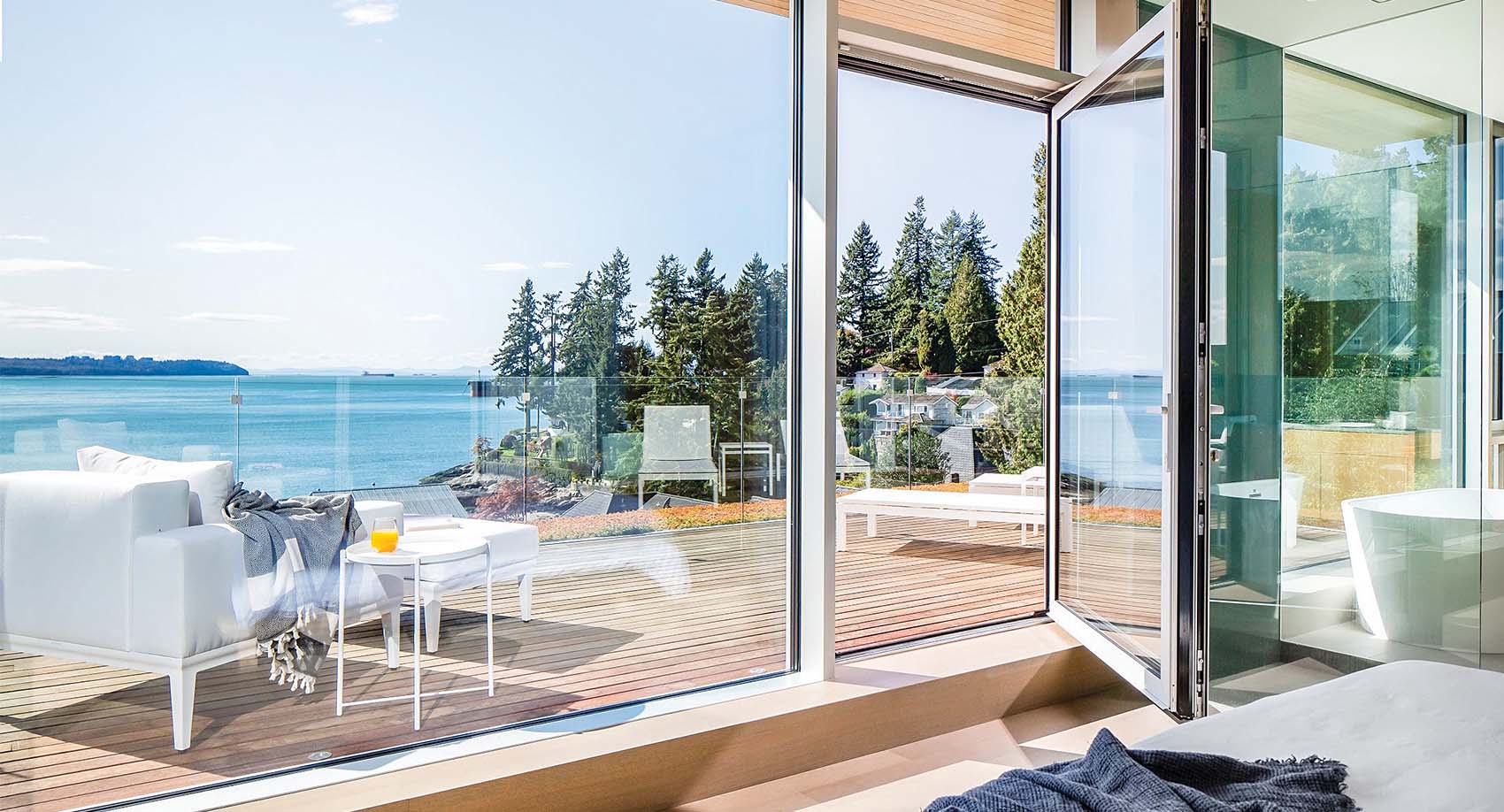 Extreme green on the North Shore
"The number-one thing we wanted was to bring comfort, energy efficiency and health together with beautiful architecture," says James Dean of his family's West Vancouver home, completed last spring. He and his wife Janet Allan, and their two teenage sons, posed this challenge to BattersbyHowat Architects, asking the firm to design the first certified net-zero and passive house in the city, without sacrificing design.
The house delivers. It's as luxurious and clean-lined as one would expect of a 4,100 sq. ft. North Shore home, with custom everything: cabinetry, masonry, wine cellar, glass wall panelling and more.
It's also so efficient and airtight that, despite backing on to a railway, you can't hear trains rumbling at all. This Zen quality is Allan's favourite side effect of making the house passive – or hyper-insulated and sealed. The structure is also designated net-zero, since it consumes no net energy over the course of a year. Solar panels on the roof power the family's electric vehicle.
West Van, where most homes face southwest, turned out to be the perfect place to build a passive house, says Dean. Floor-to-ceiling triple-glazed windows bring in Burrard Inlet views, but also a whole lot of sunlight, which the house traps and retains as heat energy.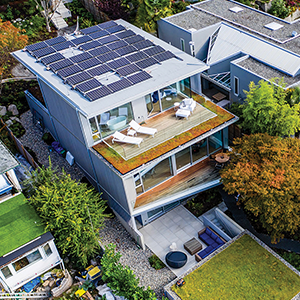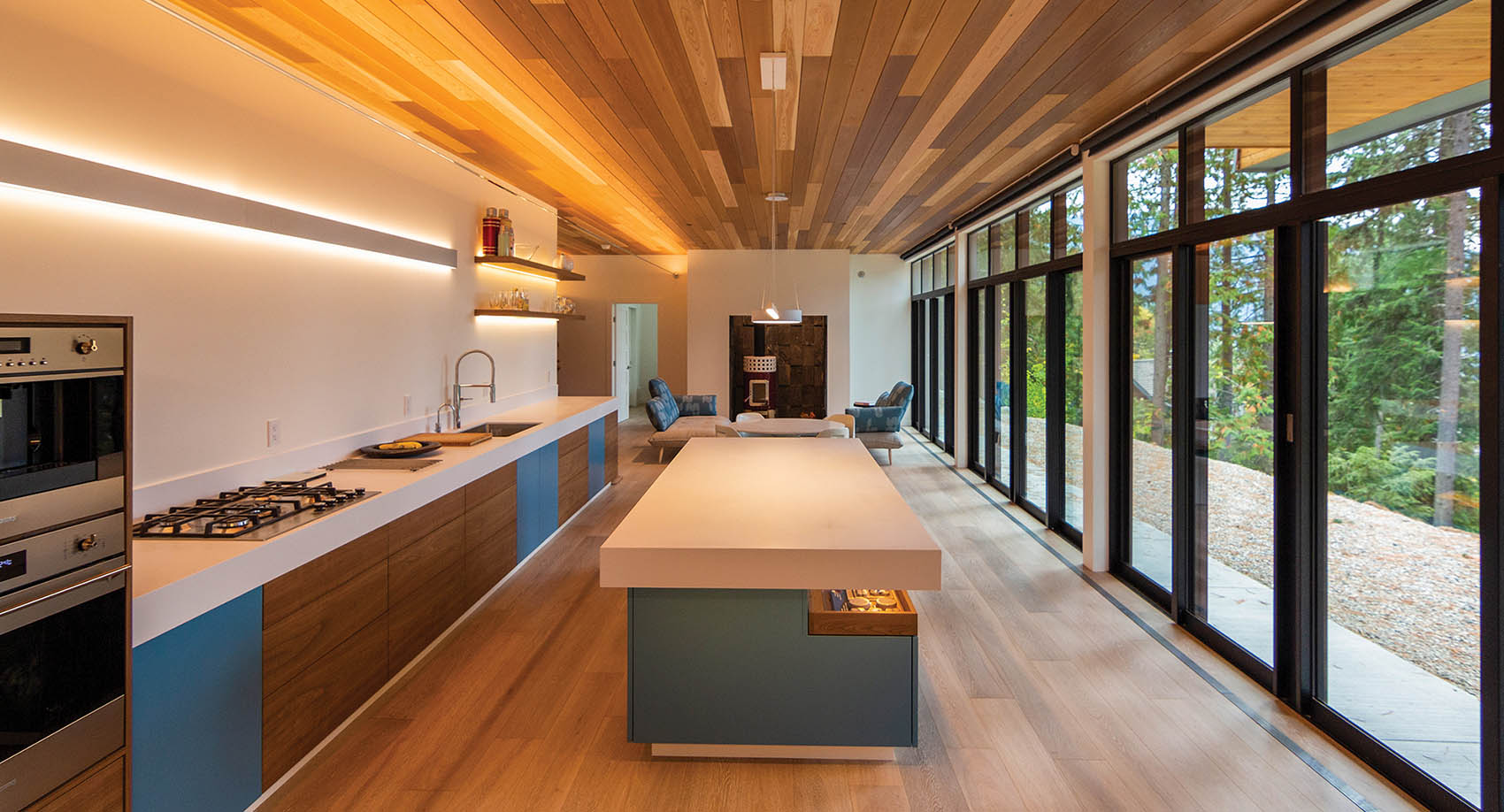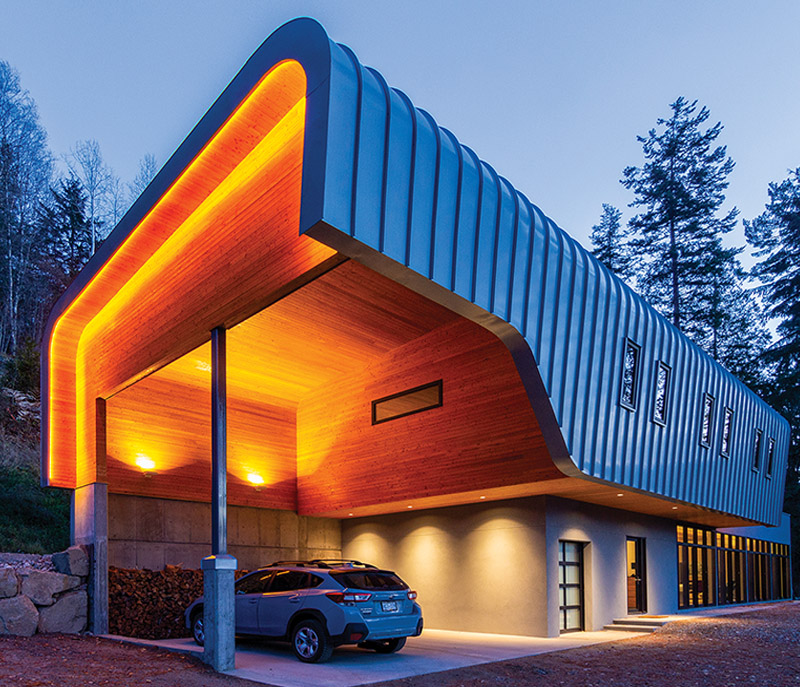 A slice of modern luxury on Kootenay Lake
Sometimes the setting shapes the home – to dramatic effect. Julia Fleming and Rupert Robin's long, narrow home overlooking Kootenay Lake sits on a slim bench of rock displaced during the 19th century construction of a rail line (today a public trail). As a result, the shape of the house is long and almost train-like itself. "We loved the location of the lot," says Fleming. It's close to the town of Nelson but also private, tucked into a stand of conifers below the old railbed. They commissioned local firm Studio 9 Architecture to design a custom home that fit seamlessly into the horizontally skewed space.
They also decided to go modern. After living in a 200-year-old Regency-era apartment, and a 90-year-old art deco house in the UK (the couple recently relocated to BC), they wanted the polar opposite. "We wanted something simple and linear," says Fleming. The result was a clean-lined home with minimal maintenance requirements. The signature feature is a rolled metal roof, which provides a curving counterbalance to all the straight lines, and is clad in zinc for long-term durability. This year, the couple plans to plant a green roof on the flat portion.
Lofty goals for a Vancouver townhouse
Michael Davis and Kristen Green's townhouse in Strathcona, Vancouver's oldest working-class neighbourhood, is part of a tight-knit complex. The neighbours know one another and kids play together in a shared courtyard. That's one reason why, despite their mere 1,150 sq. ft. of space, the professional couple with two school-age boys chose to renovate instead of finding a detached house elsewhere.
They took their challenge to Shelley Penner of P+A Interiors last year, asking her to help optimize their space with a reno.
The kids got the two bedrooms on the top floor, and what was once a den on the ground floor became the master bedroom, with a raised loft bed.
"The loft bedroom was like designing the interior of a sail-boat," says Penner. "It required a lot of attention to detail . . . trying to find a place for everything." The parents-only loft retreat is extremely compact, with built-in shelving and storage under a modern version of a captain's bed (in the rest of the home, off-the-shelf Ikea cabinetry was modified to appear built-in). His-and-hers ladders allow bed access. "I always enjoy climbing up a ladder to get into bed," says Davis. "It feels like my own private tree house."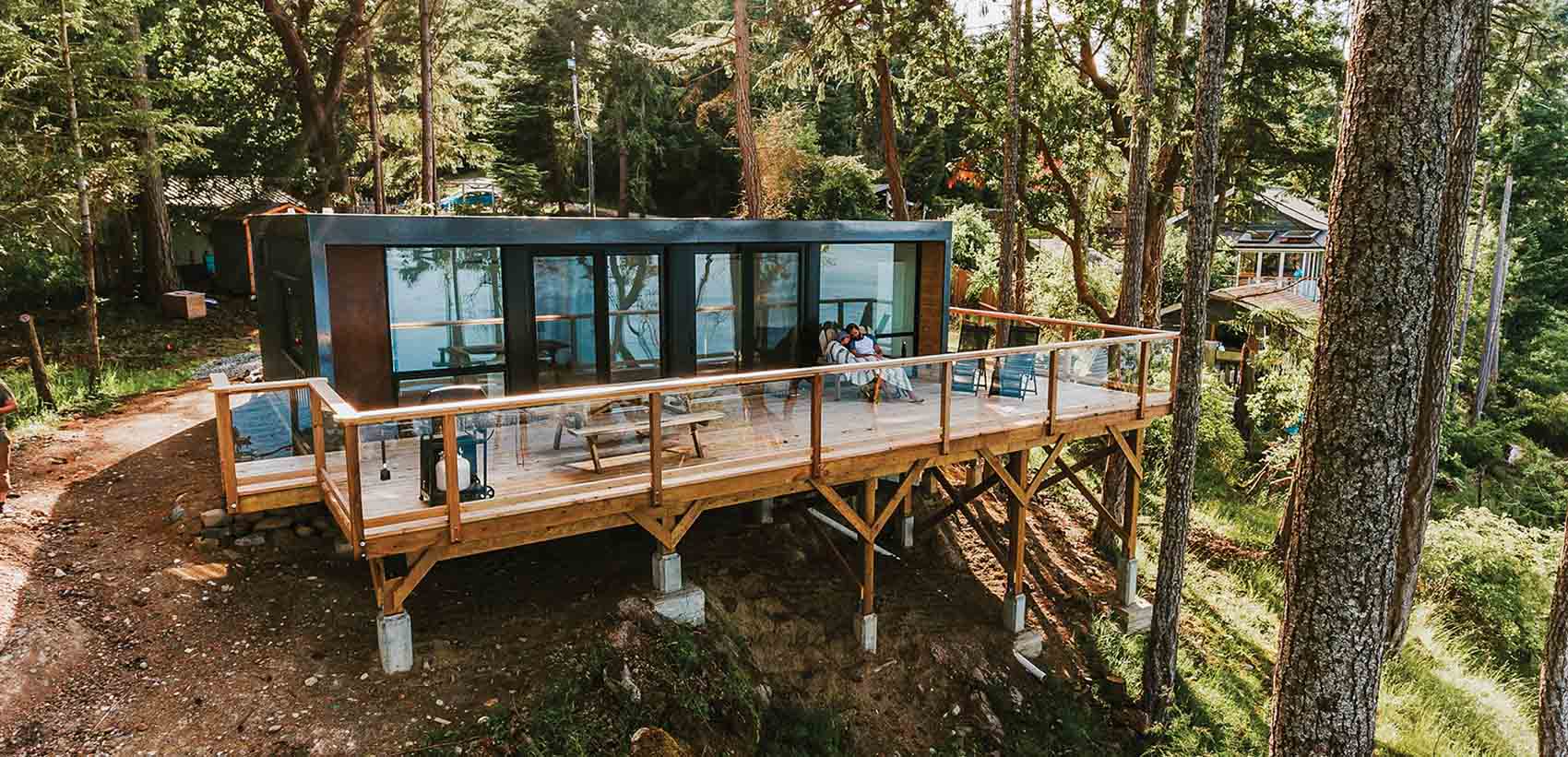 Paradise in a box on Salt Spring
When Graham and Linda MacFarlane set out to build a cabin on their Salt Spring Island vacation property, they had a few criteria: affordable, beautiful and quick to construct.
After scrapping a custom job due to cost and a two-year timeline, they turned to Honomobo, an Edmonton-based builder that prefabricates houses using recycled shipping containers. From start to finish, the two-bedroom, 704 sq. ft. house took about four months, and cost around half the price of the custom option. It shipped pre-installed with all flooring, paint, lighting, cabinets and appliances.
"It was livable right from one week after placing the modules and bolting them together," says Graham. The structure is energy-efficient, too, thanks to the tight sealing used in shipping containers – even with an expanse of glass on the east side to soak up ocean views. But best of all, says Graham: "If you stepped inside the home you'd have no idea that the basis of construction is four shipping containers. People who come to visit are blown away, partly by the view and partly by the appearance of the home itself."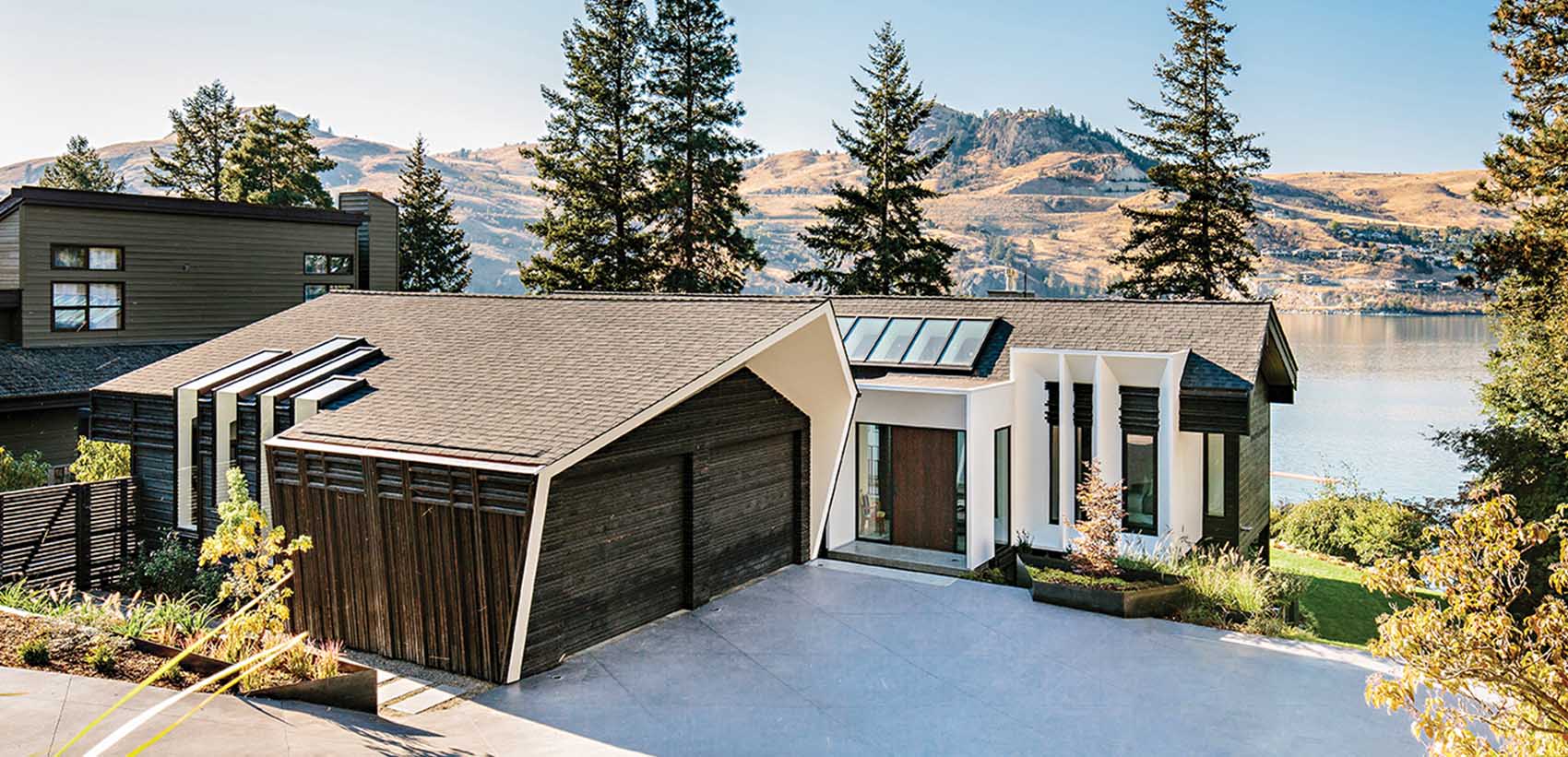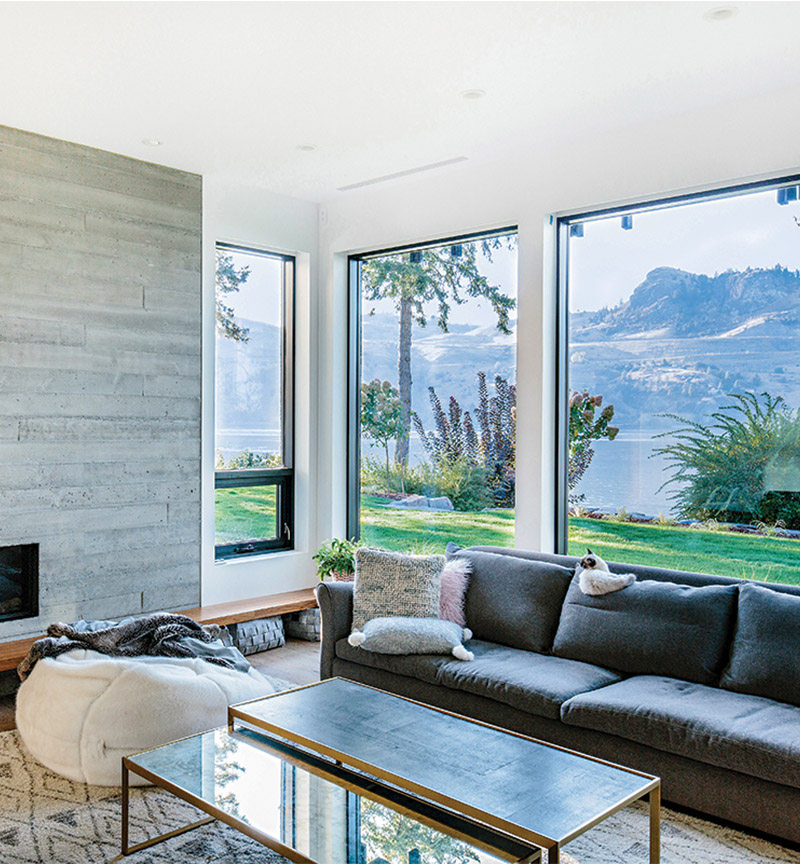 Letting in the light at Kalamalka Lake
Architectural designer Nathan Buhler could hardly believe that a lakefront home could have so few water views, and so little light.
His sister, interior designer Adrianne Bailie, and her family had fallen in love with Coldstream's Kalamalka Lake years earlier. It was their dream to build there, but they hadn't found the right lot. So, when their realtor found a "dark and dated" 1970s house on the perfect waterfront parcel, they jumped on it. They assumed they'd have Buhler design something from scratch. But he saw potential.
"One thing our team brings to projects is a deep thinking on what's already there, and can we save that from going to the landfill, instead of razing it all to the ground?" he says of his Toronto-based firm BLDG Workshop. "In this case, we took what was there and cut away from it. We carved and chopped and figured out a way to bring sunlight inside the house."
That meant taking the structure to the studs, and removing an entire brick exterior wall to reframe it with a bank of windows. The former dining room, kitchen and sitting room now form one airy, open-concept space, and most rooms have sweeping sightlines to the lake. Bailie deftly designed the interiors in a modern-eclectic style.
Since the project finished in 2018, the family has been nothing but thrilled, says Bailie. "We pinch ourselves every day that we're living our dream."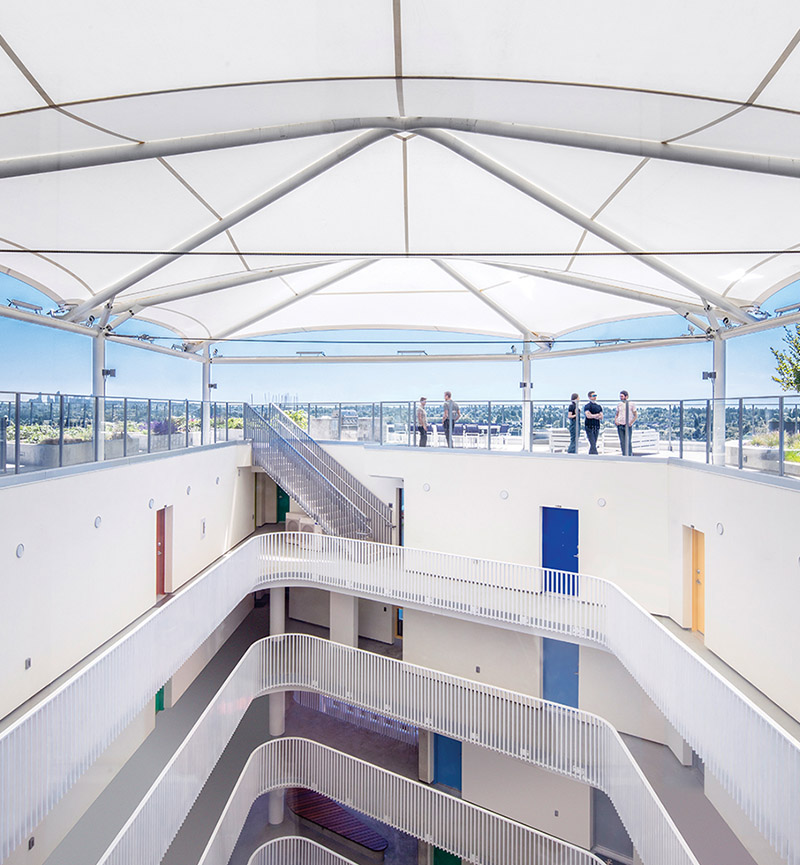 A rental tower with an open-air heart
When you're a Vancouver renter, you don't often get to live in a home that feels tailored to your life – or architecturally inspiring – if the price is right. But a new complex in the city's Mount Pleasant neighbourhood is challenging this notion, winning big renter love in the process. The Duke, a 14-storey, 201-suite apartment building, was one of the first projects completed under the Vancouver Rental 100 Secured Market Rental Housing Policy, aimed at easing one of the country's tightest markets for tenants.
The suites are bright and well laid out, and affordable to rent by Vancouver standards. But the lifestyle-enhancing communal spaces might be the biggest draw for tenants – especially the rooftop patio with sweeping views, community gardens, a dog run, an outdoor kitchen and family play space.
At the building's core is a soaring atrium that opens to the sky, encircled by outdoor walkways. Light streams in through a translucent rain cover, while an 18-metre-tall fuchsia art piece by local artist Khan Lee hangs in a south-facing vertical slot. The atrium is lead architect Mark Ostry's favourite part of the project. "The glow of the light in there is just ethereal. It's unlike anything you see in the city," he says.
MEMBERS SAVE
A renter's belongings aren't covered by the landlord's insurance – you need your own policy to be protected. BCAA Members save up to 20%.
---
Photo credits: Ema Peter, Naikoon Contracting Ltd., Studio 9 Architecture + Planning, Martin Tessler, Honomobo, BLDG Workshop, Jon Adrian, Acton Ostry Architects/Michael Elkan.