Commemorative artwork by Chairman Ting
One Million Members strong thanks to you!
As if being nearly 120 years old isn't enough of an achievement, BCAA recently hit a major milestone. A humble club that started in Victoria with 11 early automobile enthusiasts, has swelled to a province-wide movement of one million Members strong, and it's thanks to you! The bigger we are, the more we can do to protect and move British Columbians forward and we can't thank you enough for being on this journey with us.
One million is more than a big number, it's made up of countless experiences, memorable moments, and stories. From the first auto enthusiasts that started our club in 1906, to a parent whose child breaks down on Vancouver's Cambie Bridge in heavy traffic and is saved by a calm, helpful BCAA Auto Service Technician, or a home insurance claims advisor who delivers claims cheques by boat during a wildfire – yep that really happened! And there are so many more initiatives that we continue to come together on as British Columbians. From helping in the early stages of the pandemic and beyond - lending Evo Car Share vehicles to healthcare workers, advocating for road safety throughout BC, providing free BCAA Slow Down signs and giving back in ways that support all British Columbians. All that and more is enabled by the power of Membership.
And as our club has grown into a movement, we've been here for loyal Members, some who have been with us most of their lives. Eraine, a 75-year Member, joined up as a young driver in the 1940s and has carried her BCAA card ever since. Then there are those valuable Members as young as 18 years old, the future of BC, who are just starting out on their journey with us, like Kelsie, a care worker from Cranbrook, and Nathan, a chef from Nanaimo. And we can't forget our wonderful team members either, including Brett, a long-standing Road Assist Technician working out of our Burnaby Depot, who still loves his job as much as the day he first put on his BCAA uniform an incredible 47 years ago.
As we celebrate becoming over one million Members strong, we reflect on our past, strive in our present and drive ourselves towards an exciting future. Together, we are one million British Columbians moving our province forward, and yet it feels like we are only just getting started.
There is much to do as we focus on helping British Columbians get around in more climate-friendly ways, protect them as we face more extreme weather and enable people to deal with BCAA faster and in more convenient ways. We will continue to ensure our workforce is diverse, equitable and inclusive and we will evaluate our success based on a triple bottom line business model focused on people, planet, and prosperity.
To mark our one million Member milestone, we're partnering with acclaimed local artist, Chairman Ting and Tangible, to create a collection of original BCAA digital art pieces.
Learn more and enter for a chance to win your own commemorative digital artwork from the exclusive "BCAA BC Buns Collection" at bcaa.com/millionstrong.
Because when the world evolves, we embrace it. With new dreams, new thinking, new solutions. It's just what we do as a Member-based organization, and thanks to you, we've grown to over one million BCAA Members strong! Thanks for being part of BCAA.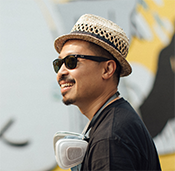 About Chairman Ting and his Billion Buns Collections

Chairman Ting
is an award-winning BC based artist who runs an
art and design studio in downtown Vancouver
. Chairman Ting and his team have worked with brands on a global level, but also worked on community projects based here in BC. You may be familiar with some of his artwork but you can learn more about his
portfolio here
.
The BCAA BC Buns collection is a unique collaboration with BCAA and Chairman Ting and Tangible. It plays off Ting's Billion Buns NFT collection.
Billion Buns
is a popular NFT collection that features 888 different bunny characters, Chairman Ting's signature character. The collection sold out in a mere 48 seconds! In BCAA's collaboration collection, BC Buns will feature a series of bunny characters that represent the broad diversity of British Columbians. We're creating over
1,500 unique designs and you might get a chance to win one of them
!