Eight spectacular winter getaway destinations: comfy cabins and awesome activities
We heard you loved our autumn cabin list so much that we're back with round two: BC's best winter escapes. And yep, you got it – more cozy cabins! Make your next road trip destination one of these great BC winter getaway spots. Relaxation, fireplaces and hot tubs? Indeed. Beautiful panoramic views? Most definitely. Your favourite cold-weather activities nearby? You bet. Here are eight of BC's great cabin getaways and nearby activities to add to your bucket list, with options for those who love the snow and those who don't.
Helpful tip: These cabins fill up quickly, so reserve well in advance. Even if you can't grab a spot this year, these beauties are worth bookmarking for the years ahead.
Destination 1: Squamish, BC
Where to stay: Just an hour north of Vancouver and 20 minutes from Whistler, the Tantalus View Retreat Chalet is a gorgeous, open plan, 2-bed cabin on a cliff. It offers you spectacular views of waterfalls, forest, and the Tantalus mountain range and glaciers. Our favourite features: the private hot tub and beautiful hand-crafted salvaged wood decor.
Tantalus View Retreat Chalet
Find it on: tantalusviewretreat.com
What to do: At some point, you'll have to get out of the hot tub, so why not visit the Sea to Sky Gondola. Ride the gondola up to experience towering, snow-capped mountain peaks, crisp mountain air, and a lovely lodge from which to venture out snowshoeing, winter walking, tubing and ski touring.
Destination 2: Pemberton, BC
Where to stay: You've got to check out the stunning Joffre Creek Cabins, about 18 minutes from Pemberton and 44 minutes from Whistler. Perched on 3.5 acres of pristine forest and surrounded by crown land on three sides, there are two log cabins (and an Airstream trailer) that offer you a panoramic forest view. You'll experience the roaring sound of Joffre Creek while enjoying a wood-burning fire pit, wood-burning stove, the gorgeous cedar barrel sauna, a gazebo that's like an outdoor living room, fairy lights and a private six-person hot tub in the Big Cabin. These cabins are the #1 best place in BC to read a book with a steaming mug of hot chocolate. A note on accessibility: in the Little Cabin, you have to climb the ladder to get up to bed.
Joffre Creek Cabins
Instagram: @joffrecreekcabins
Facebook: @joffrecreekcabins
What to do: Head into Whistler for snowboarding & skiing and then a rejuvenating dip in the pools at Scandinave Spa. You can spend the whole day there in your swimsuit and bathrobe, drifting from pool to pool to hammock and fire pit. Bonus: BCAA Members get 15% off on Scandinave bath access and 10% off massages.
Destination 3: Sooke, BC
Where to stay: We recommend two cottages in Sooke: The Beau Mountain cottage gives you views of the ocean, Olympic Mountains and a farm where you can hand feed the friendly Alpacas at the bottom of your private steps. There's also The WilderGarden Covehouse, a unique, rustic, seaside cottage with a soaring ceiling, seaside hot tub and dock, a wood-burning stove in each room, full kitchen, a separate studio bedroom, cedar and glass deck with BBQ, 50" TV screen with Netflix and Spotify, and ocean and forest views in every direction.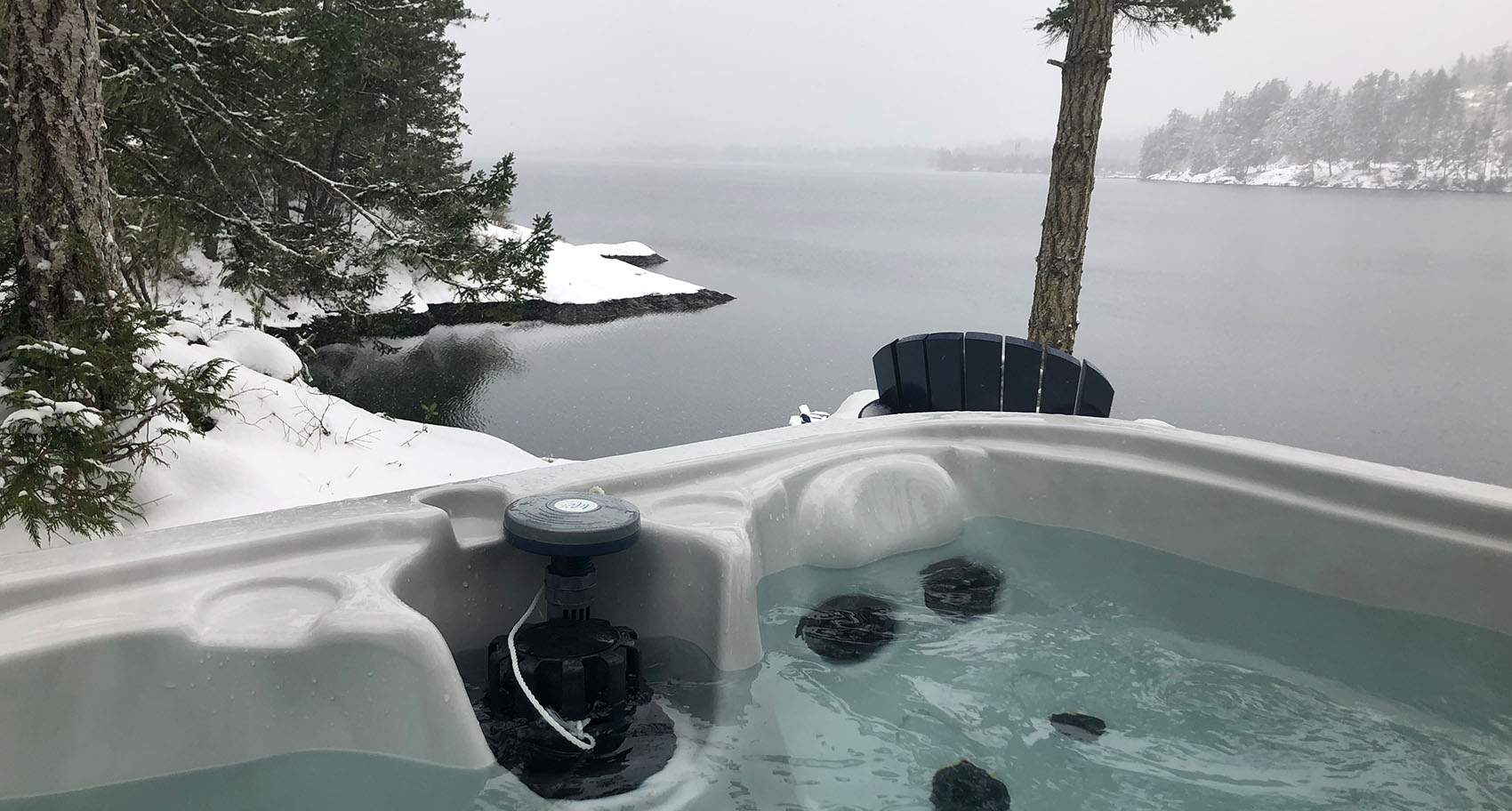 The Wildergarden Covehouse
Instagram: @wildergarden
Facebook: @wildergardenbc
What to do: Sooke offers you so many amazing beaches and oceanside provincial parks like hiking the Coast Trail in East Sooke Regional Park that it's ranked the #1 thing to do in Sooke, even in winter. You might also enjoy a trip to the cute local honey farm, distillery or brewery if you have a designated driver.
Destination 4: Alert Bay, BC
Where to stay: Sea Glass Cabin is your own private ocean view bungalow on tiny Cormorant Island off the coast of Port McNeill along BC's beautiful Inside Passage. This cabin offers you a yard, deck, and a soft hot tub with stunning views of the ocean, orcas, sunset, totem poles and mountains. It's just a two-minute walk to the beach and a 10-minute walk to lovely downtown Alert Bay.
Facebook: Sea Glass Cabin
What to do: Alert Bay is a cute village. A boardwalk connects downtown Alert Bay to the U'mista Cultural Centre, and the island has 16 kilometres of walking, biking, and hiking trails.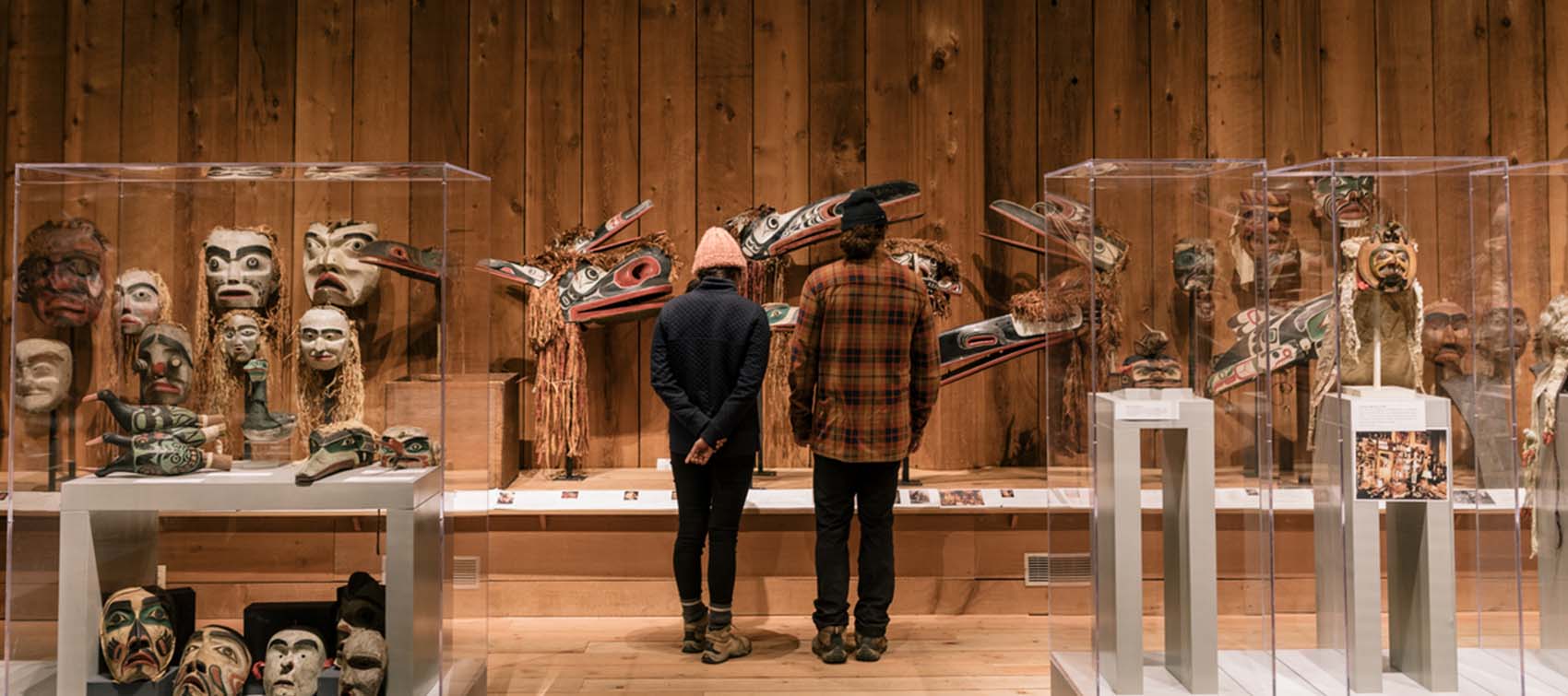 U'mista Cultural Centre in Alert Bay by Tourism Vancouver Island/Jordan Dyck
Destination 5: Secret Cove, BC
Where to stay: A popular cabin in Sechelt on the Sunshine Coast is Alfie the A-Frame. Alfie, however, is often booked up, so try this instead: Rockwater Tenthouse Suites, truly the Sunshine Coast's most inspiring vacation experience. Nestled high on a bluff among the Arbutus trees and overlooking Secret Cove, these luxury glamping tents give you an endless view of the Pacific Ocean via your private deck facing the Georgia Strait. Inside your tenthouse, you'll find a soaker tub (with a disco light show), fireplace, king-sized bed, rainfall shower, heated floors, bathrobes and slippers. Perfect for romantic getaways and just 2.5 hours from Vancouver, including a quick 40-minute ferry from Horseshoe Bay to Gibsons.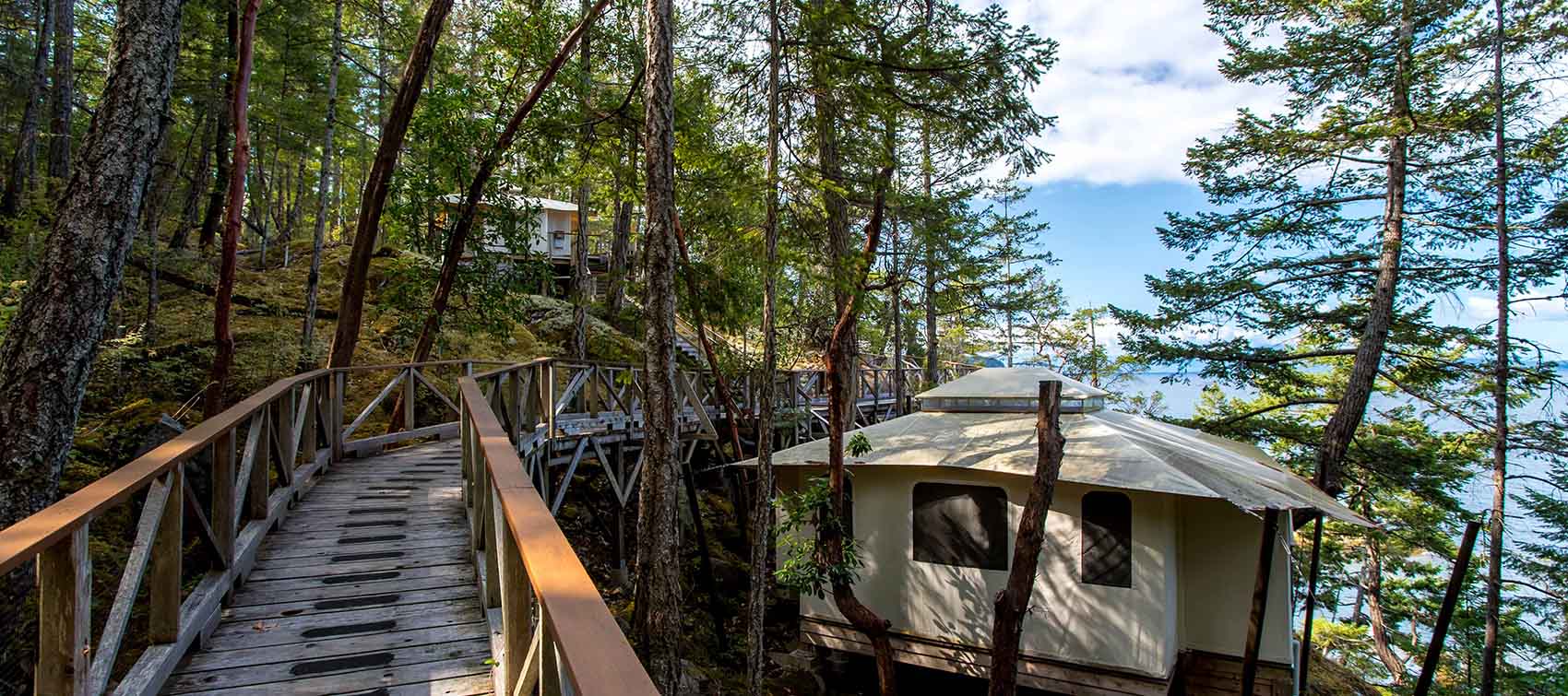 Rockwater Tenthouse Suites
Instagram: @rockwatersecretcoveresort (Tenthouse Suites)
Facebook: @RockWaterResort
What to do: Cabins along the Sunshine Coast don't get a ton of snow—for that, you'll want to head north to Powell River and snowshoe from hut to hut on Tin Hat Mountain and the Knuckleheads. Further south near Roberts Creek, you'll love to snowshoe and cross-country ski at Dakota Ridge. For a lovely winter hike down at sea level, you've got to see Smuggler Cove, about eight minutes away from Secret Cove. This Provincial Park attracts hikers of all levels, year-round, to enjoy the beauty of the pristine coastal rainforest and the lovely shoreline.
Destination 6: Sorrento, BC
Where to stay: Broken Tine is a lovely studio cabin at White Lake, BC. Boasting a gorgeous, rustic wood interior, it gives you a steamy hot tub, full kitchen, spacious bathroom, wood fireplace, ground-level patio, BBQ, and large open windows that let you feel like you're waking up in nature. There's a tall Queen bed with a peek-a-boo view of pristine White Lake, plus there's a secondary double-sized bunk bed that's suspended from the pitched ceiling.
Broken Tine cabin
Find it on: Airbnb
What to do: The cabin is about 30-40 minutes from two great cross-country ski areas, Larch Hills and Skamana. White Lake is known for ice fishing and attracts ice fishers from all over the Okanagan. Just ten minutes from your cabin, you can go skating on the outdoor rink in Sorrento. Also ten minutes away, you'll enjoy sleigh rides, hot chocolate and cinnamon buns at Walter's Sleigh Rides—it's lovely on a clear winter night. Plus, you're just a 25-minute drive to Salmon Arm, where you can see a movie or opera in the 1940s Salmar Classic Theatre.
Destination 7: Golden, BC
Where to stay: The secret pride of the Rockies, this architecturally designed, 2-bedroom beauty-in-the-woods is located by the Blaeberry River, about 20 minutes outside Golden. Ultra-modern (it's designed by Form and Forest) and ultimately cozy, you'll be surrounded by wilderness and crown land on all sides. There's even an outdoor fire pit and gas BBQ. You'll love the elegant simplicity of this cabin, the vaulted ceiling with soaring windows offering you a 180-degree view of forest, river, and mountains. The cabin can accommodate eight happy people, with four beds total including two queen beds up in the loft.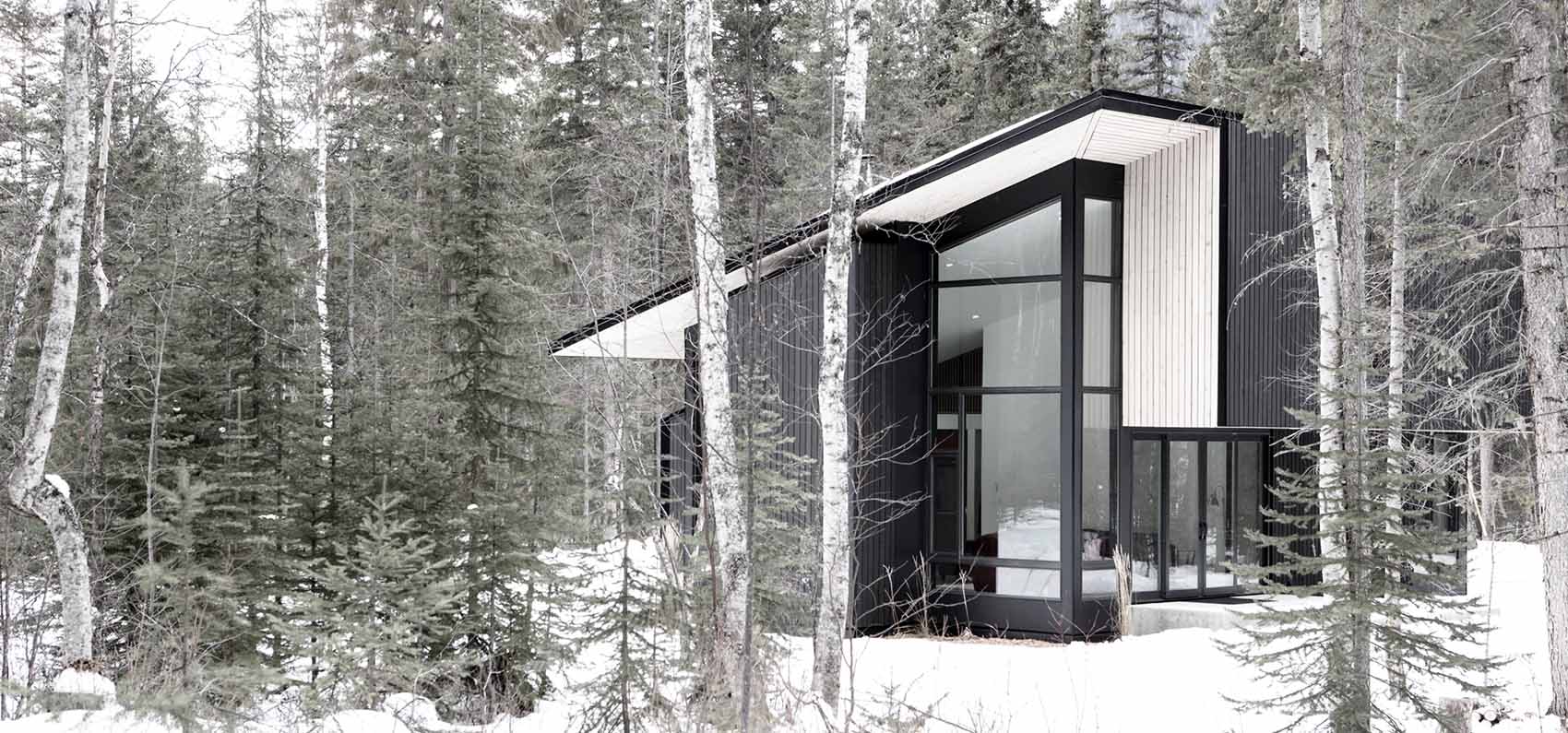 Form and Forest cabin by Sven Boecker
Find it on: Airbnb
Instagram: @formandforest
What to do: You want beautiful outdoor BC activities? There are five National Parks nearby. In spring and summer, you can enjoy river walks, hiking, canoeing and whitewater rafting—but winter is all about snowmobiling, skiing and snowboarding at Kicking Horse Resort, just 30 minutes away from your fireplace.
Destination 8: Nelson, BC
Where to stay: This open concept 4 Mile Creek Cabin is a little charmer. Set back into the forest about 5 km outside of Nelson, the cabin is across a cute bridge and large deck overlooking a bubbling creek and pond. A minute's walk from the sandy beach on Kootenay Lake, this newly renovated rustic cabin is modern, clean, quiet, secluded, and private. You'll enjoy the exposed beams, fibre optic Internet, gas fireplace, DVD player and DVD library. One of the coziest cabins you'll find anywhere.
Find it on: Airbnb, VRBO, Expedia
What to do: Skiing and boarding in deep, fluffy, world-class powder, soak in the Ainsworth Hot Springs, get your morning coffee at Oso Negro, lunch at Red Light ramen bar, and for dinner devour a smoked feast at Broken Hill while local musicians play stylish lounge music.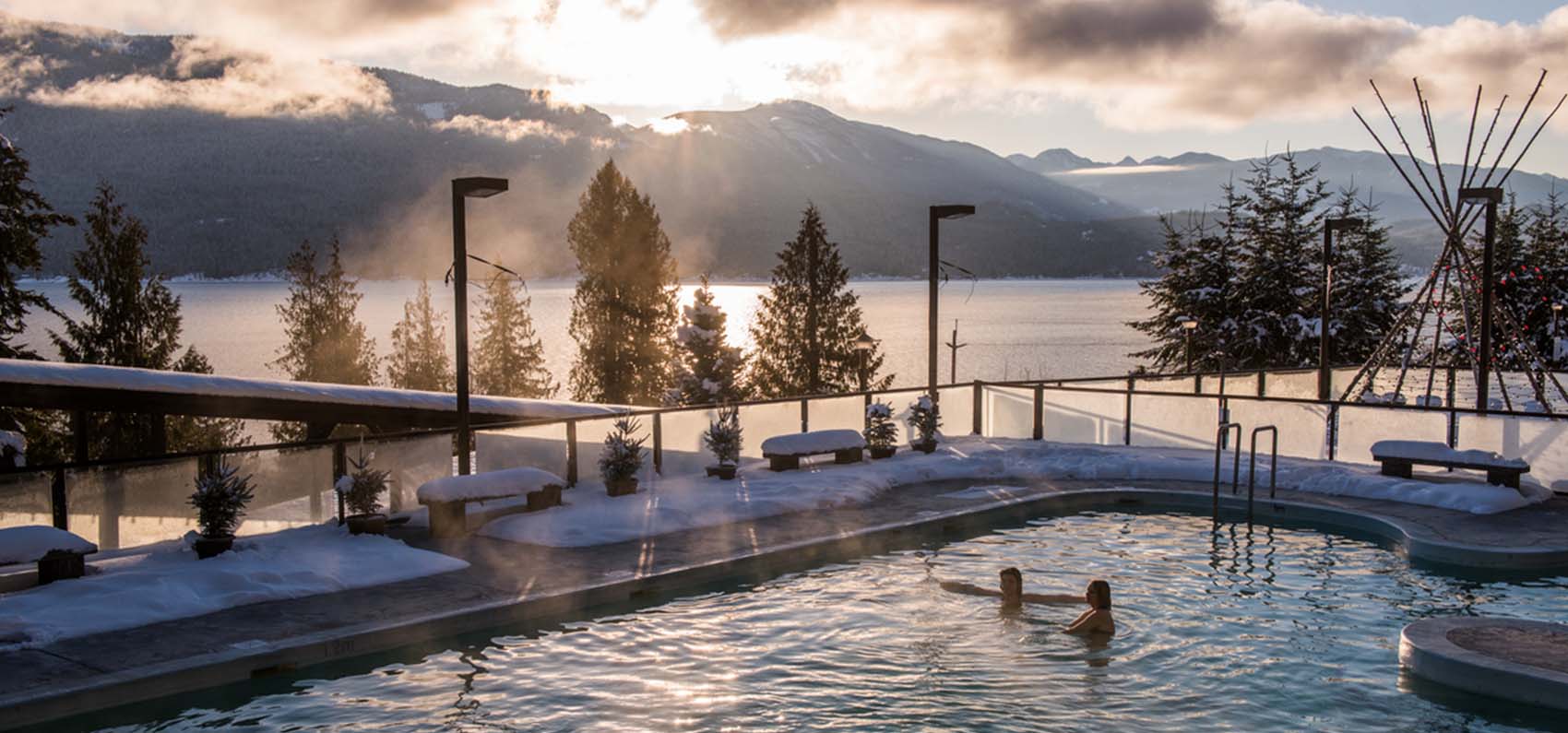 Ainsworth Hot Springs by Destination BC/Kari Medig
There you go, eight amazing cabins to add to your must-visit list – just a few of the hundreds of incredible places around the province. Are there any fave BC cabins that you'd add? We'd love to hear your picks. Plus, share your pics with us on Facebook, Twitter and Instagram using #TravelwithBCAA!
Travel with peace of mind - bring us along for the ride
Your BCAA Membership will help keep your vehicle moving and earn you Member-exclusive savings along the way. With 24/7 Roadside Assistance, we're always here to help in case of the unexpected. When travelling in cooler months, it's always a good idea to take a bit of extra time to plan before you go to ensure your adventure goes smoothly. Some reminders before you hit the road:
Not a BCAA Member yet? Join today and get the Best Roadside Assistance for less than $8 a month. 
Have a great getaway!
---
Subscribe to our BCAA Member Rewards e-news for more travel content, exclusive BCAA offers, contests, deals and more.
*Limited time offer. Appointment is required. The brake inspection is a "point in time" inspection and does not constitute as any type of certification, warranty and/or guarantee. The inspection is aided by instruments and includes the removal of the car's tires & a visual inspection of the following braking components: brake disc, rotors, pads, calipers, hoses and lines. The inspection excludes: ABS systems, antilock braking components, diagnostic of inoperable electronic parking brake assemblies, removal of any parts to access contained parts and/or hardware, vehicle stability control & traction control systems.