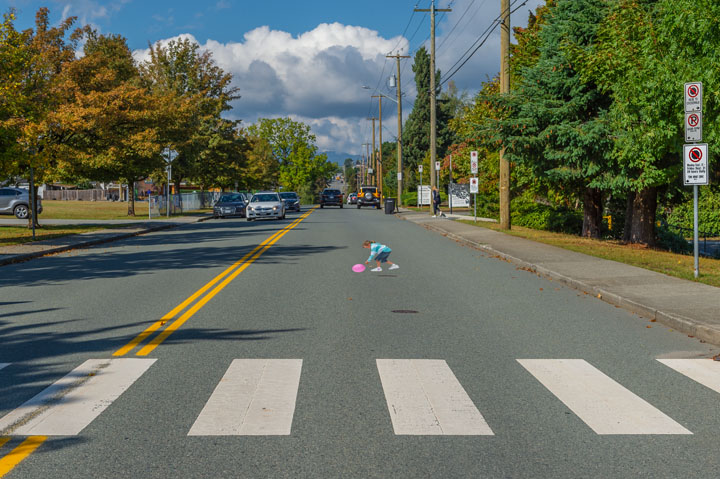 New survey reveals unsafe school zones during 2018 back-to-school week
BCAA and Preventable install "Pavement Patty" in busy school zones to push for safer driving
Burnaby, BC, September 18, 2018 – A new survey that shows unsafe driving by parents in school zones across BC during back-to-school has BCAA and Preventable taking action. To drive home the message to stop rushing in school zones, they have temporarily installed a 3D optical illusion of "Pavement Patty", a child appearing to run across the street in a school zone.
A new BC-wide survey conducted last week for BCAA by Insights West quizzed elementary school principals and teachers, as well as parents who drop off and pick up. Results show continued poor driving behaviours witnessed in school zones.
80% witnessed speeding
73% witnessed not stopping for crosswalks
78% saw parents encouraging their kids to do unsafe things, such as crossing at a non-designated area
74% report no improvement in key driving behaviours, saying levels of distracted driving, ignoring road rules or traffic signs are about the same as or worse than last year
A staggering 56% witnessed at least one near miss – a child almost hit by a car – this back to school week
Shawn Pettipas, BCAA's director of community engagement is concerned about the results and is determined to work with Preventable because "we've got to get the message through to parents to stop rushing in school zones."
Dr. Ian Pike, Co-Executive Director with Preventable, says that over the past ten years, hospitalizations and deaths among child pedestrians have not changed.
"We have brought back Pavement Patty to remind drivers that even at low speeds, children can be seriously injured or killed," said Dr. Pike. "Slow down, leave the phone alone, and give the road your full attention."
Meet "Pavement Patty"
"Pavement Patty" is a 3D illusion of a girl chasing a ball into the street, intended to remind drivers to slow down because unexpected incidents can and do happen. She's installed in the school zone of Brentwood Park Elementary School in Burnaby as an unmissable visual cue to remind parents to take extra care, adhere to the speed limit, and reduce distractions.
The illusion is printed in weatherproof, skid-proof vinyl, installed directly on the street. A sign teasing "In a rush at a school zone? Seriously?" first alerts drivers. Then as drivers approach, they see the optical illusion of Patty appearing to cross the street. As she comes into view, she serves as a reminder to drivers to slow down.
The illusion made its debut in 2010 and was the first of its kind in Canada. At the time, "Pavement Patty" was highly successful in generating conversation in the community, the local media, and worldwide.
BCAA's CEO Shom Sen sees the overwhelming benefits of the BCAA and Preventable partnership in bringing attention to important issues and saving lives. "Children should be safe in school zones," Sen says. "It's our responsibility as organizations, drivers and parents to take this aspect of road safety extremely seriously."
"Pavement Patty" is on display in the school zones of Brentwood Park Elementary School in Burnaby until 4:00 p.m., Friday, September 21.
-30-
About the survey Results from Insights West
Results are based on an online study conducted from September 7 to 10, 2018 among a representative sample of 849 adults in British Columbia, including 207 who currently serve as principals, teachers or school staff at a British Columbia elementary school, or who are parents or guardians who drop off and/or pick up a child from school. The data has been statistically weighted according to Canadian census figures for age, gender and region. The margin of error for the entire sample—which measures sample variability—is +/- 3.4 percentage points.
About Preventable
Preventable (also known as The Community Against Preventable Injuries) is a province-wide, multi-partner organization raising awareness, transforming attitudes, and ultimately changing behaviours. The goal of the organization and its partners is to significantly reduce the number and severity of preventable injuries in BC. Preventable's strategy is based on two years of extensive research to develop a comprehensive understanding of how and why preventable injuries occur throughout the province. Preventable's work is made possible through the financial and in-kind support of a variety of organizations that continue to sign on as partners in fighting the epidemic of preventable injuries in BC. Now in its 10th year of activity, the campaign is an evolution in Preventable's ongoing discussion with British Columbians about the epidemic proportions of preventable injuries.
About BCAA
The most trusted organization in British Columbia by its Members, BCAA serves 1 in 3 B.C. households with industry-leading products including home, car and travel insurance, roadside assistance, Evo Car Share and full automotive services at BCAA's Auto Service Centres. BCAA has a long history focused on keeping kids safe on the road and at play through community programs such as its School Safety Patrol, Community Child Car Seat Program and BCAA Play Here. Please visit bcaa.com.