Building a successful business through community
BCAA Small Business Insurance Customer Spotlight
Head Over Wheels Cycle & Sport, Qualicum Beach
For 22 years now, our BCAA Small Business Insurance customer, Head Over Wheels, has been selling and fixing bikes in Qualicum Beach on Vancouver Island. Owned and operated by Bonnie Reinhardt and John Cope, they sell mountain, road, hybrid, electric and kid's bicycles, clothing and gear.
As a community-focused business thriving through the pandemic, we wanted to learn more about how Head Over Wheels started, plus their secret to success.
So, tell us how it started…
"I was new to Canada," says Bonnie, "and we were in love, had a young son, I was pregnant with twins. We really wanted 9-5 jobs so we could be home for dinner with our kids. John loves biking and goes on weekly community rides, so we decided to open a bike shop.'"
The only bike shop in town had shut down six months before Head Over Wheels opened. Despite being told, "You can't open a bike shop in Qualicum; it's an older community who aren't interested in biking," Bonnie and John were driven to make a go of it. According to Bonnie, part of the journey has been finding their niche. In Qualicum, there's been a ton of interest in e-bikes, the perfect option for people of all ages and fitness levels. "And lately, there's been a big pandemic bike boom. People aren't travelling as much, so they spend their money locally and enjoy this beautiful island by bicycle."
Their secret to success: community and a hyper-focus on their customers
Head Over Wheels is a business built on an entrepreneurial spirit and the desire to build community through a shared passion for cycling. Being active in the community is a big part of what drives their success. Says Bonnie, "We're committed to trail building on our local trails to keep riders happy. We donate to local school fundraisers and support Conquer Cancer rides and our local Hospice Society. People love coming to our store to chat and share camaraderie, whether it's about cycling, news events or simply for friendly conversation."
Another great reason to visit Head Over Wheels: the personal attention you'll get from John, a huge biking enthusiast who regularly goes above and beyond for his customers – he's been known to regularly make custom bike parts for those who have a particular need.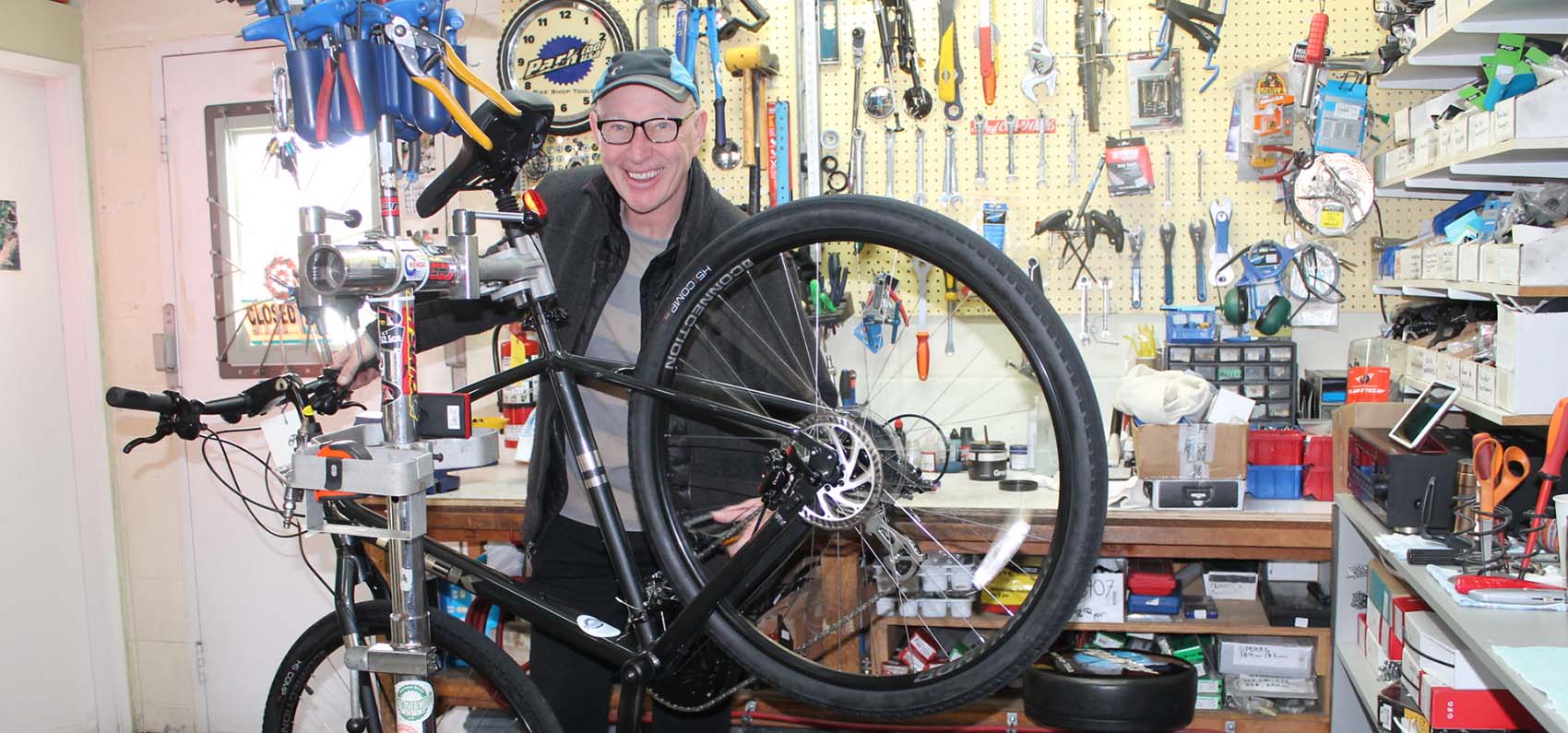 John of Head Over Wheels Cycle & Sport, BCAA Small Business Insurance customer
What's your favourite thing about being a small business owner?
"I love to be in charge of my own destiny," says Bonnie. "You can also be creative when you own your own business. John makes stuff to solve people's problems, like his special Mirror Mount to help road cyclists see traffic behind them. He's also made a custom, 2-in-1 hydraulic brake and gear shifter designed for one-handed customers." John is passionate about making cycling accessible for everyone. If customers have a unique challenge, he'll happily work with them to find a safe and practical solution.
Bonnie and John's advice for new small business owners:
To build a big roster of repeat customers, always listen to your existing customers and act quickly on their special orders. Try your hardest to get them what they want and get it as soon as possible. Repeat customers sustain your business and spread word-of-mouth advertising that's worth so much!
Establish policies for how you run your business. For example, take a deposit if someone orders a $10,000 bicycle. Be clear about what your business does for customers, and you'll be helpful to everyone.
Thinking of getting insurance for your small business
If you need insurance for your new business (or are thinking of switching insurance providers), we'd love to help! BCAA Small Business Insurance offers you customized coverage with online convenience, so you can get a quote and buy online whenever it suits you. Get your quote today by visiting bcaa.com/smallbusiness.
Want to learn more about small business insurance? Check out or blog. Here's why you need small business insurance, why your clients want you to have small business, and the benefits of BCAA Small Business Insurance for your BC business.
Do you want to be featured next? If you own a small BC business or have a favourite that everyone should know about, we'd love to hear about it! Share your small business story on our Twitter or Facebook or email us at smallbusiness@bcaa.com.