Don't Let
Anything

Slow You Down
Businesses We Cover
We cover a wide-range of businesses that need insurance, including:
Don't see yours? Find it here.
We specialize in businesses with fewer than 10 employees and less than $5 million in yearly revenue. Start a quote to get the right coverage.
Do You Need Retail & Wholesale Insurance?
The short answer is, "yes," because more than a third of small businesses go through a claim-worthy event in the first 10 years. Every store owner, because you're dealing with members of the public, should protect themselves with liability insurance in case a customer or an employee is injured in your store or by one of your products. And these days, that includes cyber risk coverage too, to protect you in case a data breach exposes any confidential information.
Exactly what shape your coverage takes depends on your operation. For example, if you're running your store from home, you may be eligible for our Home-Based Business Package. This package has a limited coverage limit ($50,000) but can save you money on your policy, while protecting you in case anything happens on your premises—like a delivery person slipping and hurting themselves—or water damage to your stock from a burst pipe. You can see common types of retail coverages below or use our online quote tool to find customized coverage for you.
Recommended Coverages for Retail
Commercial General Liability
This covers you if someone injures themselves while at your store. It also includes product liability which protects you when a product you sell causes harm to someone else or damages their property. You can be held responsible for the expenses, legal fees and lost wages that result.
Cyber Risk
Cyber risk is included with all our business policies to help protect your business from the costs and risks that can follow a cyber-attack, such as restoring of your system, notifying customers about the compromised data and providing credit monitoring.
Property Insurance
If something unfortunate happens at your store, such as a fire, flood or theft, this provides coverage for replacement or repair costs for your building, as well as fixtures and your stock.
Business Interruption Insurance
Imagine a fire closes your shop for three months, your property insurance will help you get back on your feet. Business interruption insurance will keep you on your feet in the meantime by helping cover the income you're missing out on.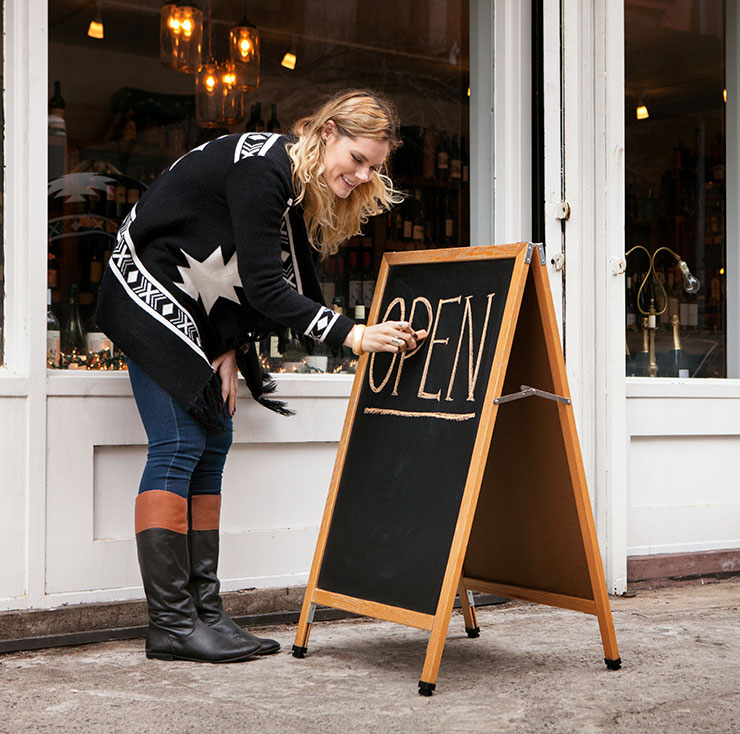 Coverages Depending on Operations
Equipment Breakdown
For some stores, a key piece of equipment can make or break their operations. Get coverage to help with replacement, repair, as well as lost income until it's back up and running again.
Transit Floater
If you're sending products to a customer within Canada, or even if your delivering them yourself, make sure your items are covered once they've left your property until they reach their final destination.
Laptop & Portable Electronic Equipment Floater
Chances are, you use a computer or your phone to keep your store running smoothly. If you take them with you when you leave the store, we'll make sure they're covered in the case of damage, theft or loss.
Our online quote tool learns about your business and the coverages you need to protect it. Get a customized quote and buy your insurance policy today.
Small Business Resources
Expert advice, useful articles, inspiring entrepreneurial stories, and simple tips to help protect and grow your business.
Read More Articles
Small Business insurance is sold through B.C.A.A. Holdings Ltd. dba BCAA Insurance Agency, a licensed insurance agency, and is underwritten by BCAA Insurance Corporation, The Boiler Inspection, and Insurance Company of Canada, and HDI Global Specialty SE (the "Underwriters"). Claims are administered by the Underwriters ARAG Legal Solutions Inc., and their respective subcontractors.
Conditions apply to promotional offers. Promotional offers are only valid for new BCAA Small Business Insurance policies and are applied to the total premium amount
BCAA, in association with CAA, was ranked the #1 Most Trusted Insurance Brand in Canada by the 2022 Gustavson Brand Trust Index.